Back to news
5 brilliant kitchen extension ideas to suit any budget!
31 January 2021 |Trends & Inspiration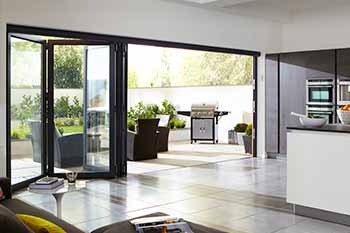 Multi-purpose kitchen extensions have become a fashionable favourite within Essex households that seek extra space, light, and property value. Often at the top of many homeowners' wishlists, the widespread misconception that kitchen extensions are only for the most affluent property owners couldn't be further from the truth.
Radiant and resplendent in all their glory, if you're in the process of planning the kitchen extension of your dreams this is the ideal place to start! From modest small kitchen extensions to expansive family room extension designs, a variety of kitchen extension ideas to suit any budget await.
Brilliant kitchen extension ideas for homes in Essex & the South East
Small kitchen extension ideas
From bijou terraced house kitchen extensions to small kitchen diner extensions, kitchen extensions aren't just reserved for larger properties. Sleek aluminium sliding doors have become a favourite in smaller kitchen extensions, due to the way they effortlessly glide open instead of opening inwards or outwards – effectively maximising every bit of space there is.
The lovely lean-to kitchen extension is also a popular answer to the small kitchen extension conundrum. Available in an assortment of bespoke arrangements and roofing styles, this simple yet effective kitchen extension solution is one of the easiest to install as well as one of the most cost-effective kitchen extension styles around. Complete with a variably pitched roof, lean-to kitchen extensions are perfect for low roofs, e.g. bungalows.
Semi detached kitchen extensions
Does your home have a narrow alley that runs adjacent to the kitchen area? Typically a feature in terraced or semi-detached properties, if you answered yes then you can consider a super side return kitchen extension. Usually the space that's used to store the bins, making use of the space in this way has the potential to increase property value by as much as 12-15%.
More narrow kitchen extension ideas to consider:
Modern kitchen extensions
From contemporary kitchen extensions with beautiful bifold doors to a striking kitchen extension with roof lantern, modern finishing touches to consider include alluring aluminium, solid brick sections, solid tiled roofing sections, and minimalist colour palettes and furniture.
The Tilley family have completely changed the way they live thanks to a single-storey kitchen extension constructed by SEH BAC. Take a look at this fabulous family room kitchen extension design for yourself!
Simple kitchen extension ideas
We understand that not everyone's budget can stretch to a complete kitchen extension overhaul, but there are lots of things that can be done to help you to fall back in love with your kitchen extension space that don't cost the earth. Here's a few ideas to get you started:
A fresh coat of paint on the walls
Refresh old tiles with tile paint
Upcycle your kitchen counters and cupboards, e.g. add (inexpensive) contemporary concrete countertops or remove kitchen cupboard doors and line the interiors with removable wallpaper for a modern stylish twist
Update your lighting e.g. add a vintage light fixture or incorporate smart under cabinet lighting
Explore our range of fantastic home improvement finance options, which allow you to spread the cost of your project with manageable fixed monthly payments.
Orangery kitchen extension ideas
When space and light take precedence over budget, an orangery installation is one of the most elegant ways to extend your kitchen space. Providing the perfect balance between a modern glass conservatory and a brick home extension, orangery kitchen extension ideas to consider include:
Make the most of the light streaming through with a centrally positioned breakfast bar
Improve access and appreciation of garden and patio spaces with modern bi-fold doors
Position lighting to help 'define' different areas of the orangery extension without impacting upon the space.
Gain even more inspiration for your kitchen extension with our Pinterest board!
Why move when you can improve instead?! Brilliant kitchen extensions & much more
Bring your family together this year with a captivating kitchen extension installation from SEHBAC. Please be aware that we can carry out in-home appointments under the latest Government guidance and our safe operating procedures. Or if you prefer, our sales estimators are happy to take measurements and details remotely and then provide the quote by email or phone call. Call us on 0800 666 444 or contact us online to discuss your home improvement options further with a double glazing company that truly cares.