Back to news
Is a replacement conservatory roof worth it?
7 July 2023 |News
Conservatories should be the perfect living spaces for you and your family to use all year round. But if your polycarbonate roof on your existing conservatory is showing signs of deterioration such as condensation, leaks, letting in draughts, overheating your conservatory, or you want to upgrade its appearance, then it could be time to do something about it.
What are the benefits of investing in a conservatory roof replacement?
By installing a new high quality conservatory roof, you will enhance its energy efficiency so you can reduce your central heating expenses and create a more comfortable living space. It will also mean your conservatory won't be too hot in the summer and excessively cold in the winter so you can use it all year round, regardless of the weather. A modern conservatory roof replacement will provide more durability and ensure that your conservatory remains in good condition and extend its overall lifespan, while also enhancing its aesthetics. It's also important to remember that it can be a cost-effective solution in the long run, meaning you don't have to even think about getting a completely new conservatory, and it can add value to your property, making it a worthwhile investment for when you sell your property.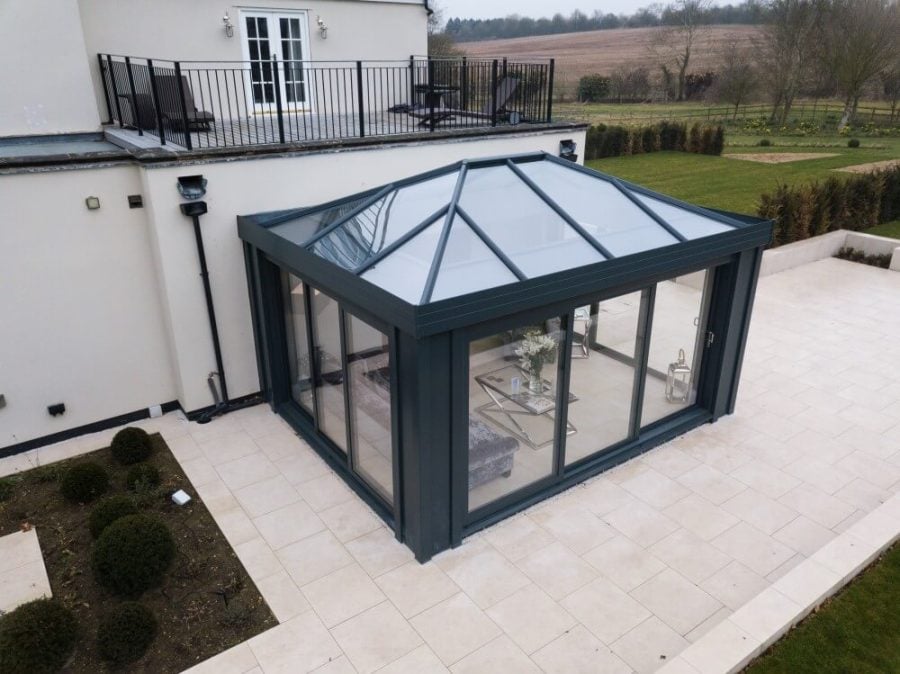 What conservatory replacement roofs can I choose from?
A new conservatory roof can automatically make your conservatory more visually appealing, while it can also transform the overall look of the structure. You can choose from a wide range of designs styles and materials to complement your home's architecture and personal taste, including glass, tiled and solid.
What is a glass conservatory roof?
Designed using high-performance glass, a glass roof consists of large panels of thick glazing which lets in maximum natural light while providing fantastic thermal efficiency. The glass is solar-controlled to deflect the heat of the sun when it gets to a comfortable temperature in the summer. The glass should also be self-cleaning, thanks to a process that uses the sun's energy to burn off any dirt while an invisible coating helps remove any debris.
What is a tiled conservatory roof?
Available in attractive slate and brick finishes, a tiled conservatory roof consists of lightweight but durable composite tiles instead of glass for outstanding thermal efficiency. They provide unbeatable protection from harsh weather and can be installed to seamlessly blend with the exterior of your current home's style to make it look like your conservatory has always been there.
What is a solid conservatory roof?
A solid roof replacement combines composite tiles and glazing panels so you can let in more natural light while retaining privacy. The high performance roofing system lets you enjoy large areas of glazing with solid sections, and you can vary the glazing to solid ratio to suit your needs. The perimeter vaulted ceiling means your conservatory blends in with your home internally as well as externally for a natural extension.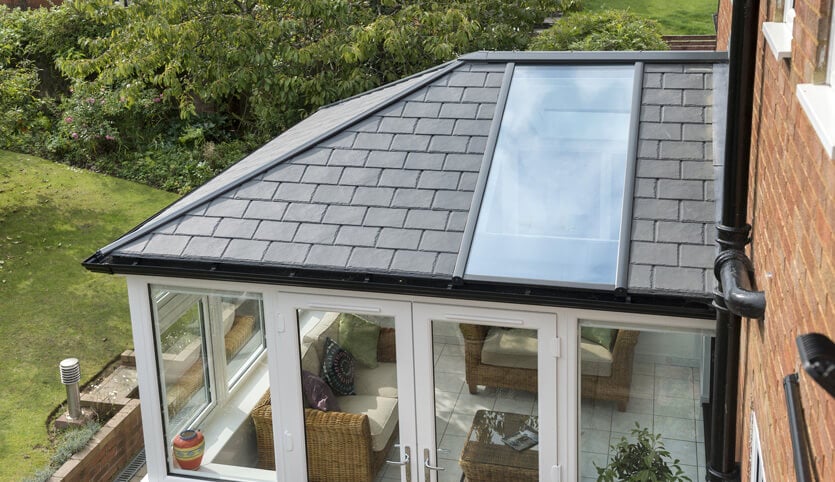 What is the best type of replacement conservatory roof for me?
There are a range of conservatory roofs to choose from, and determining the best type of replacement conservatory roof for you depends on various factors. Do you want it to be a bright and airy space flooded with natural light, or would you prefer a more solid and insulated feel? If you want to minimise heat loss and maximise energy efficiency then options like glass with low-emissivity coatings or solid/insulated roof panels may be preferable, while you also need to think about the amount of light you want to let in. Consider the aesthetic aspect and how the replacement roof will complement your home's architectural style and, most importantly, look at your budget.
50 years of conservatory experience
If you want to replace your conservatory roof on your existing uPVC or aluminium conservatory then it's crucial to get the right advice. With over 50 years of dedicated service to homeowners in Essex and surrounding areas in the South East, we specialise in conservatory roof replacements and our experienced team will give you the right advice on your options for your needs and budget and also help with any planning or building regulations. Or you can visit your nearest state of the art SEH BAC to see our quality products and find your perfect conservatory roof. It is a fantastic option and the perfect home improvement for your conservatory. Don't hesitate to get in touch today!