Back to news
Pitched roof vs flat roof extension – which is best?
24 June 2021 |Advice & Guidance

Whether you're adding an extra room, converting a garage or kitchen space, or refurbishing an old glazed extension, the roof is a crucial element to consider. For example, a flat roof extension is a popular choice in areas where height is restricted. Whereas pitched roofs are looked upon more favourably by planning officials in more traditional settings to preserve the character of neighbouring properties.
As you've probably already guessed, the two main choices are pitched roof and flat roof extensions – but which one should you choose?… Carry on reading to understand the differences, as well as a couple of frequently asked questions thrown in for good measure!
Pitched roof vs flat roof extension – Is a flat roof better than a pitched roof?…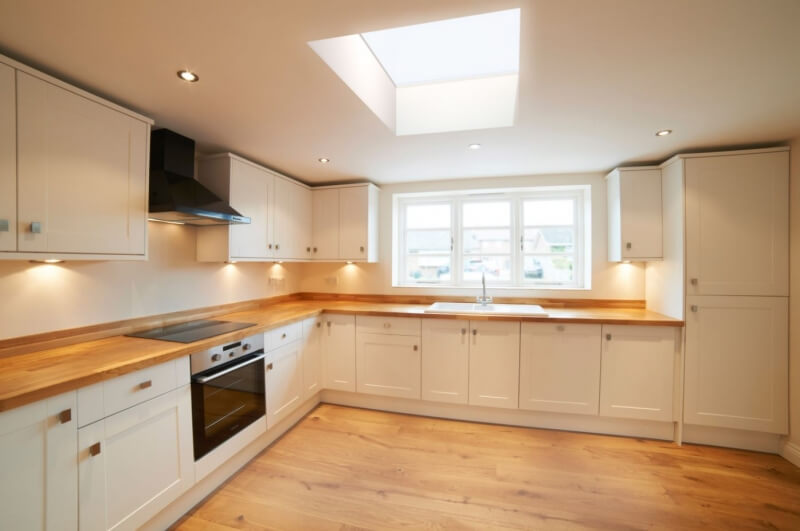 A flat roof extension is cheaper
Homeowners often ask 'is it cheaper to build a flat roof or a pitched roof?…' Involving less labour and materials to install, a flat roof extension is more economical than a pitched roof. Its compact design also makes a flat roof extension less likely to get damaged, reducing costs even further.
A flat roof extension takes less time to install
As mentioned above, reducing materials and workers also makes installing a flat roof extension a quicker and easier option all-round. Using the latest flat roofing technology, a flat roof extension from SEHBAC is pre-manufactured for up to a 40% faster build and fully compliant with the latest Building Regulations. Its neat design makes a flat roof extension the ideal option for modern garage and kitchen conversions, as well as new build extensions.
A flat roof extension is less likely to need planning permission
You won't need planning permission, as long as the extension roof doesn't exceed 4 m's in height and is no higher than your home's roof (and you stick to the other rules). Of course, flat roofs take up less height above so they're less likely to require planning permission.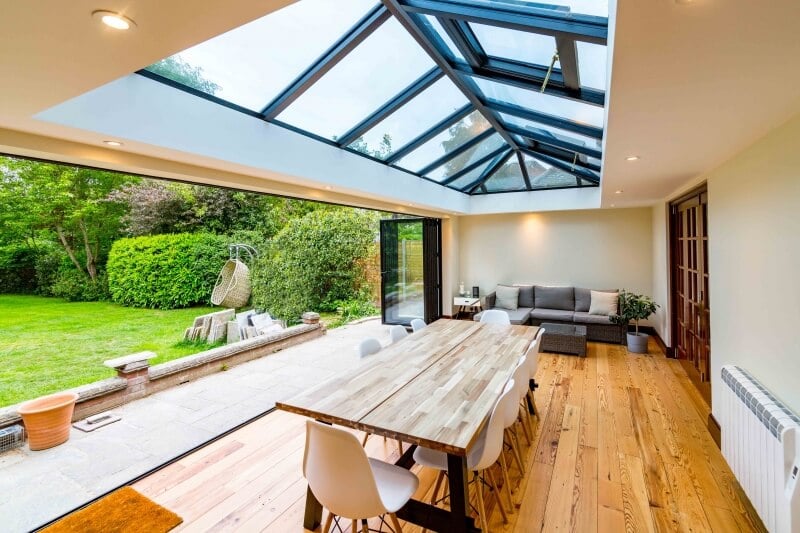 Flat roof extensions are more versatile
Able to accommodate frameless flat skylights (up to 23m²) or statement-making pitched lantern roofs, a flat roof extension presents many more design options than a pitched roof. Ranging from 600mm x 600mm and going up to 2500mm in length, you have the freedom to personalise your new flat roof in a multitude of alluring colour choices and finishes. For a really contemporary aesthetic, you also have the option of an extended internal plastered soffit system, a modern overhang on the roof to shelter the doors, and level external flooring options to effortlessly flow from the inside to the outside.
A flat roof extension is easier to inspect
Generally, flat roof extensions are easier to access than sloped pitched roofs, although extra care and caution should be taken. If in doubt, contact a double-glazing expert for professional support.
Flat roof extensions can be tailored to heritage properties too
Often chosen for a more contemporary feel, a perfectly pitched 25° lantern roof can also be fitted into a flat roof extension to add height and an unforgettable focal point in heritage, period, and more traditionally styled homes throughout Essex and the South East.
Do flat roofs cause problems?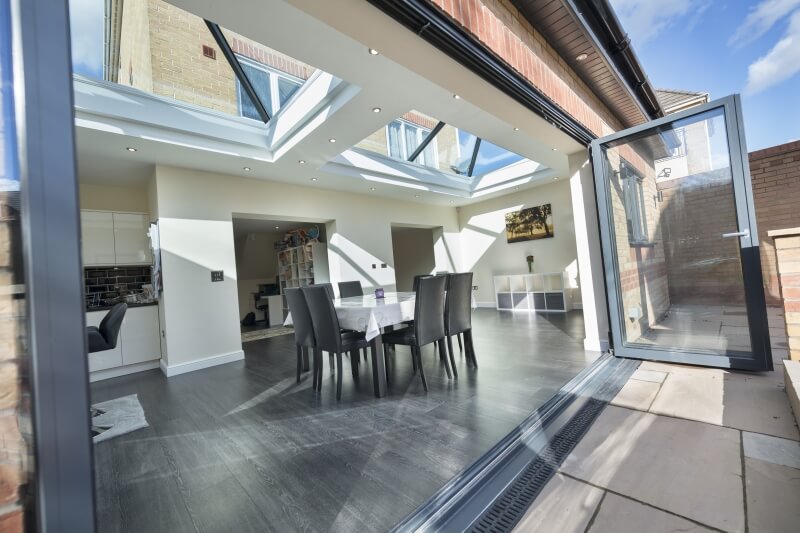 Over the years, badly fitted flat roofs have often fallen foul to a lack of drainage, causing issues like water ingress, condensation, water pooling, cracking, and thermal movement. Modern flat roof extensions (like ours!) have eliminated these issues by adding a pre-manufactured 'fall' system to ensure any water drains away efficiently. Featuring subtly pitched flat skylights at 4°, there's no need to worry about pooling water ruining your home.
Installing the strongest and warmest flat roof extension available to date, you can count on an SEH BAC flat roof extension for durability, longevity, and outstanding thermal insulation.
How long do flat roofs last?
If installed and maintained correctly, a flat roof can last up to 25-30 years. At SEHBAC, we truly care about the quality of our products and our workmanship, which is why we offer a comprehensive 10-year guarantee with all our home improvements.
The sky's the limit with a flat roof extension from SEHBAC
At the cutting-edge of chic architectural design, our modern flat roof extensions are transforming homes from Essex to Abingdon and everywhere in between. Maybe you've set your heart on a pitched roof conservatory space… well, we can help with that too!
With many fantastic finance options at your disposal, achieving your dream home is a piece of cake with an SEHBAC installation. Get a price or contact us to learn more.