Back to news
5 patio door ideas to modernise your home
30 March 2021 |Home Improvement Advice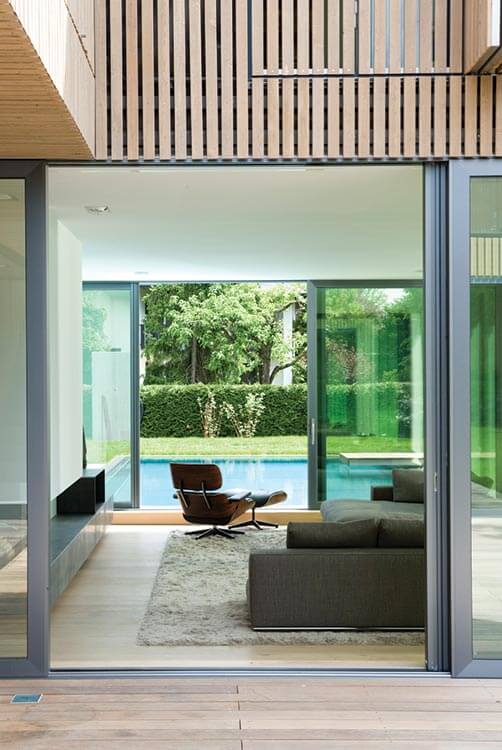 Fluently opening whole walls whilst dramatically enhancing a homes' connection with the outdoors, sliding patio doors are at the cutting-edge of residential architectural design throughout Essex and the South East.
There are plenty of reasons why modernising your home is a good idea, none-more-so than imprinting your own unique sense of style and notably boosting kerb appeal and property value. So, if your home improvement plans involve welcoming the outside in, we've come up with 5 patio door ideas that will well and truly bring your home up to date. We've also taken the time to answer a few frequently asked questions on the nation's favourite patio sliders.
Welcome the outside in with a wonderful wall of glass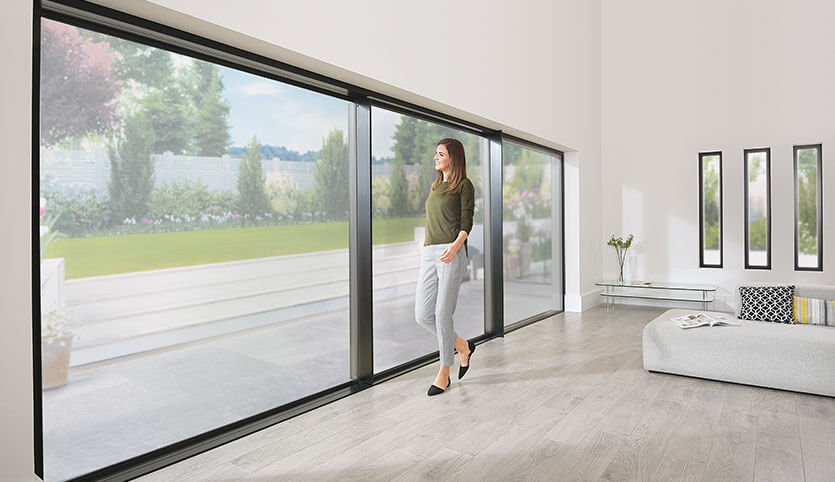 Contemporary architecture is essentially characterised by clean lines, accessible convenience, and minimalist décor. A firm favourite within commercial projects due to its outstanding thermal and aesthetic properties, the use of glass in domestic settings is steadily growing. Available in an array of sizes and configurations, 'Grand Designs'-inspired floor to ceiling walls of glass are made possible with attractive aluminium patio doors. Fusing minimal framework and maximum glazing, breath-taking sliding glass walls reduce the need for electric lighting and air conditioning too.
Modernise your balcony with space-saving sliding patio doors
Sliding patio doors are perfect for modernising balcony spaces, as they refuse to take up any space when in use. Bathing rooms in warming natural light, modern double glazed patio doors will considerably enhance your homes thermal performance too, in comparison to out-dated, inefficient balcony entrances. High rise balconies vulnerable to the ravages of the Great British weather will also benefit from weather-resistant, low maintenance, and enduring materials such as uPVC and aluminium – keeping balcony spaces looking and performing at their very best for longer, with the least amount of hassle involved.
Smaller balconies may wish to consider modern tilt and turn windows instead.
Elegantly crafted timber sliding doors for heritage homes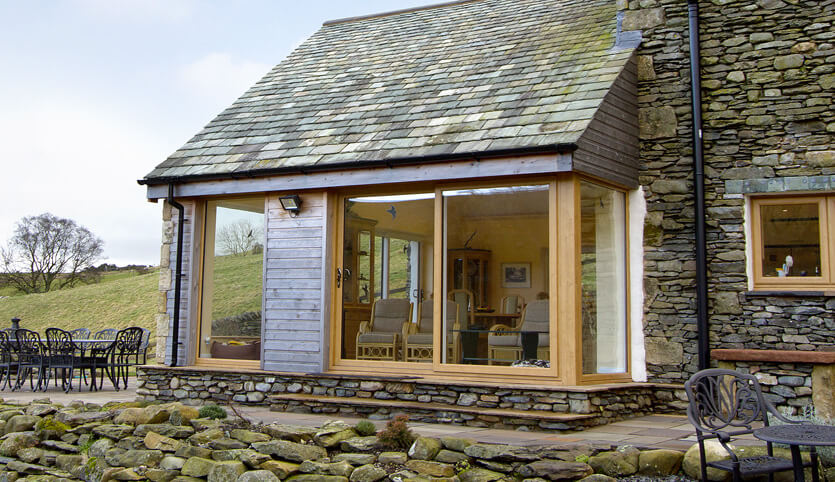 Natural timber patio doors allow you to adapt heritage, period, or traditional homes to modern needs whilst incorporating 'like-for-like' building materials, which is often a requirement for historic listed buildings and properties located in designated areas such as conservation areas. Only requiring a yearly revarnish to maintain its performance, modern timber slider colours include edgy Anthracite Grey, softening Agate Grey, sophisticated black, natural woodgrains, and tranquil Chartwell Green timber patio doors.
Upgrade a tired conservatory with refreshing uPVC patio doors
If you're thinking about updating an old conservatory with a modern conservatory roof replacement, why not go one step further and improve its accessibility, aesthetics and performance with replacement uPVC patio doors? Effortlessly sliding behind one another, our uPVC sliding patio doors can be fitted as 2, 3 or 4 pane doors, and personalised with a wide range of attractive modern door furniture and glazing options.
Build the glazed extension of your dreams with slender aluminium patio doors
Aluminium conservatories, orangeries, and glazed extensions deliver the slimmest sightlines possible. Combined with our captivating aluminium sliding patio doors, the brightest glazed areas and effortless access to the outside can be achieved with ease. Designed with up to 6 panes, we can create any colour you desire with our innovative 'Kolor bond' system to ensure your new aluminium patio door matches or contrasts perfectly with your home.

What is the standard size for a patio door?
Standard 2-panelled patio doors are approximately 6 ft 8″ x 5 ft 8″ – or 2,090-mm x 1,790 mm (H x W). However, at SEHBAC, bespoke patio door sizes are also available. Our stunning aluminium patio doors can accommodate impressive maximum panel sizes up to 2.2m wide and 3m tall (or 6m2 overall), complete with barely visible 20mm sightlines. Whereas our practical uPVC patio doors can deliver maximum panel sizes of 2,276 mm x 1,501 mm (H x W).
What size sliding door do I need?
If you're measuring up for a new patio door, getting your measurements right is crucial to ensure it remains secure and efficient for as long as possible. Although SEHBAC will double-check all your measurements, it's useful to get a rough idea of the size required first.
To measure the width, take 3 measurements; one at the top, one at the bottom and one in the middle of the opening, taking care to include the door frame. Do the same with the height; take one measurement from the right, one from the left and one from the middle, all the way to the concrete that the door sill rests on. The measurements should be fairly similar, but don't worry if there are slight variations as these can be addressed with door shims by your installer (small wedges that level the door). Now all you need to do is take 10mm from both numbers, to allow for trim, casings, etc, leaving you with your final measurements. Don't forget to include the measurements for sidelights; illuminating panels positioned on either side of the door.
If you're unsure about anything, don't hesitate to contact SEH BAC and we will advise in any way we can.
What can I replace a sliding glass door with?
The best alternatives to sliding patio doors are contemporary bifold doors or time-honoured French doors. Bifold doors are particularly popular in modern homes, folding back on themselves to one side to completely open the space. Whilst sophisticated French doors are typically found in more classically-styled properties. That said, both door styles can be fully customised to suit any property; both available in practical uPVC, timeless timber and ultramodern aluminium.
Have a browse through our gorgeous installation gallery for unmatched inspiration for your own replacement patio door project.
Modern sliding patio doors in Ipswich and Oxford to Essex and Suffolk
Modern sliding doors from SEH BAC will completely transform your home in every way imaginable. Get a quote, arrange a home visit or request a callback today and begin the exciting journey of modernising your home with the South East's number one windows, doors and conservatory provider.