Back to news
What can an orangery do that a conservatory can't?
21 July 2017 |Advice & Guidance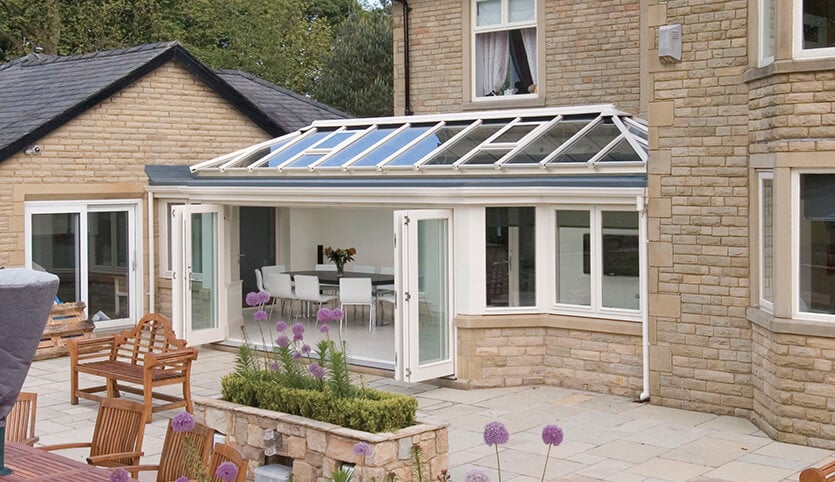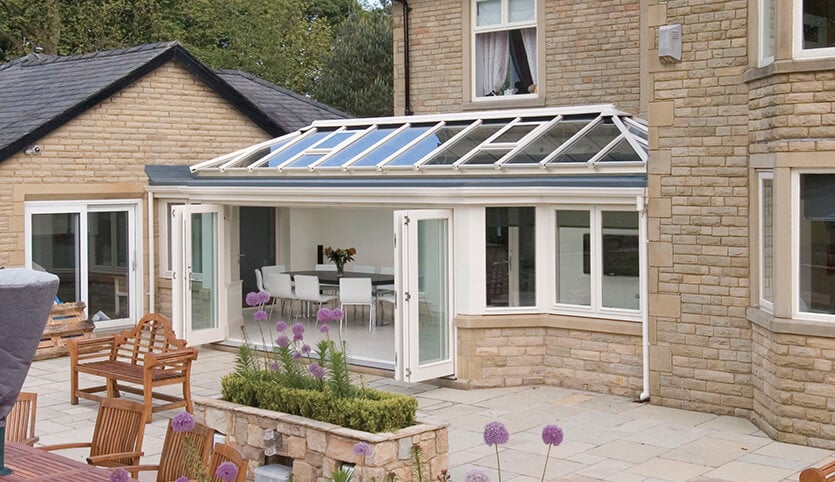 When it comes to extending your space and creating a room the whole family will love, the style of glazed extension you have is very important. Orangeries vs conservatories: let's take a look at which comes out best for your home.
The difference between an orangery and conservatory
Orangeries became popular in 16th century Italy where they were used by the upper classes for growing fruit, hence the name. They feature more brick and solid sections rather than glass to bridge the gap between a conservatory and extension. More brick was chosen to increase their durability so that the fruit would be protected in the harsh winters. Orangeries would often be detached from the main property but now become a continuous extension.
Conservatories were a slightly later invention where they became fashionable green houses. Made mostly of glass and frames; they give you a beautiful room where you can admire your garden or surrounding countryside. Conservatories are seen as an extension to the home; often used as a sunroom where light would flood in.
What can they both bring to your home?
Both an orangery and conservatory allow you to fill your home with light. A conservatory however is mostly glazed so if you're a sun worshipper this could be your ideal choice. With an orangery, you could have a lantern roof to fill your home with light while creating a beautiful centrepiece.
An orangery has insulating panels which help with your thermal retention. You never need to worry about abandoning the room once winter arrives. A comfortable temperature will be kept all year round.
If your garden is overlooked, an orangery allows you to control how much privacy you have. Have as many or as little glazing panels as you like.
With the right materials, both options can create a room for all seasons. Whether you want a playroom for the children, a home office or a formal dining area; with modern frames and glass, you can enjoy being in there all day.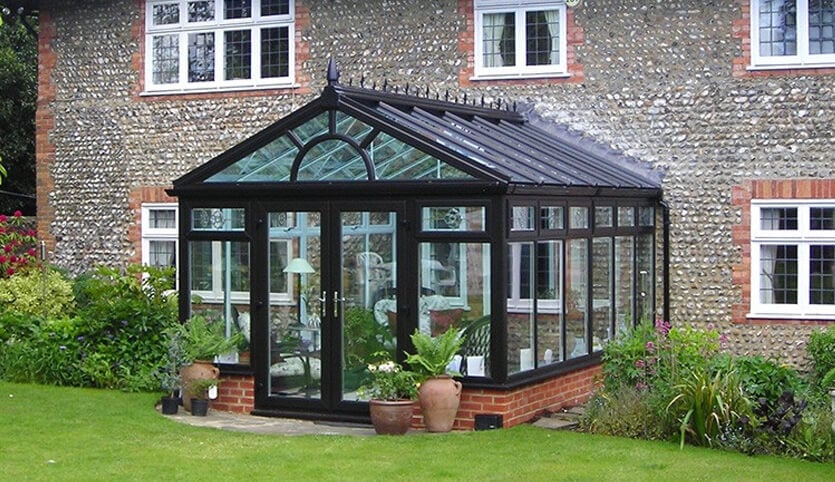 Orangeries vs conservatories: which one is best for your home?
When they first became popular; it seemed like conservatories popped up all over the place. Orangeries still have the edge on being slightly different to the rest. However, a conservatory can come in so many designs such as the traditional Gable or the spacious T or P-Shaped styles. Decide what you will be using your new addition for and this will help you find the best style for you. Our experienced consultants can talk through all the options.
When it comes to efficiency, it's understandable to think the orangery will come out on top. With a brick structure, it feels like a natural extension of your home and with insulating panels you can stay shaded from the hottest of the sun's rays. With solar control glass and thermally insulating frames, a conservatory will perform just as well in terms of energy efficiency.
In terms of beauty, orangeries are a luxurious and elegant option. They are the perfect way of bringing some sophistication to your home; especially with the addition of a lantern roof. These roof systems, as well as letting light flood into your home; add a stunning focal point that will impress. Conservatories are versatile in terms of design; choose the size and style to suit your home and family.
An orangery can be fully plastered internally and features a specialised electrical layout to meet your specifications, making it a fully functioning room that can house electrical items such as a TV or stereo.
Our stunning range of glazed extensions
We offer every style of conservatory and orangery you could want. Choose from uPVC, timber or aluminium to suit your home's style and with any RAL colour, you can create the extension you've always dreamed of. If you'd like to see what an orangery or conservatory can bring to your home, visit one of our show centres to see them up close or get in touch with one of our consultants today.