Back to news
Can you replace French doors with bifold doors?
7 May 2021 |Advice & Guidance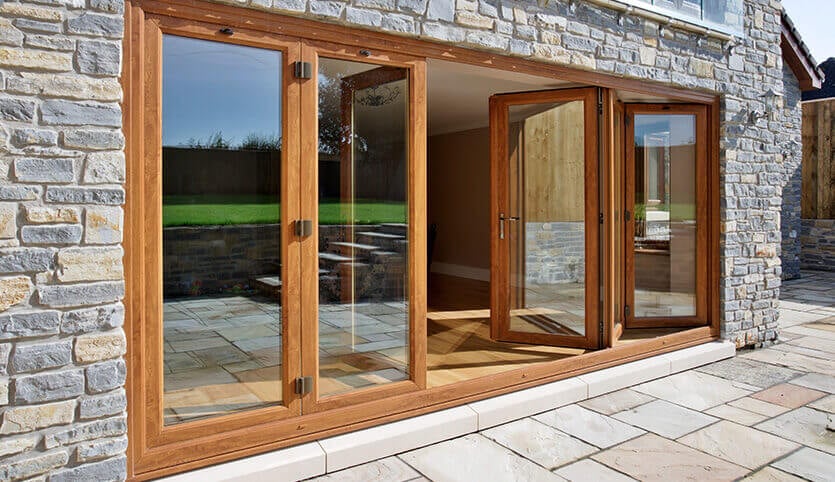 French doors have been a timeless entrance choice for as far back as we can remember. Still favoured in classically styled homes and glazed extensions throughout Suffolk to this day, the noughties and beyond have become the age of the beautifully modern bi-folding door.
Sliding and folding back on themselves to fully open up the space and provide a seamless transition from the inside to the outside, bifold doors are a firm favourite with both modern millennial interiors and making better use of the space in more traditionally styled South East homes. So, if you like the sound of replacing your tired French doors with versatile bifold doors but need to know more, this blog is for you!
Can you replace French doors with bifold doors?
Yes, you can! Seamlessly uniting home, garden, and patio spaces, replacing old French doors with bifold doors is one of the most effective (and relatively care-free) ways to makeover your home.
Are bifold doors more secure than French doors?
In comparison to outdated French doors, cutting-edge aluminium and timber bifold doors come out on top in every aspect, including security. Both fitted with the latest multi-point locks and premium frames, alongside a range of additional security features, our gorgeous bi-fold doors feature innovative toughened glass that's 5 times stronger than decades-old single glazing used in old French doors.
That said, our elegant French doors are also equipped with robust modern locking features and toughened double glazing as standard.
Do I need planning permission to replace French doors with bifold doors?
In most situations, planning permission won't be required. Although, planning permission may apply if:
The building is listed or located in a designated area, like a conservation area or an Area of Outstanding Natural Beauty (AONB)
They're for a large glazed extension build that exceeds permitted development size restrictions
Changing the building's use from commercial to residential
It's a new build property.
When we replace your French doors with sleek modern bifold doors, our experienced double-glazing installers will tend to any planning permission issues, whilst taking extra care to correctly measure the entrance opening, cleanly remove the old doors and install and make the final adjustments on your brand new bi-folding doors. The highest quality, swift installation and long-lasting performance are guaranteed with an SEHBAC home improvement.
Learn more about our unique design and buying journey and Customer Promise.
What are standard bifold door sizes?
Consisting of three to eight door panels, there's a wide range of bifold door configurations to choose from. So, for example, if you want to replace French doors with bifold doors in the same size opening, a 3 panelled bifold door is often the most suitable bifold arrangement. For larger bifold door designs, the space in the wall may need to be widened to accommodate them. If this is the case, it's likely you'll need planning permission to do so. Grand open corner bifold doors designs will require a survey of the property to ensure its structurally sound.
Throughout the entire planning process, we will help and advise you on every step in any way we can.
French doors vs bifold doors – what are the benefits of bifold doors?
| | | |
| --- | --- | --- |
| / | Aluminium bifold doors | Wooden bifold doors |
| Colours | 150 RAL colours, woodgrain effects & dual colour designs | 30 colours, including authentic timber designs |
| Glazing options | Double toughened glazing | Double toughened glazing |
| Energy Efficiency | U-values of 1.32w/m2K | Can achieve 'A' energy ratings |
| Security | 8-point locks, PAS 24 toughened glass & additional security features | Multi-point locks with shootbolt systems that pass BS644 requirements & additional security features |
| Life Expectancy | At least 30 years | At least 30 years |
| Suitability | Slimline frames, range of configurations & corrosion resistant | Classic timber appearance & protective microporous varnish |
Ipswich to Lowestoft and Bury St Edmunds to Haverhill, breathe new life into your Suffolk home with stunning bifold doors
Perfectly increasing the width of a walkway between your living space and decking or smoothly transforming small balcony spaces with ease, whether you dream of 'Grand-Design-style' grey aluminium bifold doors or charming Chartwell Green wooden bifold doors, SEHBAC deliver the perfect custom-made door solutions no matter your location, budget, or personal taste.
Visit your nearest SEHBAC showroom or free to contact us to discuss your needs further.