Back to news
Do bifold doors fold back flat?
29 May 2020 |Blog

Also known as folding doors, bifold doors have become a must for south east homeowners in need of more space, light and an unforgettable focal point.
Before transforming your home with beautiful streamlined bifolds, we understand that you may have some questions on your mind. So, here are a range of frequently asked questions about these stunning entryways.
Do bifold doors fold back flat?
Consisting of three to eight door panels, bifolds slide and fold back on themselves to sit flat against one or both walls; depending on whether they've been designed to open from the middle or the side. This unique 'concertina' style fold allows the door panels to neatly fold back flat, completely opening up the room into an open-plan masterpiece.
Should bifold doors open in or out?
Bifold lead doors can open inwards and outwards independently, depending on your specific requirements. Sliding and stacking inwards into the home or outwards into the garden, it's important to note that most homeowners choose outward opening bifolds, as inward opening bifold doors can take up essential space. Although Suffolk is one of Britain's driest regions, it's also worth considering that inward opening bifolds have the potential to drip water onto internal flooring.
What is a bifold slave handle?
A bifold slave handle allows the lead door to be opened independently, so the entire bifold doesn't have to be opened every time to enter and exit the space.
Can bifold doors be reversed?
If you need your existing bifold doors to open the opposite way, depending on their condition, the SEHBAC team may be able to reverse the doors so they can be opened from the other side. However, it may be worth considering upgrading your bifold doors if they're over 15 years old.
These examples should help you work out which bifold doors are best
Classic grey timber bifold doors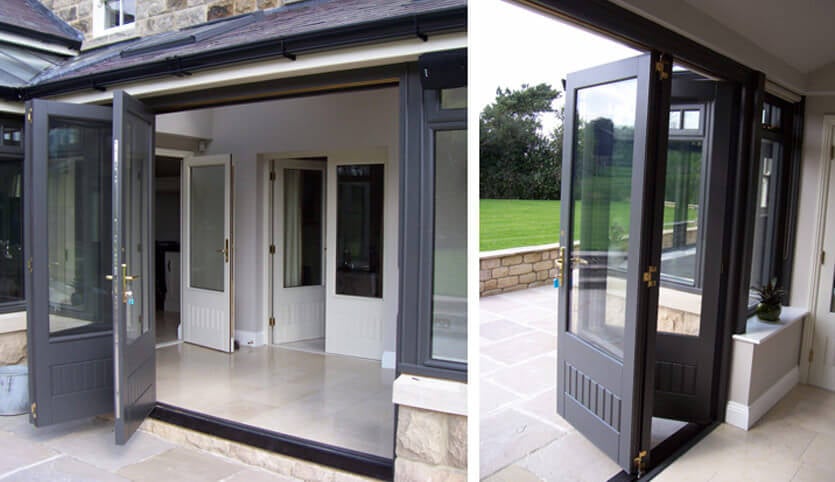 Contemporary black aluminium bifold doors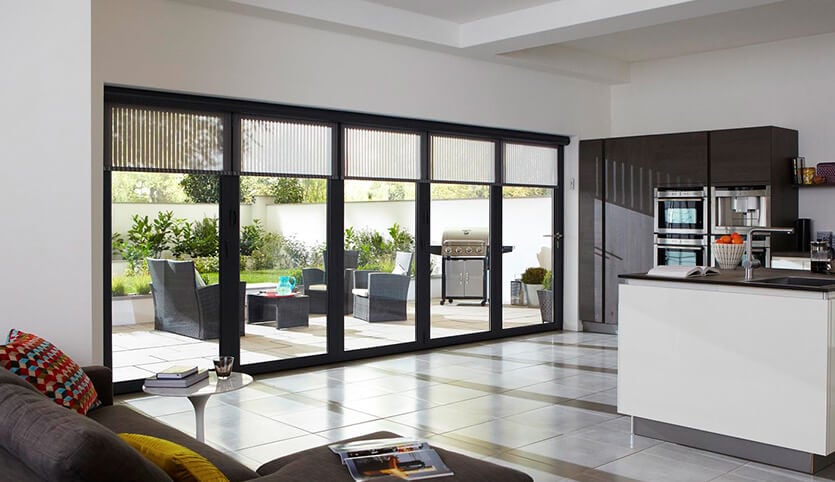 Smooth-sliding bifolds for a smooth cream Loggia conservatory installation in Essex
What blinds are best for bifold doors?
Integral blinds are ideal for bi-folding doors, as they cannot be damaged when they're opened and closed. This is because the blinds are safely enclosed in between the double glazed panes of glass. Providing effective solar control, they are also maintenance free, giving you more time to enjoy your new bifold doors.
How much do bifold doors cost?
Bifold door cost depends on several factors, most notably: material, size, and additional extras. Our bifold door prices aren't just off the shelf – they're tailored to you and your family's unique sense of style. Contact us today for a price.
Bifolds transform patio areas, conservatories, orangeries, and home extensions
If you like the idea of bifold doors, or have a question we haven't answered, call us on 0800 666 444 or contact us online to discuss your home improvement options further with one of our friendly experts.