Back to news
Our expert conservatory decor ideas for both the interior and exterior
28 January 2021 |Advice & Guidance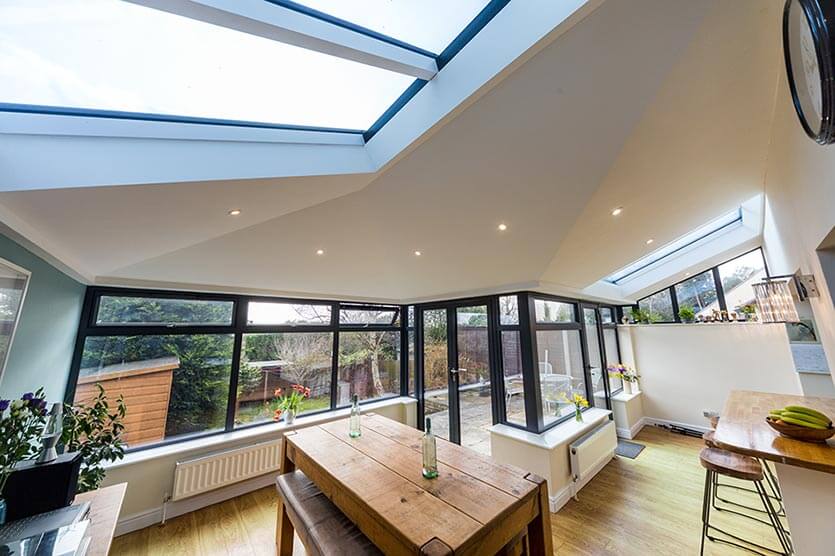 For years, many homeowners have seen their old conservatories from the 90s and before decline into unused and unloved spaces. After years of neglect, they can become quite unattractive spaces. However, with today's modern glazing technology, high-performance conservatories are becoming a popular and aesthetically pleasing feature of South East homes. Adding a conservatory or replacing an old conservatory roof provides Essex and South East homeowners with the most uncomplicated way to add or make the most of essential space whilst simultaneously welcoming the outside inside.
With so many conservatory styles available, it can be difficult to know the best way to decorate! But don't despair, as our expert conservatory decor ideas outlined below are sure to inspire you and get your conservatory project off the ground sooner than originally expected.
How can I make my conservatory stylish?
Some simple ideas to modernise your conservatory on a budget include:
Hanging curtains or integral blinds
Improving the lighting
Investing in new furniture such as rugs
Repainting to a more modern colour scheme
For the conservatory's exterior,
Tiled roofs
Glass roofs
Lantern roofs
are all excellent ways to improve both thermal performance and appearance.
We'll be expanding more on all of these points below.
Modern conservatory decor ideas
'Modern' conservatory design has three fundamental elements in common: emphasis on space, clean lines, and minimal decorative detailing. Therefore, light colour schemes will create a refreshing modern ambience, whilst simultaneously enhancing modern open plan layouts. Furniture, window coverings and accessories are often used to inject character and colour into modern conservatory spaces. For example, combining different shades of white will help to create a light and airy feel. This is ideal for modern conservatories in shaded gardens. Green highlights evoke an earthy sense of tranquillity whilst seamlessly harmonising indoor and outdoor spaces, and darker shades are used to create depth and sophistication.
Over-engineered wood flooring (veneer) combined with a statement rug or two is a popular modern conservatory decor choice, due to its low maintenance and enduring qualities. Medium to light wood tones are often favoured over darker-toned flooring due to their uncomfortable heat absorbing qualities, which could render your conservatory impractical through the summer months.
Adding a couple of handpicked rustic wood pieces to a modern conservatory design can be particularly striking, demonstrated perfectly by this stylish P-shaped modern conservatory interior.
Stylish conservatory lighting
Other than illuminating spotlights cleverly concealed around the perimeter of the conservatory, fashionable lighting ideas for modern conservatories include industrial overhanging pendant lights, modern crystal chandeliers and deep pendant drum lamp shades. When it comes to wallpaper, geometric, natural-inspired and 3D textured wallpapers all enhance modern conservatory decor further.
What colour should I paint my conservatory interior?
Quintessentially square or rectangular in shape, incorporating sophisticated monochrome shades such as Graphite Black (RAL 9011), Anthracite grey (RAL 7016), and Pure White (RAL 9010) will instil a compelling modern feel whilst complementing its understated, chic aesthetics. Grey bifold doors (like these!) are a must for modern conservatory interior design.
Can you modernise a conservatory?
It's never too late to transform your old conservatory into a charming and comfortable living space. Solid tiled roofs are one way of bringing your conservatory into the 21st cenutry. They provide ultra-modern aesthetics, seamlessly combined with privacy and acoustic enhancing qualities that are tailored to modern family life.
Integral blinds
Smart home improvements like our integral blinds provide a modern, convenient flourish to a new orangery or conservatory.
Stylish orangeries
For the best of both worlds, contemporary dual-colour aluminium orangery designs (like this!) have the power to create a modern exterior coupled with a more classically styled interior. Quaint orangeries are also ideal for smaller cottages and rural homes.
Stylish conservatory designs
Taking inspiration from a time-honoured conservatory style and modernising it like this delivers a contemporary take on a classic conservatory design.
Cottage conservatory decor ideas
For homes located in rural Essex locations, such as Thaxted, Saffron Walden, Castle Hedingham, and Dedham, conservatory interiors inspired by the great British countryside take various forms.
To create a charming cottage-style conservatory that wouldn't be out of place alongside a quaint thatched cottage or period cottage, establish a romantic country-feel by incorporating faded floral prints, vintage accessories, and distressed painted furniture.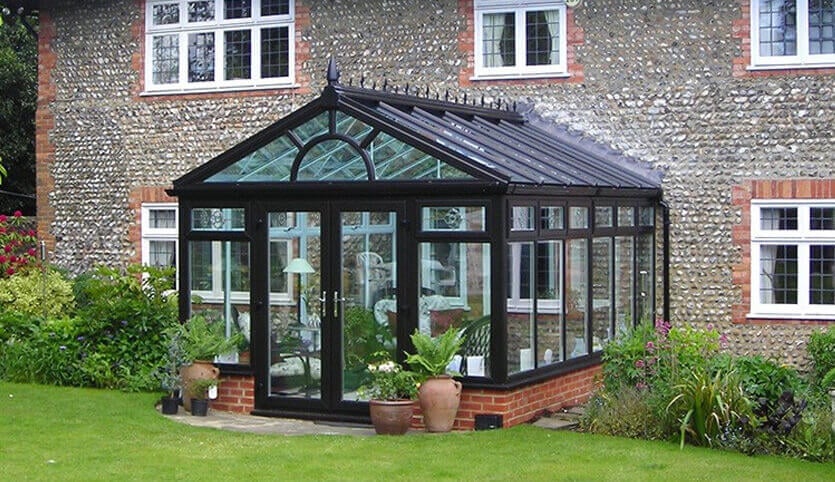 Refined, larger rural Georgian homes should be more inclined to decorate their elegant conservatories in a more formal fashion, i.e. tasteful embroideries, ample floral prints, chandelier pendant lights, urn style table lamps, classic wing chairs and chesterfield couches never fail to create the distinctive English country house look.
If you envisage a mix of modern and rural stylings, you can achieve a soft, contemporary country look by combining unvarnished natural wood furniture, tactile linens and other natural materials set against pale painted walls. A set of oak-effect bifold doors would be a fantastic addition to a more rural conservatory or orangery. Dark grey slate flooring united with light walls and light-toned furniture also offers a charming contrast.
Classic conservatory decor ideas
From Mersea Island to Maldon and Walton-on-the-Naze to Burnham-on-Crouch, Essex' impressive 350-mile coastline is overflowing with Victorian period properties looking to improve instead of move.
Enhancing beautiful Victorian properties with their distinctive bay facades, steeply pitched roofs, and beautiful ornate detailing, classic Victorian conservatory stylings should include rich dark hues, heavily carved or plump, over-stuffed furniture, patterned floor tiles and stained or etched glazing.
If your property was built in Edwardian times, wood effect lean-to conservatories (like this!) are particularly complementary to the era. Whether you plan to stick to traditional Edwardian aesthetics or add a few Edwardian touches, decorative flourishes reminiscent of the era include pastel colour schemes, floral and embossed wallpapers and paintings, red brickwork, mock-Tudor cladding and timbers, geometric floor tiles, and ornate colourful glazing.
If you're looking for a classically styled conservatory with a difference, a T-Shaped conservatory (like this!) separates the space into two distinct areas. A supportive dwarf wall creates a more permanent aesthetic, whilst smoothly matching your homes existing brickwork.
Can you put a permanent roof on a conservatory?
Absolutely. As well as classic fully glazed roofs and striking lantern roofs, it's certainly worth considering upgrading outdated conservatory roofing with a modern tiled conservatory roof. Finished with matching roof tiles and optional rooflight integration, a thermally sound conservatory roof replacement is sure to increase appreciation, value, and kerb appeal.
One of the key benefits of a tiled roof is that it makes your conservatory feel like a permanent extension. You can choose from a range of colours and tile styles to perfectly match the conservatory with your property. Explore some great examples of tiled conservatory roofs below.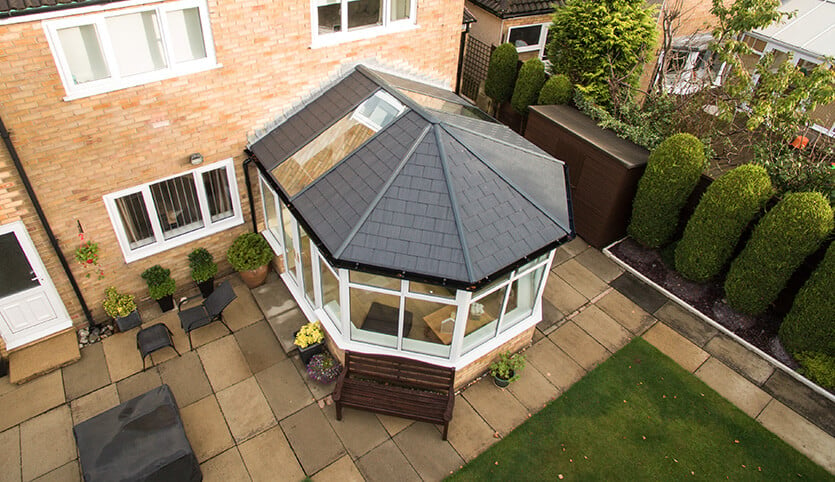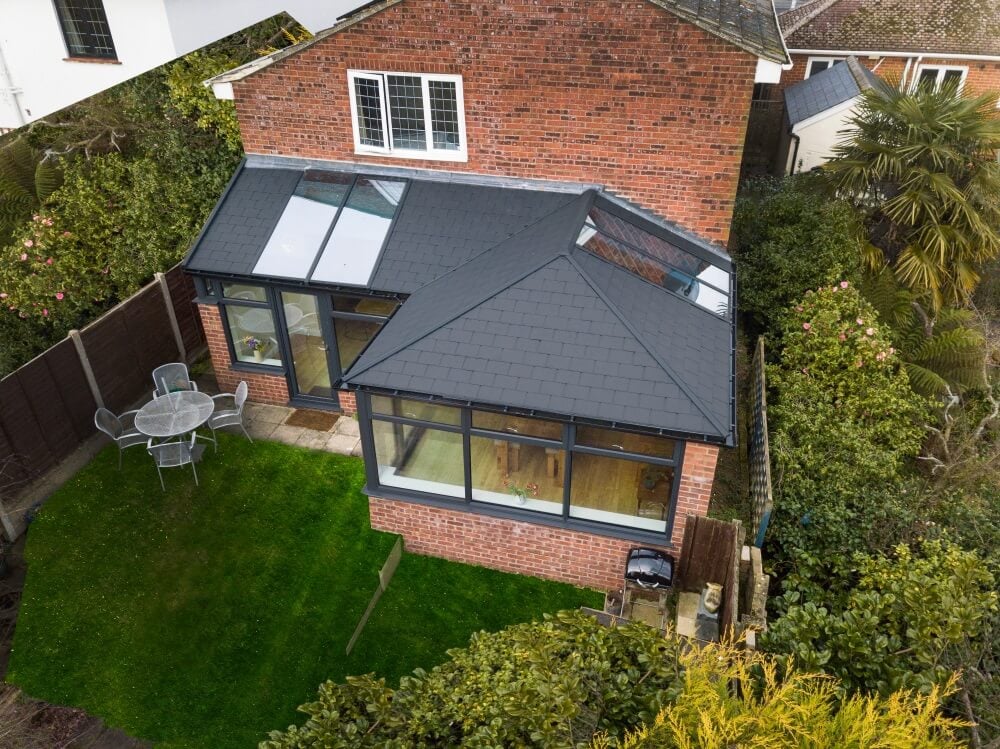 Full glazed conservatory décor ideas
Although tiled roof conservatories are all the rage, conservatories that are predominantly made of glass are still prominent. However, they can be difficult to know how to personalise. Biophilic design (meaning 'love of nature') is a growing interior design trend that can be utilised in full glass conservatory décor. Become one with nature by incorporating luscious green house plants around the space. You may also want to consider adding a striking living wall. This can be as easy as adding modular shelving and adding trailing plants on each level. Updating furniture, window coverings and accessories will add colour and style without detracting from its beautiful swathes of glass. Bear in mind that softening cream accents look beautiful within more traditional structures. Layering colours and patterns will warm up the space, creating an informal cosy atmosphere.
Wooden, upholstered and rattan furniture are popular additions to fully glazed conservatories as they are unaffected by the ravages of natural sunlight. So there's no need to worry about them fading anytime soon. When it comes to lighting, wire lighting is a common choice for conservatories with glazed roofs. Low-level lighting, such as table lamps, and floor lamps are also convenient options to consider.
Contemporary conservatory uses
The beauty of a modern conservatory is that you can use the space however you want. A few contemporary conservatory ideas include:
Kitchen extension
Dining area
Music room
Playroom for children
Home gym
Home office
The possibilities are truly endless! Of course, how you want to use your conservatory will influence your interior design choices.
Look at our conservatory decor ideas Pinterest board for more inspiration
High-performance conservatories, orangeries and extensions in Essex
When only the best conservatory or glazed extension will do, Essex and South East homeowners trust in SEHBAC. Offering all our clients the best home improvement service in the marketplace, we remain the South East's number one provider of high performance double and triple glazed windows, doors, and conservatories. For more conservatory ideas inside, as well as conservatory roof pictures, have a browse through our extensive online gallery, call us on 0800 666 444, or contact us online to find out more about our multi award-winning service.