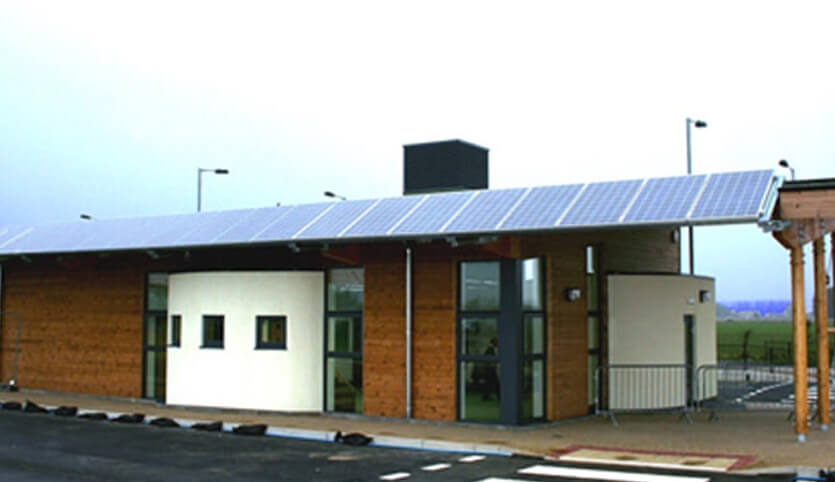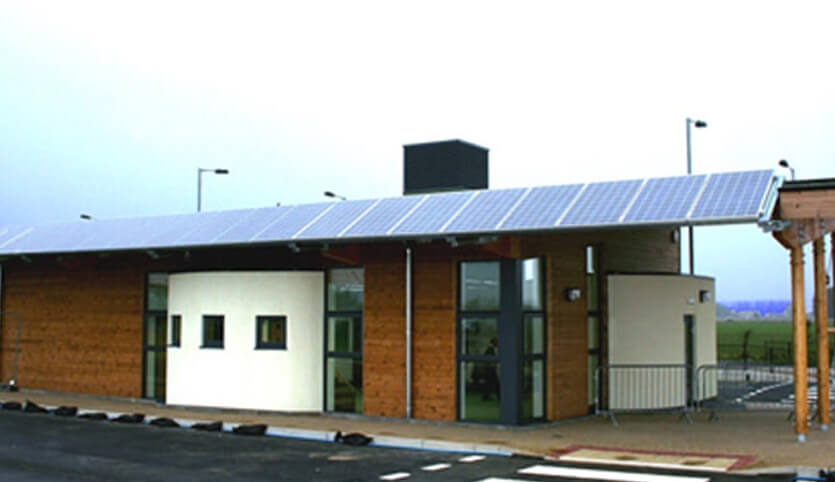 Cambridgeshire County Council have invested in an infrastructure development, which included a guided bus-way at Longstanton (which Jackson Civil Engineering completed) and a park and ride facility. The park and ride facility needed a terminal building and Cambridgeshire County Council decided to create a unique exhibition centre.
The building needed to demonstrate how energy efficiency and renewable energy technologies could be incorporated into a building. The building was designed to set a benchmark for low carbon properties proposed at the new town of Northstowe and was required to showcase environmentally friendly and low carbon living to encourage local residents to go green in their own homes.
Jackson employed SEH French to handle the build of the exhibition centre, which in turn contracted SEH Commercial to manage the installation of energy solutions such as solar panels, a ground source heat pump, natural ventilation systems and the windows and doors at the site.
SEH Commercial were heavily involved in the initial design and concept of the building from the early stages, ensuring the building had a good thermal mass and insulation which enabled the focus to be on delivering a number of key areas for the project.
These included:
the ground source heat pump, which uses ground energy collectors to contribute warmth to the building and provide hot water;
the installation of energy efficient windows and doors which insulate the building and provide the highest security levels;
the installation of 4.5kW solar panels which generate electricity to offset the power requirements of the building;
the installation of a sophisticated natural ventilation system which maintains the ideal temperature through an integrated flow-energy system;
the supply of the building management system (BMS) controlling all aspects of the control of the building systems;
installing active energy data software we are able to provide data on the energy consumed, generated and how efficiently the whole system is working so that the details could easily be seen interrogated by the client and used to educate people visiting the centre.
With the project completed in November 2011, the SEH Commercial installations have contributed to a state of the art exhibition centre which is already being used by hundreds of people each day that pass through the Park & Ride terminal.