Back to news
How to Style Your Conservatory
17 June 2014 |Blog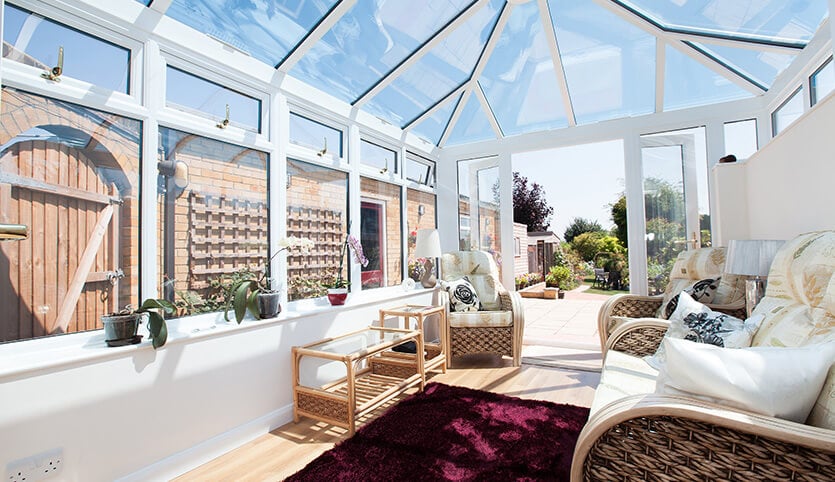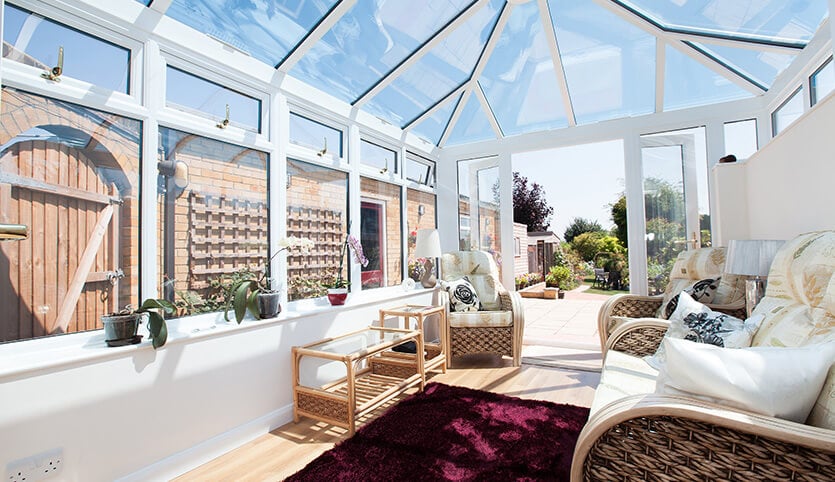 So you've got the conservatory but how do you furnish it to become a stylish and chic area of your home that fits perfectly to your own personal style and the existing style of your home.
As a conservatory often represents the middle ground between your garden and home, you want furniture that also blurs the line. Something bright to reflect and fit with this open plan window filled room.
Conservatory furniture is traditionally made of wicker and is the style often adopted by many, although metal and wood is also popular. A mix of home and garden furniture is often adopted as homeowners want something durable but stylish. Design has come on leaps and bounds in recent years, with a range of styles available to suit any taste.
For fans of modern and contemporary style, you don't have to stick to cold plain metal. Metal isn't always entirely suitable in a conservatory as it conducts hot and cold quickly, but can work if used with a lot of cushions and padding. Wicker and wood conservatory furniture is often the most popular choice and modern inventive styles mean there is now a wide variety of styles to choose from such as egg and womb wicker chairs, hanging chairs, swinging chairs and sleek sofas and chairs. A variety of wood finishes mean there are various colours to choose from in anything from light to dark wood or that shabby chic chalk paint white.
For those who prefer a more classic style, vintage and period furniture allows for choice we all know and love that will look great for years to come. The style you choose will depend on what you intend to use the room for. If it's for everyday use and you have children, you want something durable and comfortable. For entertaining you want something more stylish and eye catching. However if you want somewhere to lounge, relax and read – you'll be look for seats, sofas and coffee tables. For dining and dinner parties, you'll want a stylish and durable dining table that suits the look of the conservatory and will impress guests.
To add warmth, invest in a large run to make the room look more inviting. With great lighting flooding in from the windows, make use of the space and invest in some house plants to create an extra blur between home and garden and provide an inviting look and smell. You could also invest in fairly lights to drape around the plants or across the ceiling to create a truly magical place at night.
Here are our 5 must have furniture ideas for your conservatory:
A comfy and cushioned armchair is perfect in any room, by insuring you have this conservatory staple, you provide yourself with somewhere to read, listen to music or soak up the daylight in peace.
An adaptable and eye-catching rug. Make this the centre piece of your room and allow furniture to work around it. Weather you place it under a dining table or coffee table, it provides a centre point for your room and added warmth.
Wireless speakers – enjoy relaxing background music, party starters or your favourite radio programme by hooking up wireless speakers to your conservatory to make it the perfect place to entertain or relax.
Blinds – One of the great joys of being in a conservatory is the natural daylight, but sometimes you may want to block of soften a particular strong glare when you're trying to read or watch TV. Investing in blinds allows you to control the amount of light that can come in as well as providing privacy if you want to use the room in the evening and don't want all eyes staring in.
Get green fingered – conservatories provide an ideal place to grow plants thanks to great daylight and the ability to control the climate. You could grow your own herbs and vegetables or simply invest in some gorgeous house plants to brighten the place up.
With all this inspiration, how would you style your dream conservatory?