Back to news
Is it worth putting a replacement roof on my conservatory in Chelmsford, Colchester and Ipswich?
16 October 2023 |News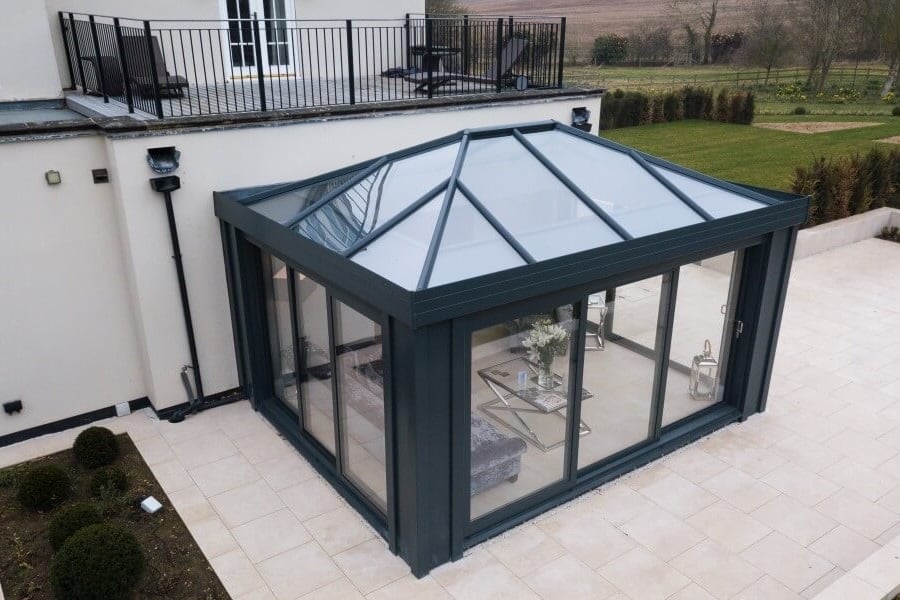 Conservatories have always been a popular addition to homes in the South East and across the whole of the UK. However, if you have an older conservatory then you may be experiencing some common issues. Your existing conservatory will have a polycarbonate roof or glass roof and due to the old nature of these materials, the chances are the conservatory roof will be a major factor in your conservatory not performing as it should be. Problems include:
Extreme temperatures: Your conservatory gets unbearably hot in the summer and bitterly cold in the winter months.
Inefficiency: The roof lacks proper insulation, resulting in heat loss and increased heating costs
Noise: When it rains, the sound can be incredibly loud, making it challenging to relax
Aesthetics: Your conservatory looks outdated and doesn't match the style of your home
If your conservatory is suffering from any of these problems, then it could be time to consider putting a replacement roof on it and get your conservatory on your Chelmsford, Colchester, and Ipswich home performing to its maximum so you can have the perfect living space and to make it feel like a new conservatory.
The benefits of a replacement conservatory roof in Chelmsford, Colchester, and Ipswich
Improved Comfort
A replacement roof can offer better insulation, keeping your conservatory at a more comfortable temperature year-round. This means you can enjoy it 365 days of the year.
Improved energy efficiency
A replacement conservatory roof will feature modern materials that will provide better insulation, with u-Values as low as 1.0 W/(m²K) depending on which roof you choose, which will help towards saving money on your heating bills during the winter.
Improved aesthetics
A replacement roof can transform the look of your conservatory, and make it look like it's been part of your original home for years by seamlessly blending in with the rest of your property.
Improved noise reduction
New roof options, such as solid insulated panels or tiled roofs, can significantly reduce noise from rain or other external sources, creating a quieter and more relaxing space.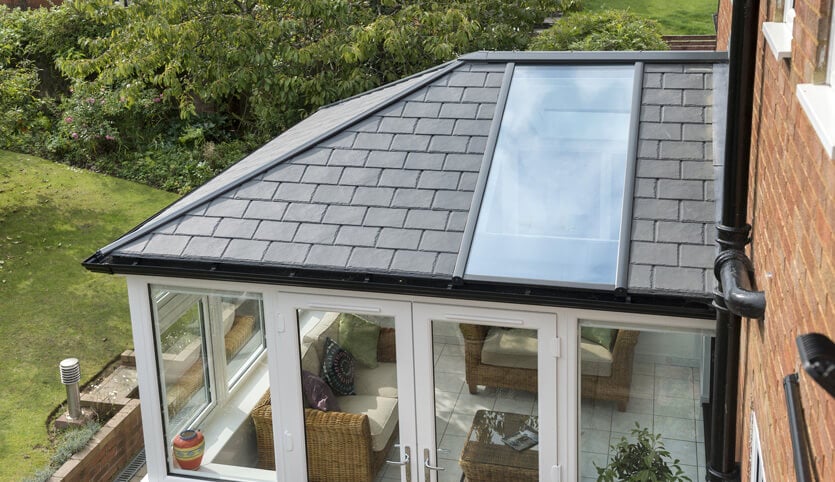 Choosing the right replacement roof for your conservatory in Chelmsford, Colchester, or Ipswich
When considering the type of roof for your existing conservatory in Chelmsford, Colchester, or Ipswich, it's important to choose the right material and style to suit your needs for the space. Options include:
Tiled Conservatory Roof
A tiled roof is a solid roofing system made up of attractive and lightweight composite tiles. Manufactured using robust tiles that can be made to match the rest of your home, they are indistinguishable from real tiles and offer a more traditional appearance, blending seamlessly with your house. They also provide great insulation and noise reduction.
Glass Conservatory Roof
A glass roof is designed using high-performance glass and combines large glass panels of thick glazing. A glass roof is perfect for bathing your conservatory with natural light, while modern, energy-efficient glass provides greater thermal performance, its solar control helps deflect the heat of the sun when it reaches a comfortable temperature during the hottest days. Self-cleaning glass also makes a glass conservatory roof easy to maintain and clean.
Solid Conservatory Roof
A solid roof provides the best of both a glass and a tiled roof, so you can let in natural light while keeping more privacy. A solid roof lets you combine large areas of glazing with solid sections. Using composite panels, this lightweight roof is both attractive and highly efficient, providing excellent insulation and noise reduction. You can vary the glass-to-solid ratio to suit your home's needs.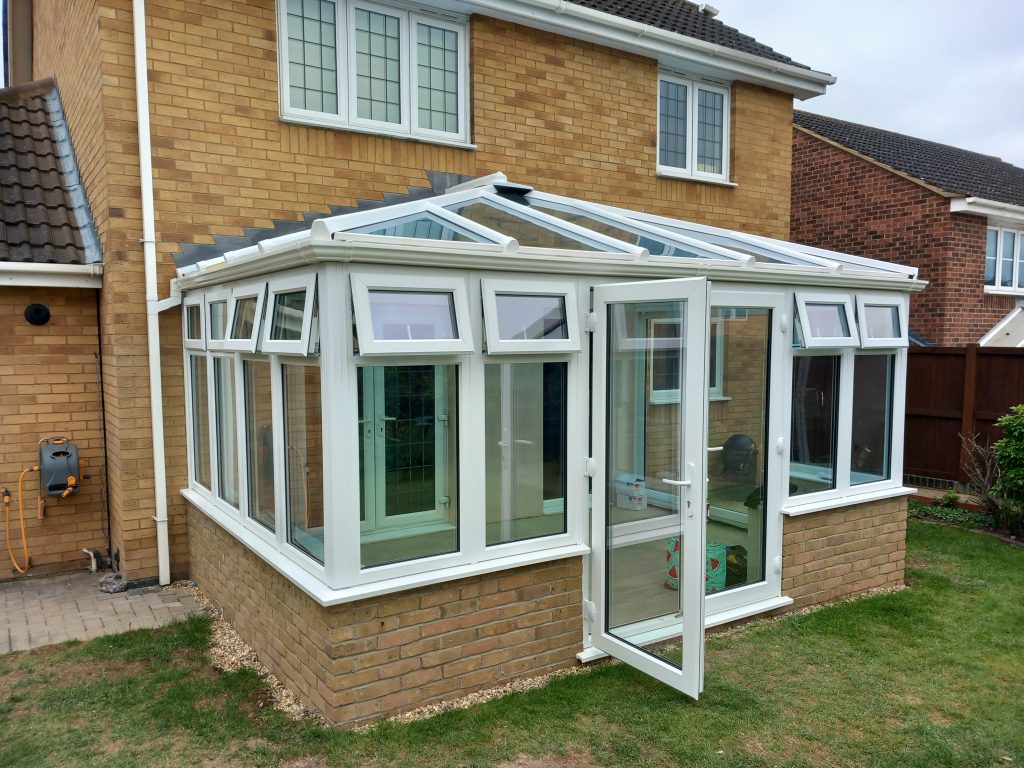 Is it worth replacing your conservatory roof?
Ultimately, the decision to put a replacement roof on your conservatory in Chelmsford, Colchester, or Ipswich depends on your specifineec ds and budget. If you want comfort, aesthetics, and energy efficiency, a replacement roof is a worthwhile investment as it can transform your conservatory into a truly usable and enjoyable space that can be used throughout the year. Glass roofs tend to be better for a budget as it is a lighter structure, meaning fewer materials and labour. If you are looking for the best return on investment, however, a tiled conservatory roof is likely to add the most value to your home, lasting over 50 years with minimal maintenance. Before making a decision, it's advisable to consult with a professional contractor who can assess your current conservatory, discuss your goals, and provide recommendations tailored to your home and budget. With the right choice, you can breathe new life into your conservatory and enhance your overall quality of life.
50 years of conservatory experience in Chelmsford, Colchester and Ipswich
With over 50 years of dedicated conservatory and conservatory replacement roof installation to homeowners in Chelmsford, Colchester and Ipswich, we are one of Essex's foremost home improvement installers. Our extensive experience enables us to surpass your expectations by seamlessly delivering a top-notch conservatory replacement roof installation for your Chelmsford, Colchester and Ipswich home. Our FENSA-approved installers provide a process that is streamlined, ensuring a hassle-free experience. We also offer a comprehensive 10-year guarantee on all our conservatories to give you peace of mind.
See our conservatory roof replacements in Chelmsford, Colchester and Ipswich for yourself
Choosing a conservatory roof replacement is a significant decision, and it's crucial to have firsthand experience before making a commitment. To assist you in this process, we invite you to visit your nearest state-of-the-art showroom in Chelmsford, Colchester and Ipswich. Here, you can explore our collection and speak with our knowledgeable and experienced team. They will gladly address any questions or concerns you may have, ensuring your peace of mind.