Back to news
Make the Most of the Sun with a Conservatory
13 March 2014 |Blog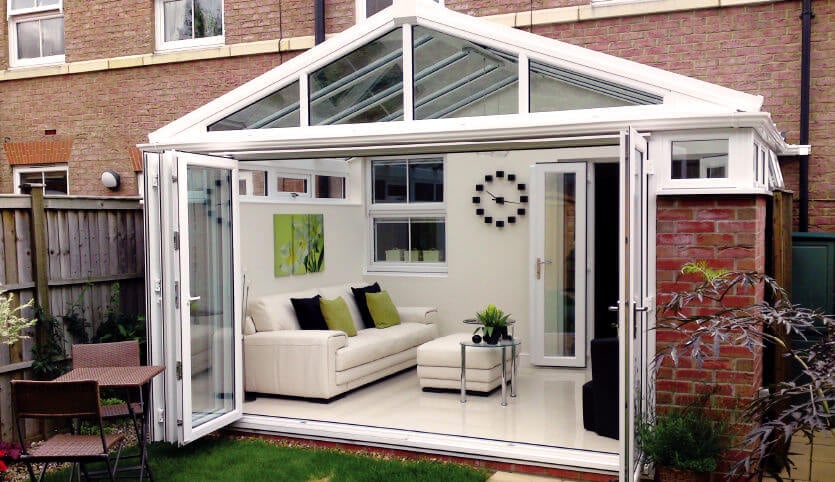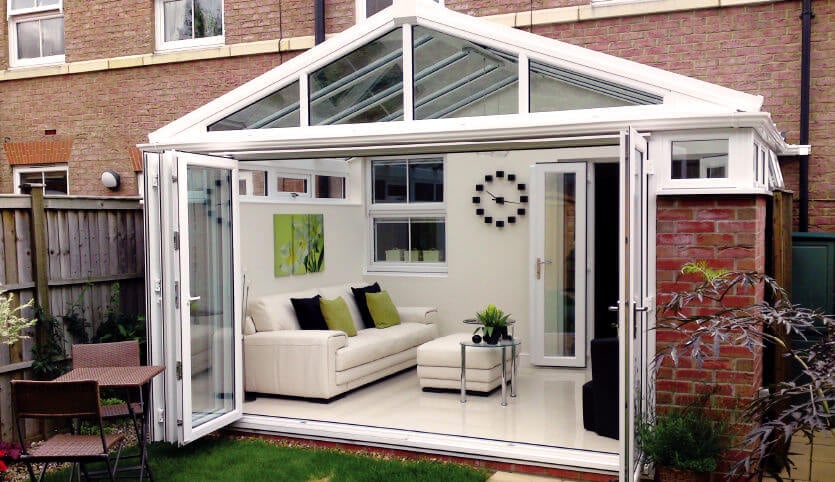 Now that March is here and we're reaching the very beginnings of Spring, we can only hope to enjoy a few more sunny and mild days following months of cold wet weather. When the sun is shining, everything seems that much better, so what if you had a room that let you soak up the sun from all angles?
With the unpredictable weather that Britain often deals us, a conservatory can be a saving grace when it comes to enjoying your garden. A conservatory allows you to enjoy natural light without dealing with heavy wind or the threat of rain on those unpredictable spring days. During the summer, you can open the doors to create the perfect middle ground between home and garden and ideal entertaining space for barbeques.
Figuring out the kind of conservatory you want or need will depend on what you intend to use the space for, be it to entertain, relax or garden. If you're going to be growing a particular type of plant or want to include specific furniture, you'll need to think about what kind of space and conditions you will need to accommodate them.
During the planning stages, it's also important to think about what position the conservatory faces and how much sun this will allow to flow in through the windows. A south-facing conservatory is usually the most desired as it benefits from the most sun during summer and winter – which is invariably why many people invest in a conservatory. During hot summer days, this can mean that the conservatory can become very warm, but thanks to new developments such as Tec-Sun polycarbonate which contains aluminium inserts that reflect better than regular polycarbonate – it is possible to prevent the sun from being too overpowering and keep the area cooler.
Ventilation is also an important factor and allows for air to circulate the area and keep the conservatory cool and avoid becoming too stuffy. Bi-folding doors are also ideal as they open out wider and are not only aesthetically pleasing but allow for more air to circulate the room.
It is also important to keep in mind factors such as double glazing or comfort glass, which are beneficial for security as well as temperature control. During summer months they can prevent the heat from becoming too intense, while in the winter they are the perfect energy saving addition and help keep warmth in – allowing you to enjoy your conservatory year round. Other additions such as a large radiator or underfloor heating are also ideal for winter use.
But even if you can't have a south-facing conservatory, other positions hold their own individual benefits. North facing is the coolest and while they need a heat source in the winter, they are ideal for enjoying during the summer without becoming too hot or bright. West-facing conservatories are ideal for bright afternoons and warm late summer evenings – making them ideal for entertaining while east-facing conservatories make the best breakfast rooms.
Whatever final design you decide on when it comes to the planning of your conservatory, you can be sure that once it's finished, you have a dedicated space for entertaining, gardening, relaxing or enjoying the perfect balance between your home and garden. With the sun finally on its way again, what better way to spend a sunny afternoon?