Back to news
5 modern flat roof extension ideas to impress your guests!
26 May 2021 |Home Improvement Advice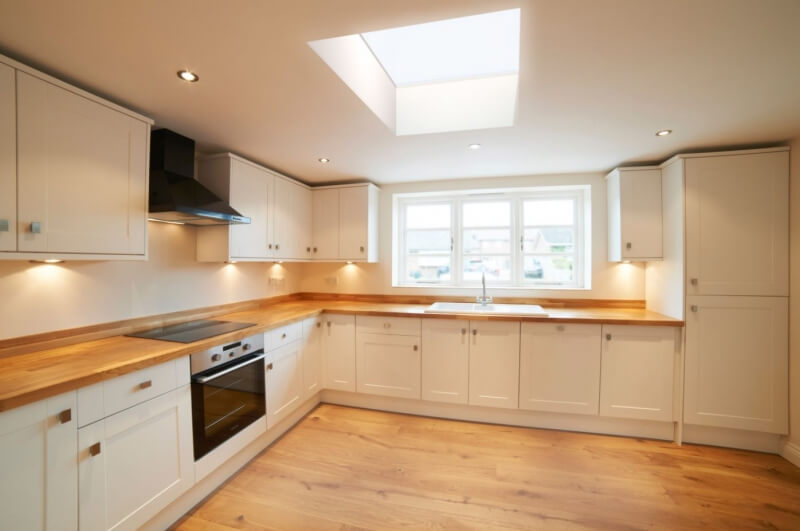 With the summer just around the corner, coupled with our latest offer of up to 40% off windows, doors, conservatories, and extensions, there's never been a better time to open up your home to the summer with a modern flat roof extension.
Perfect for growing families, and reconnecting with loved ones we haven't been able to see due to lockdown restrictions, here are 5 modern flat roof extension ideas to really impress your guests this year!
Brighten up a narrow kitchen space
Does your home feature a narrow strip of land that runs adjacent to the ground floor? If so, a superb side return kitchen extension could be the answer to vastly increasing space, light, and overall appreciation of one's home. Often applied to Victorian terraced properties, a flat roof extension, complete with modern frameless rooflights or an elegant roof lantern (depending on the look you're going for), will transform your home's layout for the better whilst creating a bigger, brighter, and more beautiful kitchen and living space that everyone can enjoy.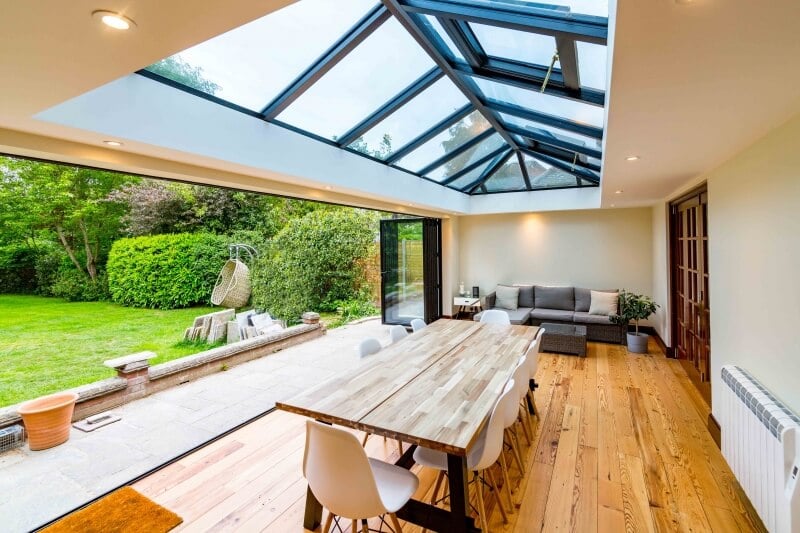 Seamlessly link outside spaces with bifold doors or sliding doors
Blurring the boundaries between inside and outside spaces even more, our flat roof extension roofs are strong enough to span up to 5.8m above bifold or sliding doors without expensive and often unsightly additional support. Offering up to 8 panels available with our slender bifold doors or up to 6 panes with our contemporary aluminium patio doors, both door styles deliver a wide range of benefits when fitted into modern flat roof extensions.
With SEHBAC, you can enhance your new flat roof extension even further with a modern overhang on the roof to shelter the doors, and a range of level external flooring options to seamlessly flow from the inside to the outside for effortless entertaining.
The sky's the limit with a frameless flat skylight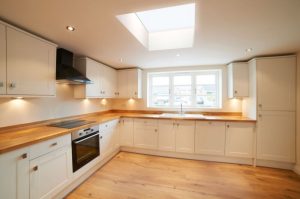 Minimalist flat rooflights (like ours!) deliver streamlined, modern exterior aesthetics alongside a contemporary frameless interior appearance. Perfect for those with 'Grand Designs' in mind, easily personalized in a multitude of on-trend colour choices and finishes, for a really contemporary finish that's sure to wow your guests, you could go one step further with an extended internal plastered soffit system* and/or extra-large roof lights up to 23m².
*Available in small, medium, or large, a soffit is a horizontal architectural feature built lower than the area around it. Its purpose is to conceal light fittings and speakers, it adds stylish character to any extension.
Add extra height and grandeur with a refined roof lantern
Heritage, period, or traditionally styled home? Then our 'fast-to-fit' beautifully pitched lantern roof option is ideal! Its unique 25° pitch effectively draws more light and height into the space, creating an illuminating glazed focal point drenched in warm natural light. Elegant and striking, thanks to its super-strong ridge feature, impressive spans up to 4 m x 5.58 m can be achieved. Reviving your home like no other, impress your guests with uninterrupted views of the sky no matter what the weather may bring.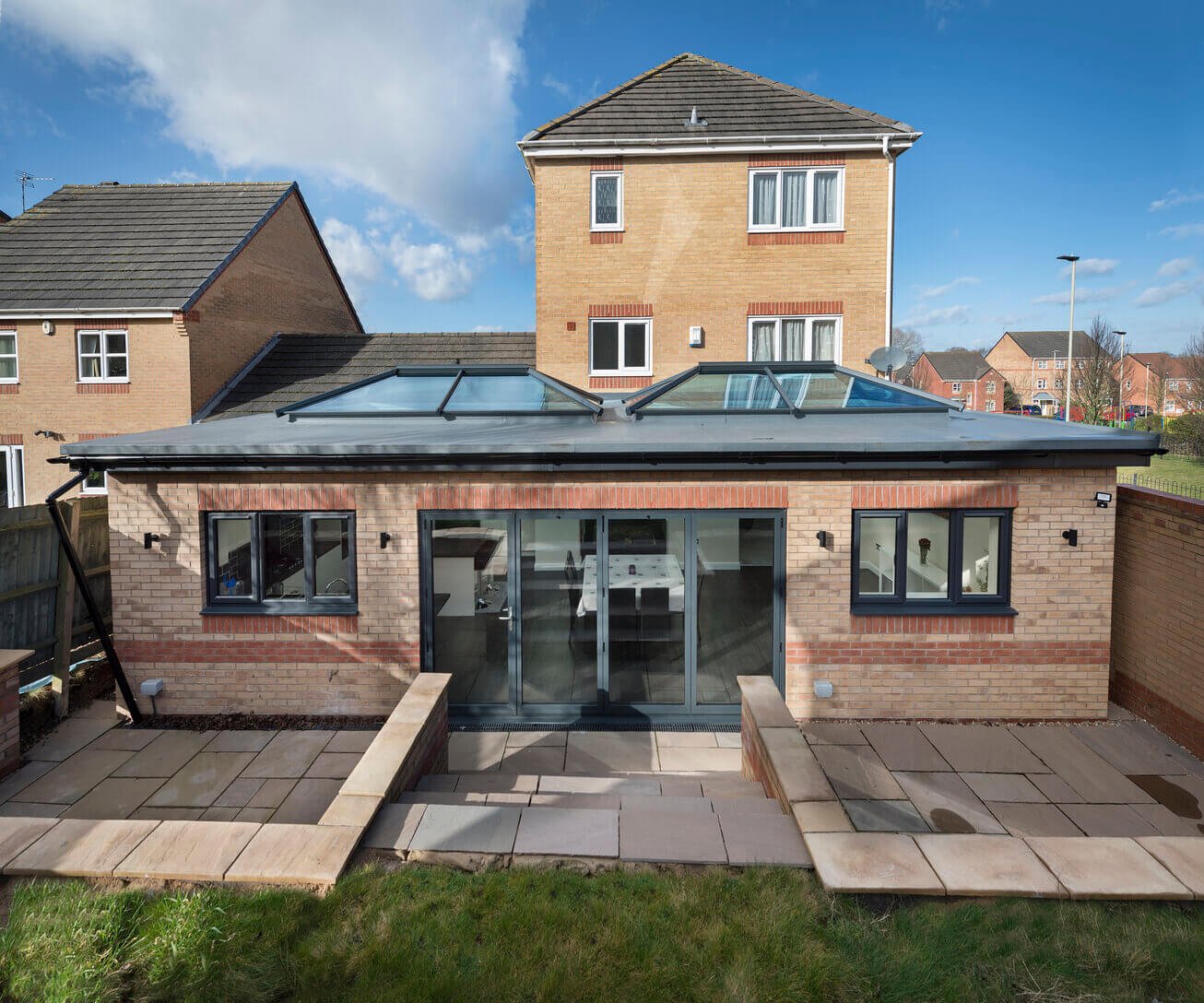 Add a flat roof terrace or roof garden
Installing the strongest modern flat roof extension available, if you'd like a bit of extra garden space or simply want to boost your home's kerb appeal, a rooftop garden could be the way forward. Living roofs (or green roofs) are particularly fashionable at the moment. Aesthetically pleasing and incredibly sustainable, notable benefits of green roofs include temperature fluctuation reductions, reduced noise levels, increased productivity and psychological wellbeing, lower energy bills, and increased property value.
If you'd like to go down this route, it's likely you'll need planning permission. There's no need to worry though, as SEH BAC will take care of everything for you.
Modern flat roof extensions in Ipswich and Oxford to Essex and Suffolk
Weatherproof, efficient, and aesthetically striking, our modern flat roof extensions are at the cutting-edge of chic architectural design. Individually designed, built, and project managed by our experienced team of experts, bringing your unique vision to life is what we do best.
Open up your windows and doors to the summer with a visit to an SEH BAC show centre, browse through our inspiring installation gallery, get a price, or contact us to find out more.