Back to news
Romney Hydro-power Installation
8 March 2012 |Advice & Guidance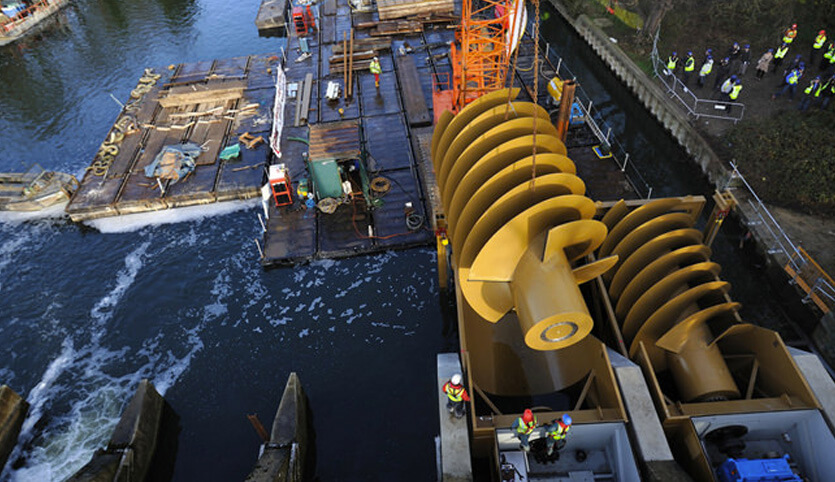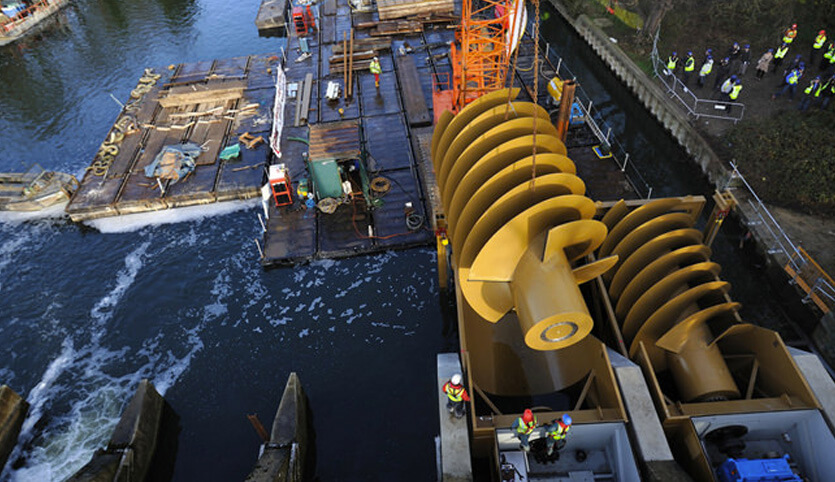 SEH BAC are just one part of the SEH Group. We have many different sister companies, one of which is Jackson Civil Engineering. Who recently have done a great job installing some clean, renewable energy in Romney!
Windsor Castle will soon be supplied with 'green' energy after the second of two hydropower turbines was installed by Jackson at Romney Weir in December. The site team did a fantastic job, craning in the 20 tonne turbine without a hitch, whilst being watched by the world's media.
Once commissioned. the two Archimedes Screw hydro-power turbines will produce 300Kw/h of electricity, which will be fed direct to Windsor Castle, with any surplus being fed back on to the grid. This is the first hydropower installation on the River Thames and the four metre diameter turbines are the largest Archimedes screws in the UK.
The Deputy Treasurer at the Royal Household said The Royal Household is constantly looking at new ways of saving and supplying energy so as to remain as environmentally friendly as possible well into the future. Accordingly, the Household was very keen to support this project. Once completed, it is hoped that the scheme will supply half of Windor's Electricity.
Jackson Civil Engineering
Prior to installing the turbines, the weir, which is 214 years old, had to be modified to make room for the installation. Two weir gates were removed completely and the weir walls were modified to ensure the two giant turbines, and the troughs they sit in, could be installed. Now, with the turbines in situ. work continues to fix the turbines in place and it is hoped they will be fully up and running in the Spring.
Jackson Contracts Director Brian Crofton said; "We are delighted to be involved with this scheme. Hydropower definitely has a place in the UK's future energy mix and we hope to be involved in more schemes going forward, From an engineering point of view. this project has been fantastic: it's always good to see our industry being involved in new projects where we are combining innovation with existing assets on our rivers to create renewable energy for the future.