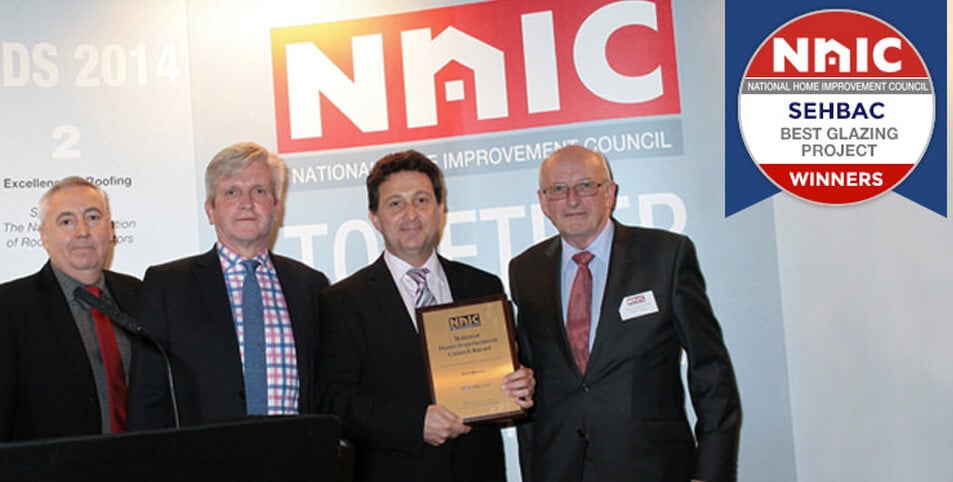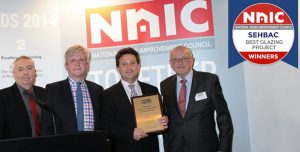 Congratulations to GGF Member SEH BAC on winning the GGF Award for Best Home Improvement Glazing Project at the National Home Improvement Council (NHIC) Awards in London last week.
John Savage, SEH BAC Managing Director commented, "We're delighted to have won this award and proud that our work has been recognised by the GGF and NHIC. It demonstrates that our approach is class-leading. The awards event was a tremendous opportunity to rub shoulders with other home improvement companies that share our passion."
Norman Hornigold, SEH BAC Sales and Marketing Director added ""Our absolute focus at SEH BAC is the customer and ensuring that their home improvement project far surpasses their expectations. The measure of a superb glazed extension isn't about budget and scale, it's about ensuring the client's wish list remains central to the entire process. It was extremely pleasing to win this award and it was a thoroughly enjoyable day."
Held at the prestigious Gladstone Library, One Whitehall Place in the heart of Westminster, the event was attended by over 130 guests from many sectors of home improvement. The awards luncheon was opened by guest speaker and host Nick Rainsford MP, President of NHIC.
On presenting the awards Barrie Smith-Wright, NHIC Chairman announced to the audience why the judges had chosen SEH BAC as winners of the GGF "Best Home Improvement Glazing Project".
"The project (Mr and Mrs Hick's Orangery "Glazed Extension") shows great attention to detail from design through to delivery. Technically it is an excellent production.
Though it is an extension, it blends in perfectly with and indeed complements the property. Often projects such as this can appear as "add ons" or "bolt ons", but this extension looks like it was built at the same time as the original period property was built.
The use of glass as a material is exceptional – with glazing on all sides of the structure in the correct proportions. The bespoke design is well crafted and the finish is perfect. It superbly highlights the use of state of the art glass products in doors, windows and rooflights.
It is clear the design and build is a collaboration between homeowner and professional builders. The customer satisfaction is clear from the testimonial video submitted but it is also evident that this project was about home improvement in every sense – providing a spacious and luxurious extension that can be used all year round.
It was good that SEH BAC took the time and listened to their customers' needs and wants to deliver this outstanding project. Many companies fail to listen to their customers and try to sell them what they produce rather than what the customer actually wants.
The project also displays the best attributes of glass and glazing in terms of energy efficiency and natural light. It is a well-deserved winner of this award."
Brian Smith GGF Director of Home Improvement added, "On behalf of the GGF, congratulations to SEH BAC on winning this prestigious award. The quality of the work was outstanding and the award thoroughly deserved."