Back to news
Turn your conservatory into an office
29 January 2013 |Blog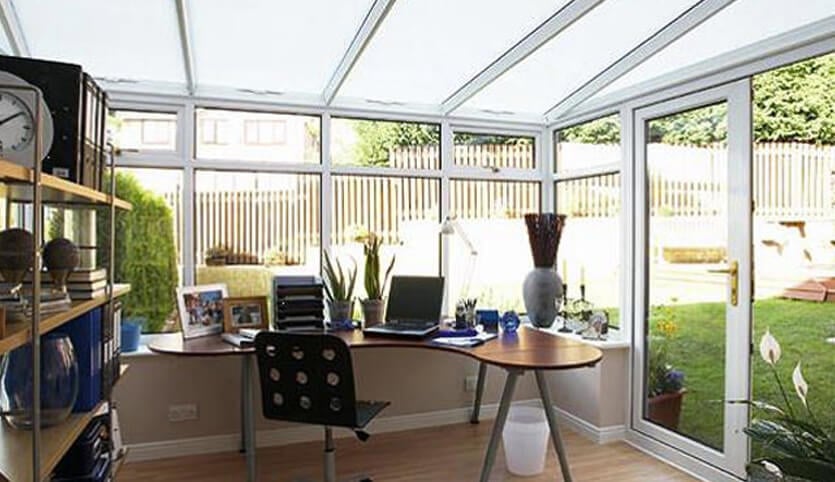 What are the benefits of turning my conservatory into a home office?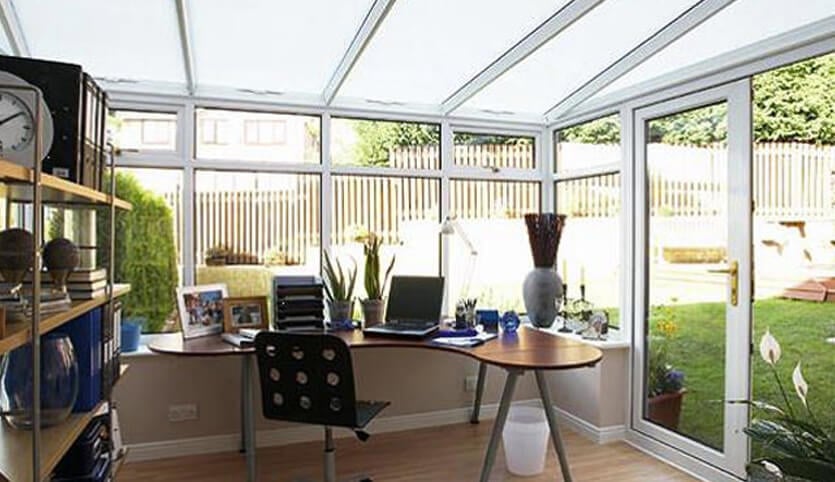 With advances in technology, many people are enjoying the benefits of working from home. But why confine yourself to the back bedroom? What better way to work than looking out of your conservatory window at the garden. In fact, your conservatory really doesn't have to look like an office at all. There are so many ingenious furnishings that will hide the office paraphernalia because although it might be your workspace you may not want to use it like that all the time. Conservatories are often our leisure and relaxing rooms and sometimes our dining rooms, too – they still can be, even though the PC is standing in the corner, hidden.
How to turn your conservatory into a heavenly home office
Firstly, you'll want to install inexpensive office furniture that subtly hides your work tools. We took a peek at the IKEA website, which has some great paper boxes and media organisers, plus other really clever space-saving ideas and shelving. It even has some neat office chairs that would blend in superbly, too. Working in your conservatory means you are often away from the areas of the house that usually see a lot of people traffic. You also get the added bonus of stepping straight into the garden for a well-earned coffee break and inspiration.
Conservatory office ideas for summer
If you are working in your conservatory during the summer, you are going to want to ensure you don't get too hot. If you've planned it well, you'll already have solar glass, which helps keep the heat in during the colder months and the heat out during the hotter ones. It would be really wise to invest in some SolarTex thermal blinds, which have the same effect. Do your research to find out which suits your environment best, but don't forget to take a look at pleated blinds, which can really add a touch of elegance, as well as innovative integral blinds; ideal for ultra-modern conservatory offices. If you are using a computer screen, you won't want too much glare on the monitor as it will impede the way you work, so carefully consider where you will position crucial technology.
Conservatory office ideas for winter
During the winter months when the days are much shorter, bear in mind that you'll be working in there when it's dark outside – so buying the correct lamp for your close-up work is going to be essential. Consider a floor lamp positioned right near your desk, although make sure the light bulb is not going to be visible to you under the shade from your seated position. The benefit of a floor lamp is that once your work is neatly tucked away it will blend itself in with the room.
Your 'desk' doesn't have to be a purpose-built structure, either. Why not work at a dining room table, positioned in the conservatory? And your office shelving could be a dresser where you store your stylish office stationery boxes. Lastly, don't forget to ensure that an 'easy' chair is nestled in the corner. In the cooler months, that's where you'll want to sit during your coffee break.
Take a look at our Pinterest board for unique home office ideas