Back to news
uPVC vs aluminium windows: the plastic vs metal saga continues!
9 May 2018 |Advice & Guidance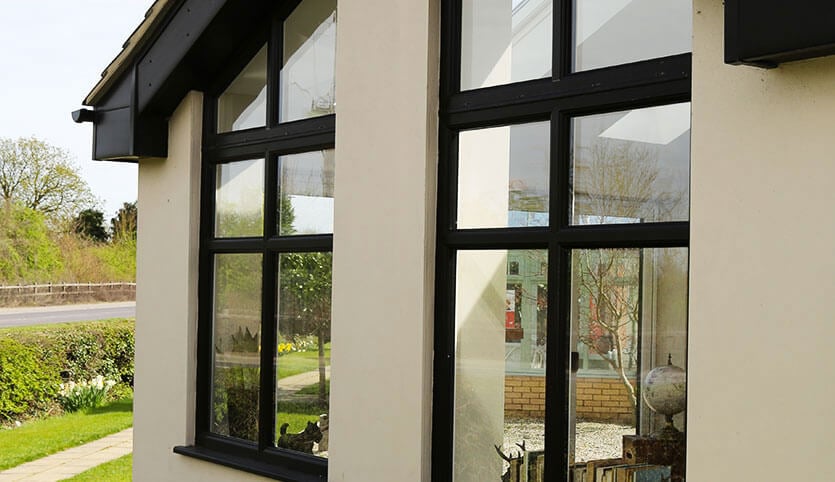 uPVC vs aluminium windows (the pros and cons of both materials):
The battle between uPVC and aluminium is one that's been hard-fought for many years. Both window materials have their own unique advantages that appeal to different types of homeowners. For this reason, there's no clear winner or right answer, only the best choice that will make sense for you and your property. So, uPVC vs aluminium, which is it? SEH BAC are here to keep things clear!
uPVC vs aluminium | What's the difference between aluminium and uPVC?
Here's a table with the key benefits of uPVC and aluminium windows. Our experts have gone into more depth about both materials below.
| | |
| --- | --- |
| uPVC window benefits | Aluminium window benefits |
| Low maintenance | Low maintenance |
| Cheapest choice | Slimline frames |
| Thermally efficient | Superior thermal performances |
| Durable and robust | Strongest construction material |
| Versatile designs | Long lifespan |
Is uPVC better than aluminium? The benefits of uPVC windows
The classic and most recognisable window material for generations, uPVC windows blend in with most styles of home thanks to the wide colour palette applicable and inherent flexibility. uPVC is also the most visually versatile of the options available. While hardwood and aluminium come in different colours and finishes, uPVC can be completely customised to match any homeowner taste or the style of any property.
uPVC is not just relatively cost-effective but offers quicker manufacturing times too. Virtually no maintenance, uPVC provides a practical and durable window solution that can work well on a huge range of properties. They're a British property staple, offering reliable security, efficiency, and style at an affordable price point. uPVC windows always provide homeowners with a 'set and forget' window solution. They're wholly resistant to harsh weather conditions and are easily recycled at the end of their long lifespan.
What's more, at a time when more and more of us are keen to cut both our energy bills and our impact on the environment, uPVC is winning fans for its exceptional thermal performance. It excels at keeping heat in, draughts out, and interior spaces peaceful and quiet. Making uPVC products a fantastic choice if you live near a busy road.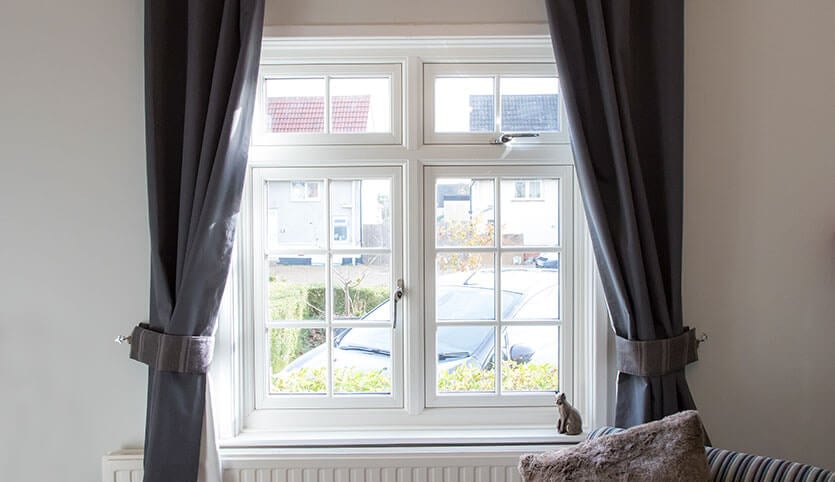 uPVC window performance overview:
Low maintenance and easy to clean
High thermal performance: 0.8 U-Value
A energy rating
Available in modern and classic styles
What are the disadvantages of uPVC windows?
Although uPVC windows are incredibly versatile, they don't suit all property styles, such as those that require the slender sightlines of aluminium. Aluminium is also much stronger than uPVC and can last up to 45 years with little to no maintenance. Lasting between 20-30 years, modern uPVC windows are strong but not as strong as aluminium. And, although uPVC windows come with a wide colour palette to choose from, aluminium windows are available in 150 RAL colours.
The benefits of aluminium windows
The most recent window material option but by no means the newcomer, aluminium windows have built a reputation for being the ideal choice in commercial and large-scale projects. With its unmistakably sleek, stylish aesthetics, aluminium's popularity has soared in recent years. This is thanks, in part, to TV shows like Grand Designs, where it's frequently used in striking and ambitious contemporary self-build projects. Aluminium is also one of the most aesthetically versatile materials on the market, available in any RAL colour. Slim sightlines don't just add to the striking, contemporary feel. They also offer unparalleled levels of natural light, able to brighten any room in the home and lend the whole property an airy, spacious atmosphere.
Not only unrivalled when it comes to strength, but modern aluminium windows also offer excellent thermal efficiency. This is thanks to their innovative polyamide thermal break – a plastic barrier placed between the inner and outer aluminium frame to prevent heat escaping. Add in high-quality glass and a premium multipoint locking system, and aluminium products can deliver truly outstanding security, energy efficiency and all-round performance. They incorporate Aerogel for impressive thermal performance, delivering U-Values as low as 0.9.
Aluminium window products almost always sit at the most expensive end of the scale – but in return, you get arguably the best all-round performance, including excellent security, durability and functionality. Available in a range of styles including casement, tilt and turn and as bay windows, there's an aluminium solution to suit any home improvement vision.

Aluminium window performance overview:
Minimalist frames and sightlines
High thermal performance: 0.9 U-Value
A++ energy rating
Available in new and classic styles
Lightweight with a high strength-to-weight ratio
So, is uPVC or aluminium the best window material for you?
Your decision to opt for either aluminium or uPVC will largely be dependent on your budget, ambitions, and property needs. If you're lucky enough to live in a listed building or conservation area, for example, uPVC make sense as they can be specially styled with classic design features in mind. Those living in a new development and are having window issues, on the other hand, will most likely want to consider sleekly styled aluminium frames.
uPVC vs aluminium | Perfectly suited window materials from SEH BAC
uPVC vs aluminium – which stands out most to you?… With a nationwide supply and installation network, the team here at SEH BAC are well-equipped to help all homeowners realise their perfect property ambitions. Whether uPVC or aluminium, we'll tailor your new windows specifically to your household, achieving a perfect fit every time. To find out how, give us a call or contact us online today.