Back to news
What makes the Livinroof one of our best sellers?
13 June 2018 |Advice & Guidance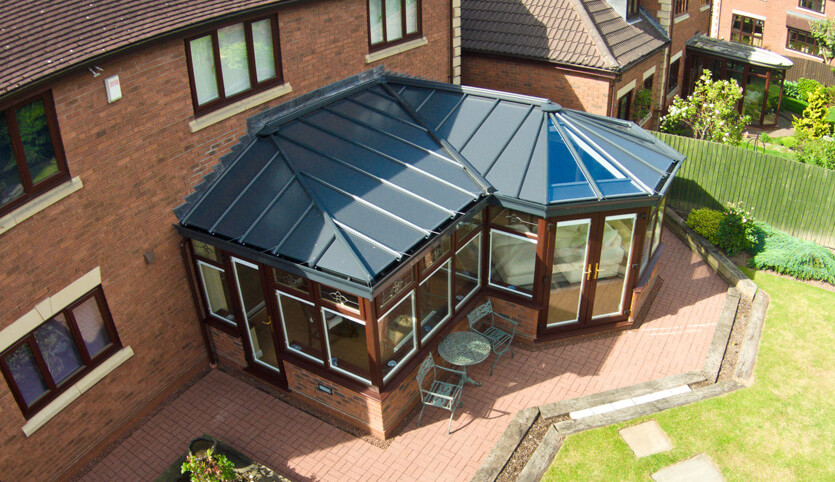 Modern conservatories are capable of much more than their traditional counterparts. Originally designed to add some much-appreciated extra space to the room, bringing in natural light, this sentiment can now be fully realised by homeowners thanks to modern advances and developments. The Livinroof is the perfect example of this, being a conservatory design that allows beauty on the inside and out, seamlessly turning your conservatory into an extension without much hassle whatsoever.
When taking this into account, it's no reason why Livinroof is one of our best sellers!
Combining elements of solid and glass conservatory roofs
Constructed from aluminium or insulated composite external panels, the entire ethos behind Livinroof is to transform conservatories to resemble that of a full extension a little more. This is due to the increased sense of privacy that is inherent to the design, with a perimeter vaulted ceiling that allows homeowner to easily enjoy an acute combination of solid and glazed roof sections.
Even in terms of installation Livinroof improves upon traditional conservatory roofs, taking just half the time. Despite this, once completed, your existing conservatory will look and feel like a true extension and much more natural part of the home. Comfort is prioritised without ever needing to compromise on light entry.
Reinventing existing conservatories like never before
We've already touched upon it, but Livinroofs remain so popular amongst homeowners because they utterly change the way you think about your extended living space. Both in terms of how it looks and how you can use it, this ingenious conservatory roof option adds an impressive amount of value and scope. Cold spots, draughts, and heat leaks will be a thing of the past, resulting in year-round comfort that will have you tempted to step into it more times than you normally would.
Because a Livinroof installation is just a simple case of improving the existing structure already present, it works out to be far more affordable than it would be to have a full extension erected. This is almost certainly a key factor in why they prove so popular. Should you find yourself in a similar position, whereby you want to extend your home but already have an unused conservatory, Livinroof is without question the ideal solution.
The safest and warmest way to enjoy an extended living space
Livinroof conservatories not only look like full extensions, but perform like them too. A thermally insulated internal pelmet as standard makes for a roof system that is truly insulating with no cold bridging, with U values as low as 0.16. The space simply becomes a space you enjoy and look forward to being in, with a balanced temperature sustained throughout the year so you can stay warm in winter and cool in summer.
Livinroof- The next step in conservatory roofs
Don't deny yourself the ability to enjoy your conservatory as much as you intended – consider a Livinroof upgrade from SEH BAC! To find out more, send us an online message and we'll get back to you ASAP with further information.