Back to news
5 home improvements best done in summer
9 June 2021 |Advice & Guidance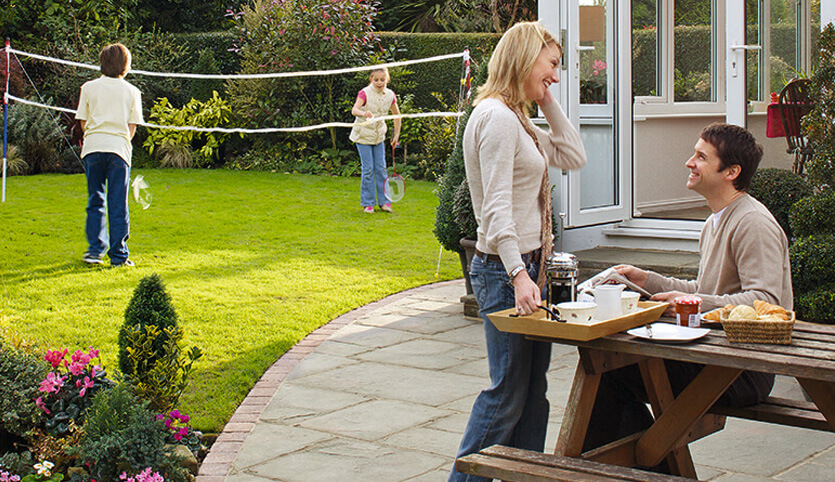 Summer provides the ideal setting to get many long-overdue home improvements done and dusted for a variety of reasons; most notably, considerably less disruption to family life thanks to the improved weather.
So, to help you make the most of your home this year, here are 5 renovations perfect to do in the summer months.
1) A modern flat roof extension
Contemporary flat roof extensions are ideal for summer installation as you can make the most of your new space straight away. With a choice of minimalist flat skylights or a statement-pitched lantern roof design, soak up the sunshine in true comfort, whilst simultaneously creating a space that seamlessly flows from the inside to the outside. Plus, with a stylish overhang option to shelter the doors coupled with a range of level external flooring options, gorgeous flat roof extensions from SEHBAC are perfect for entertaining your guests throughout the summer months and beyond.
2) Invest in new windows
Considerably improving your home's thermal efficiency, fitting new windows in summer is much more beneficial than other times of the year as there's no need to worry about your family having to endure cold draughts and bad weather whilst the work is carried out. From beautiful bay windows that add a light and spacious feel to slimline aluminium frames that enhance far-reaching summer views of your garden, we're confident our wide range of window styles will meet and exceed your expectations.
3) Create the perfect climate with bifold doors
During the summer, bifold doors let the warmth out for the perfect climate inside. Equally keeping you warm and cosy throughout the winter months, the unprecedented way bifold doors open up the space is ideal for summer entertaining and airy open plan living.
4) Update your home security
Did you know July is the cheapest time of year to fit a security system? Most homeowners leave it to later in the year, but – mainly due to bad winter weather – this actually makes installing security systems harder and thus more expensive. So, upgrading your home security now will protect your wallet as well as your home! As well as a range of smart home security systems, reduce energy loss, disruption, and installation work mess created by wintery wet weather by updating your front door this summer too.
5) Replace a boiler
If your boiler needs replacing, don't wait until winter like most homeowners do – as August is the cheapest time of year to replace it. This is because boilers don't need to work as hard in summer, so there are fewer boiler repairs. This makes it much easier to book a heating engineer in summer and thanks to a less competitive market you could save up to 10-15% by being ahead of the game.
If your conservatory isn't retaining heat properly, summer is also a great time of year for a modern conservatory roof replacement in preparation for the colder winter months ahead.
Let the summer in this year with SEHBAC – Where your home matters
With up to 40% off windows, doors, conservatories, and extensions this year, it's time to visit your nearest SEHBAC show centre, get a price, or get in touch to begin the exciting process of creating your ultimate forever home this summer.