Back to news
Can you make your conservatory more energy efficient?
17 September 2020 |Advice & Guidance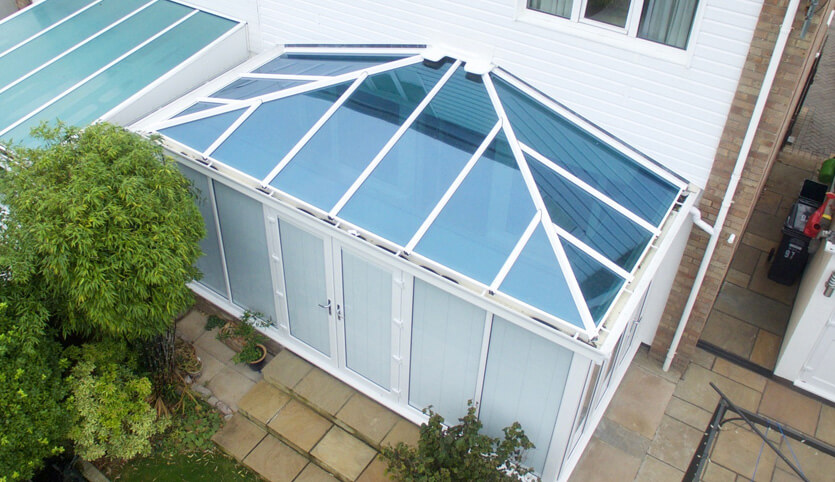 Many of our enquiries centre around how to go about making ageing conservatories more energy efficient, thanks to outdated materials that make them either too hot to use in summer or near impossible to keep warm in winter. Researching the most economical conservatory heater or cooling air conditioner are quick fixes but won't actually solve the issue. Instead of prolonging the problem, you need to address your conservatory concerns head-on, which, in turn, is sure to improve you and your families lifestyle, and can significantly reduce energy bills and even increase your property value too!
How do you make a conservatory useable all year round?
It's time to start thinking about the bigger picture. So, to help you focus on reducing your family's carbon footprint and eliminate household energy waste and rising energy costs, here are some foolproof approaches to make your conservatory more energy efficient this year.
1. Replace your conservatory roof
When old conservatories lose the ability to effectively retain heat, many homeowners believe this is the end of the road for the entire structure. However, this is certainly not the case. Most conservatories can be retrofitted (added to) with a new roof, with the choice of a crystal-clear glass roof, a stunning lantern roof, or the ever-popular solid tiled conservatory roof replacement.
Which is the best replacement conservatory roof?
Each type of roof will suit most property styles, but there are certain situations where one type of roof may be more suitable than the others. These include:
Tiled conservatory roof replacements
Owners who want to increase their property value
Homes that require a conservatory that mimics the permanent look of an extension.
Owners who want the best of both worlds by incorporating glazed panels alongside tiles, resolving another common misconception that a tiled conservatory roof will lose all the light in the room.
Terraced and end-of-terrace houses (properties with less privacy).
Glass conservatory roof replacements
Homeowners restricted by budget.
Properties that are limited to 'like-for-like' improvements, e.g. listed buildings, conservation areas, Article 4 areas.
Semi-detached or detached properties (properties with more privacy).
Lantern conservatory roof replacements
Buildings that want the 'wow' factor.
To highlight specific features in the home e.g. a gorgeous kitchen island or to compliment beautiful bi-folding doors.
2. Replace your conservatory windows and doors
It's also possible to upgrade your conservatory's windows and doors, whilst keeping the existing walls and foundations intact. Did you know single glazing loses heat around twice as fast as standard double glazing? Upgrading from single to modern double glazing can also increase the value of your home by up to 10%. Or you could take a significant step up and replace your conservatory's windows and doors with comfort glass, which can be many times more effective than a single glazed conservatory. Don't forget that since October 2010, windows must have a minimum energy rating of band C to comply with Building Regulations. So, if your conservatory was built before 2010, chances are it falls below the minimum energy rating standards of today.
3. Upgrade your conservatory to a cosy Loggia or orangery
If your conservatory is beyond repair, or you envisage something a bit more special, it's time to consider upgrading to a cosy Loggia or an opulent orangery.
Taking its inspiration from Italian renaissance architecture, Loggias offer the style and solidity of a well-crafted extension with the perfect combination of immaculate glazing, robust plastered walls and substantial corner columns. Able to achieve U-values as low as 0.15W/m2, a Loggia uses less than half the energy of a similar sized conservatory, thanks to super-insulated columns that use a dedicated insulated core designed to maximise thermal performance.
Orangeries were originally used to protect citrus trees from harsh winter conditions in the 1600s. Still renowned for their exceptional energy efficient qualities to this day, the unique combination of insulating solid brick pillars, insulated internal pelmet and high-performance glazed roof delivers thermal efficiency five times higher than brick! Benefiting from energy ratings that surpass current building regulation standards, our orangery installations can achieve U-values as low as 1.0 W/m2K. So, whether you opt for an Italian-inspired Loggia or an ample orangery, you can sit back and relax, safe in the knowledge that it will be a perfect temperature all year round.
Energy efficient conservatories for homes in Suffolk, Essex, and Hertfordshire
From inefficient polycarbonate roofs that have seen better days to homes in need of a revamp, get the most out of your conservatory space this year with a quality SEHBAC installation or replacement. Offering a FREE energy efficient uPVC door * when purchasing windows, a half-price composite door *, or up to 40% off windows, doors, and conservatories until 31st October 2020, there's never been a better time to create your 'forever home'!
Visit your nearest SEH showcentre or browse through our latest customer reviews to find out why South East homeowners choose us over the competition, time and time again.
* T's & C's apply, please contact us for full details.