Back to news
Residence 9 vs Evolution: Which is the best heritage windows brand?
23 January 2017 |Advice & Guidance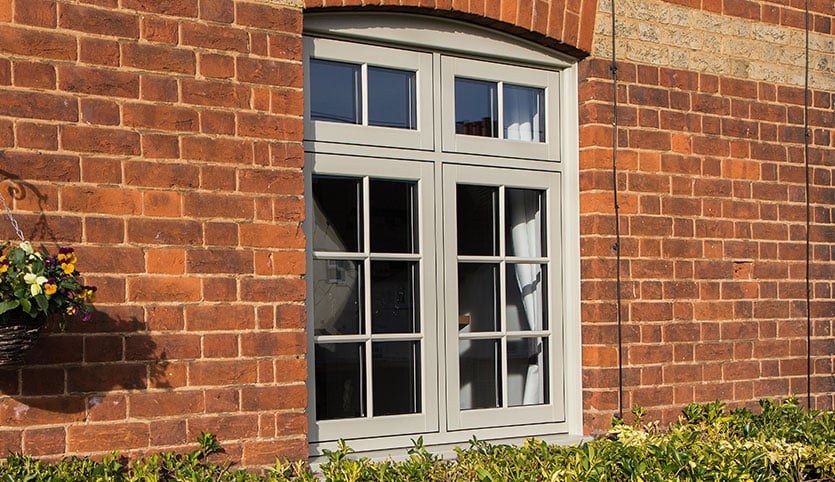 When someone mentions 'heritage windows' you think of white painted wooden windows, perfectly joined, with period handles. But 'heritage windows' does not have to mean wood. In fact, timber alternative windows are made using efficient uPVC frames and designed to look like traditional wooden windows for a traditional look so you can't tell the difference. It can be tricky to know how much replacing your timber alternative windows can cost but they are no longer a niche product and timber look uPVC is better than ever.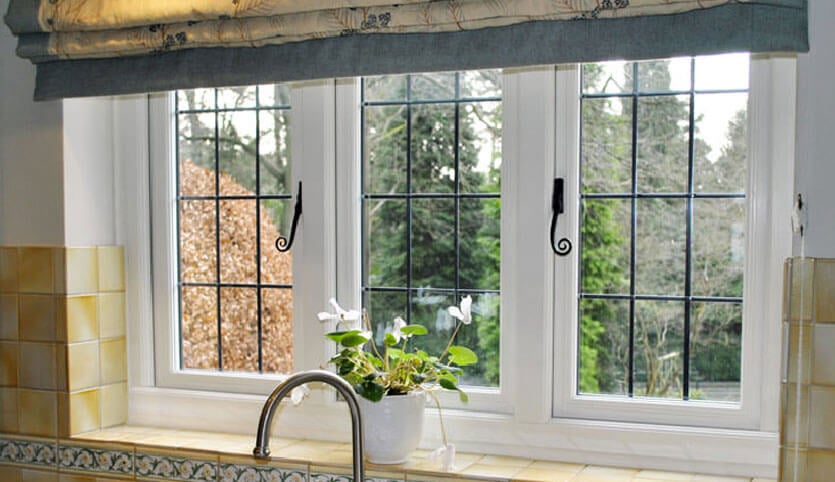 Why choose timber-effect windows?
Although timber is extremely attractive, homeowners often prefer timber look uPVC due to its low maintenance and flawless appearance. To maintain timber's efficiency, it needs to be regularly maintained which can be time-consuming as well as expensive. uPVC is extremely easy to take care of and can be more cost-effective than timber.
Timber-look windows give you the best of both worlds – combining the beauty of timber with the ease and efficiency modern uPVC provides. Heritage timber alternative windows bring these elements together to give a superior performance that will add to the mix of overall kerbside appeal.
Heritage windows review – Which are the best?
There are two main brands of heritage uPVC windows we're going to review – Residence 9 windows and Evolution Windows. While the Evolution range is the original, the Residence Collection is the better-known brand and its Residence 9 windows are seen as more 'popular.'  But what is the real difference in performance between the two?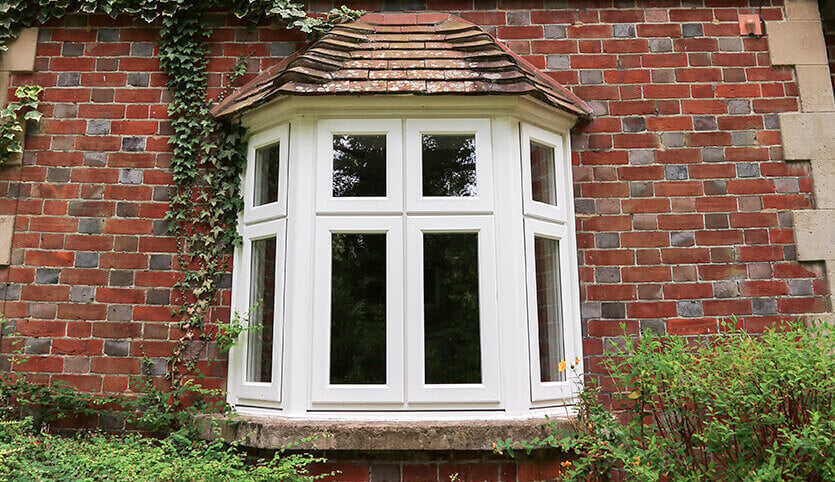 What are Residence 9 windows?
The Residence 9 Collection is one of the most well-known brands when it comes to heritage windows. They have recently expanded their range to enable them to replace modern uPVC windows as well as timber. The Residence Collection is 100mm deep which makes them a durable window and the glass is bonded to the frame which looks impressive. Residence 9's flush sash exterior is timeless and this collection was designed to exactly replicate the elegance of traditional sash windows which is why they have larger frames. Residence 9 windows are A-rated as standard for energy efficiency to help you save money on your energy bills and you can choose from a vast colour palette.
How much do Residence 9 windows cost?
The price of your window renovation will depend on the size of the overall project. However, as with all our products, we only require a deposit of £99. When it comes to repayment, a range of flexible finance options are available, making Residence 9 windows accessible for all homeowners.
Who makes Evolution Windows?
Evolution was the original company that started producing timber alternative windows and their products are full of technologically-advanced features. These windows are traditionally glazed which makes the glass easy to replace if required. These windows are only 82mm deep, which means they take up less space but still retain the same thermal efficiency. All of Evolution's windows are A-rated as standard and their Stormproof and Flush ranges are A+ rated, with thicker double glazing to give improved energy efficiency and save money on energy bills.
What's the difference between Residence 9 and Evolution Windows?
| Brand | Residence 9 windows | Evolution windows |
| --- | --- | --- |
| Frame Depth | 100mm | 82mm |
| Energy Efficiency | A+ | A+ |
| Colours | 14 colour and woodgrain finish options | Unlimited colour and woodgrain finish options |
| Security | Multi-point shoot-bolt locking mechanisms | High quality locks guaranteed for 10 years |
| Period detailing | Exquisite detail and range of options | Exquisite detail and range of options |
| Timber look window cill | Yes | Yes, between 160mm-200mm |
| Flush casement | Yes | Yes |
| Glazing options | Double or triple glazing available | Double or triple glazing available |
| Authentic butt hinges | Yes | Yes |
| Accessories | Range of authentic forged handles including monkey tails and teardrops | Monkey tail and period curved handles, as well as more modern options such as the teardrop |
Can timber effect uPVC windows be used in UK conservation areas?
Getting replacement windows accepted in UK conservation areas is challenging as the main stipulation is that they must be in keeping with the original windows to preserve the heritage aesthetics of a property while improving its performance and often this means timber windows. The authentic style and attention to detail of Residence 9, such as its flush sash exterior, have won them praise as replacement windows from planning authorities across the UK and they are regularly approved for installation in these areas as traditional window replacements.
And they perform to the very highest standard thanks to profiting from all the benefits of uPVC, with modern design and safety features, thermally efficient, virtually maintenance free, and availability in a range of colours, including heritage colours and dual colours.
Whichever brand you choose, make sure you choose SEH BAC
Here at SEH BAC, we provide heritage-style timber alternative windows that are aesthetically pleasing and a true asset to your home. They instantly add value as well as keep your home's authentic appearance. If you want to retain a charming heritage feel to your period property – or even add it to a modern home, timber alternative windows could be the solution for your home.
If you would like new windows, contact a member of the team today for a free no-obligation quote on our heritage window collection, which includes Residence 9 and Residence 7, you won't lose anything as our quotes are completely cost-free! Or visit your nearest SEH BAC South East showroom to choose your perfect window for your period property.

And if you live in a 19th century home..
What are the best window styles for 19th Century properties?
Are you looking for the ideal way to bring your home back to its original Victorian or Queen Anne architectural stylings? Between 1839 and 1900, this era is considered a crucial time in Britain's architectural history. The Industrial Revolution was taking place, where a series of architectural revival styles were taken from the past to create the asymmetrical 'Victorian' style that we see many examples of around Ipswich and the surrounding Suffolk areas today; Ipswich is one of England's oldest towns after all.
An elegant style to breathe life back into your Victorian home
Referring to the reign of Queen Victoria, between 1855 and 1885 the Gothic Revival featured heavily in Victorian property designs with brick as the main material choice of the day. Typical features of 'Victorian Gothic' were ornate designs where the likes of pointed arches, patterns, intricate bay windows and stained glass featured heavily. Other architectural styles that became fashionable during this period were Italiante and Neoclassicism mixed with various Middle Eastern and Asian influences, where the addition of many intricate window frames became a classic Victorian trait.
Queen Anne architecture originally referred to the reign of Queen Anne (1702-1714), which saw a popular revival in Britain near the end of the 19th century. This architectural style is recognised by its rich red brick use, windows with glazing bars, terracotta tiles & panels and doors covered with timber hoods.
Experts for 19th Century properties and more
Whether you're looking for 'Victorian Gothic' timber glazed bars, beautiful heritage bay window restoration or classic timber effect window installations, we have a wide range of options to accommodate Victorian and Queen Anne revival style heritage window designs. Residence 9 windows have been designed as the perfect solution for period property installations, authentically replicating 19th Century timber windows and authentic designs, from Georgian and Victorian properties to stately homes. A weather bar ensures traditional performance and aesthetics while Georgian bars recreate the pattern of original timber windows to preserve a property's character. Eye-catching monkey tail and pear drop handles provide the perfect finish. Residence 9 enables you to replace your windows without losing the character appearance and feel of the period. You can contact us to find out more.