Back to news
How to choose a conservatory – The beginner's guide
12 April 2017 |Advice & Guidance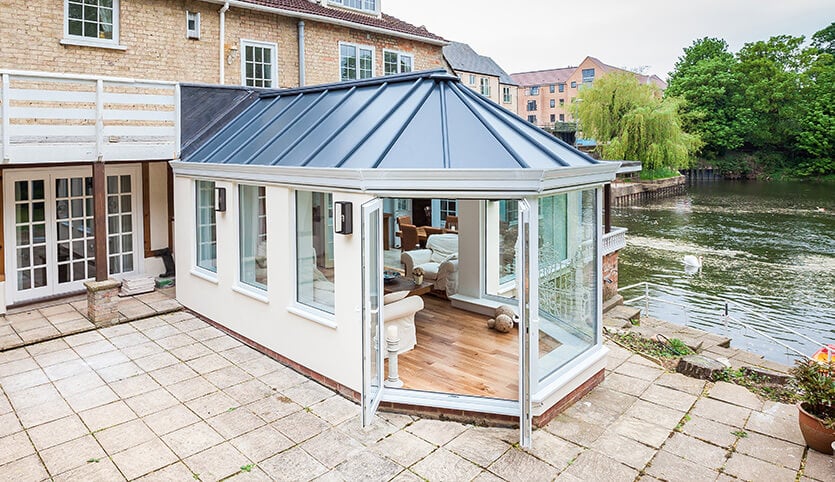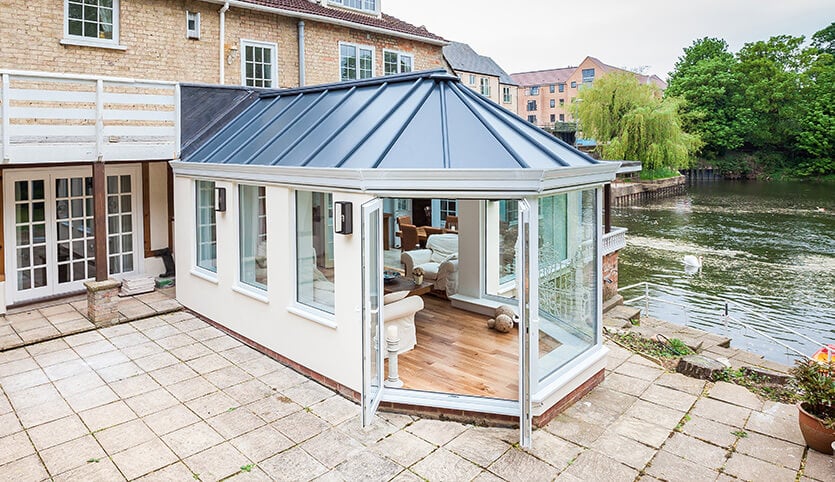 If you're dreaming of more space for your family, look no further than a beautiful conservatory. We've compiled a guide to answer all your questions about how to choose a conservatory. Whether you've never had one before or are looking to upgrade, we have the answers.
What is a conservatory?
A conservatory is a home extension that is mainly made of glazed panels. It allows light to flood the area and creates a well-loved room for the whole family. It's the perfect choice to increase your space without adding an extension and has so many uses. Available in uPVC, timber and aluminium, your conservatory can be made to your exact requirements.
Will my conservatory be warm in winter and cool in summer?
When installed with quality materials and by a professional team, your conservatory will be the perfect temperature all year round. Using efficient glazing and high performance frames, the optimum amount of heat is kept inside whatever the weather.
uPVC is the traditional choice for a conservatory. Low maintenance yet still effective at keeping your warmth inside.
Timber conservatories are naturally insulating and with microporous sealant, provide durable resistance against whatever the weather throws at you.
Aluminium conservatories are the ultra-modern option for your home. They are the strongest choice and with a thermally broken profile provide an effective barrier against the cold.
What are the different types of conservatory?
There are a variety of distinctive styles and designs of conservatories suitable for all homes and tastes. Before you decide which style you prefer, you need to decide how you will use your new conservatory. This will then inform which design will fit your home best.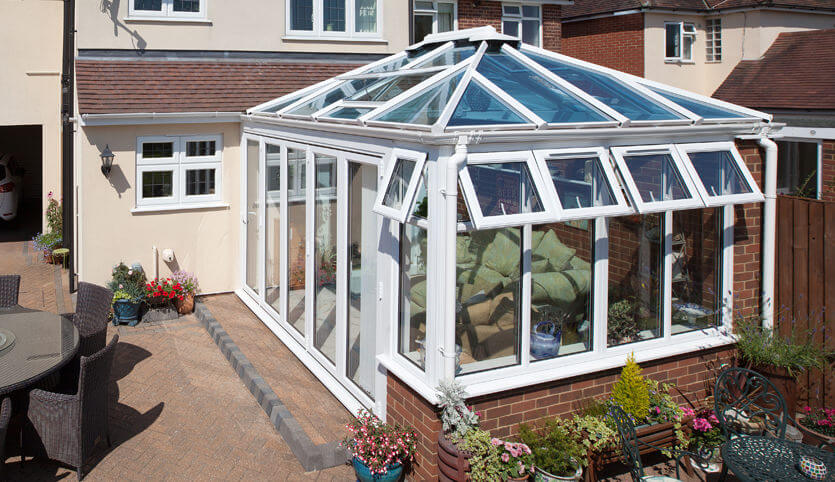 What are the benefits of a conservatory for my home?
The main reason people choose to add a conservatory to their home is for the extra space it provides. A conservatory will transform how you use your home. Whether you're growing family just needs more space or you want to add an extra room for entertaining.
As a conservatory always contains glazing, it gives you stunning views of your garden or surrounding countryside. If the British weather lets you down, you can still admire the view while being warm and comfortable inside. Light can flow around your home and your whole ground floor will feel spacious and bright.
A conservatory gives the extra space that an extension brings but at a more affordable cost. It also takes a lot less time and is less hassle for you.
Your new conservatory will instantly improve your kerb appeal and impress anybody that sees it. If you're looking for a way to add the wow factor to your home then consider a conservatory. If you're planning to sell in the future, a conservatory will also add considerable value to your home. However, the value it will add to your lifestyle is the important consideration.
Do I need planning permission for my conservatory?
The answer is generally "No", however, it pays to do your homework because who wants the stress of a potential problem with the planners just because you didn't make enquiries at the outset. Firstly, it pays to know what changes, if any, the previous owners made to your property. This may be simple to answer for homeowners in a fairly new property. But if your property was around when Victoria was on the throne or even one of the monarchs in the 50 years after her reign, it's possible you might need to do further investigating. The reason is this: you may NOT need planning permission if your conservatory is going to extend 3m or less from the original back wall of a semi or terraced home.
If you live in a detached home, the rule is slightly different: your conservatory can't extend more than 4m beyond the original back wall of your house. So, if your conservatory falls within those parameters, it's likely you won't need to go through the rigmarole of planning permission.
If certain conditions mentioned above are met, you should not need planning permission for your conservatory.
The conservatory must not be higher than 4m or higher than the highest roof of your home
It must not cover more than half the area around the original house
It must not extend beyond the rear wall of your original house by more than 3m if an attached house or 4m if detached
However, each conservatory and home are different so it's always best to check first.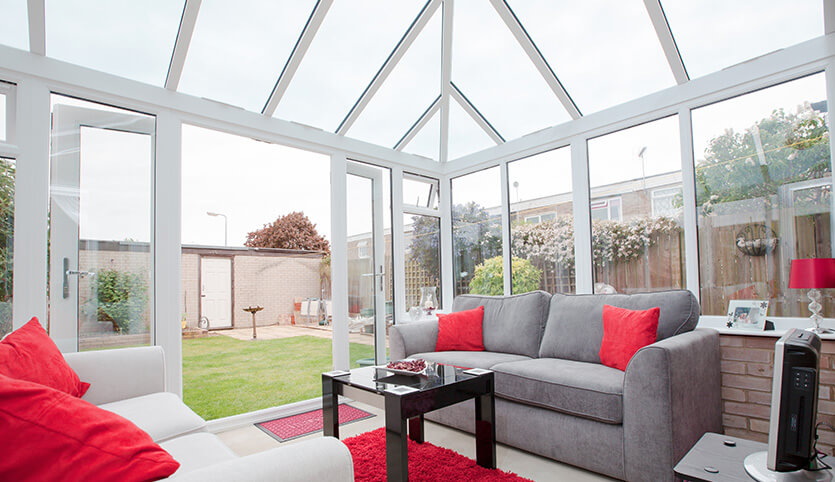 What's the difference between a conservatory and an orangery?
A conservatory is a glass and uPVC, timber or aluminium structure, whereas an orangery has brick pillars between each window. Orangeries also commonly have a lantern roof with a semi-plastered interior. They can be more expensive than a conservatory and take longer to install as require more brickwork and preparation.
What is the best material for my conservatory roof?
All modern conservatory roofs offer superb efficiency so the choice depends on what look you want to go for. With a tiled roof, you can exactly match the rest of your home to allow your look to flow. A solid roof allows you to have a vaulted ceiling which makes your conservatory feel like a natural extension of your home. With lightweight tiles, your conservatory will keep a consistent temperature all year round.
Glass roofs no longer need to mean inefficient temperature control. With high performing solar-control glass, only the right amount of energy from the sun can enter your conservatory. During the winter, your room will be flooded with light and heat will remain inside keeping you comfortable. Meanwhile in the summer, your conservatory will not be allowed to overheat. A glass roof provides a bright airy space for you to enjoy all year round.
A solid roof offers you the best of both worlds. Made up of solid and glazed panels; you can combine a beautiful interior plastered ceiling with roof windows. If you desire you can have up to 40% glazing in this style of roof. This gives you privacy while still letting light fill your room. With efficient glass and fully insulated slabs, you will notice a difference with the solid roofing system.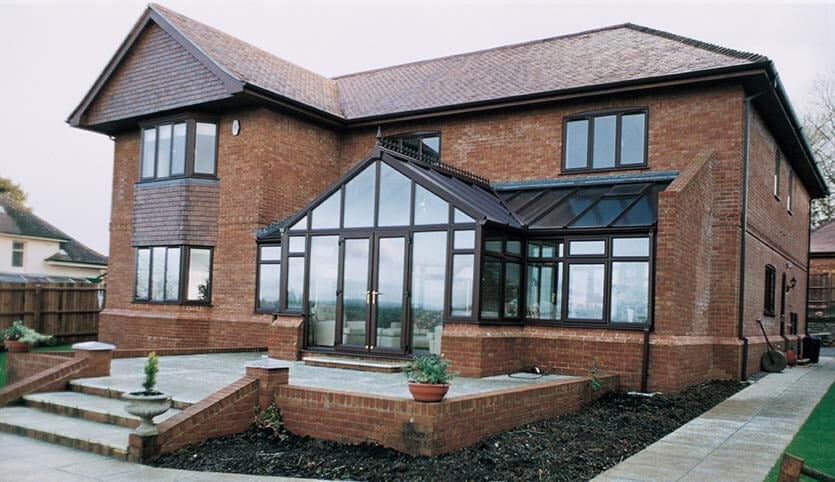 What are the best uses for my conservatory?
A conservatory has an almost unlimited amount of uses. It's perfect for a living room or dining room for entertaining. The extra light makes it a room that guests will love to be in. If you dream of a bigger kitchen it could become a kitchen extension and allows an open-plan flow between your cooking and dining areas.
Due to the wide-reaching views a conservatory offers, it can the perfect garden room. You can admire your outside area while staying comfortable inside. Once pleasanter weather arrives, you can easily move outside. How about an office or study? Gain some inspiration from the countryside. With the superb insulation and comfort a conservatory provides, it can even be used as a spare bedroom. Add some blinds to combat the sun's rays and you have a room suitable for use day and night.
How to choose a conservatory? Look no further than SEH BAC
As home improvement specialists, our conservatories offer security, efficiency, are simply yet stylish and perfect to use all year round. Whichever material you use, you can choose from a wide range of colours to perfectly complement your home. We take care of all the planning permissions for you and will carry out a full survey. Our experienced team will advise you on what the best option is for you as well as discussing what your needs and plans are. There's nothing for you to worry about; just sit back and relax while your beautiful new conservatory is built.
If you're looking for more information on conservatory installations, take a look at this article from Which?, featuring images of our installations.