Back to news
Uncover the truth – Ultraframe Livinroof vs Equinox Tiled Roof: Which is best?
31 July 2017 |Advice & Guidance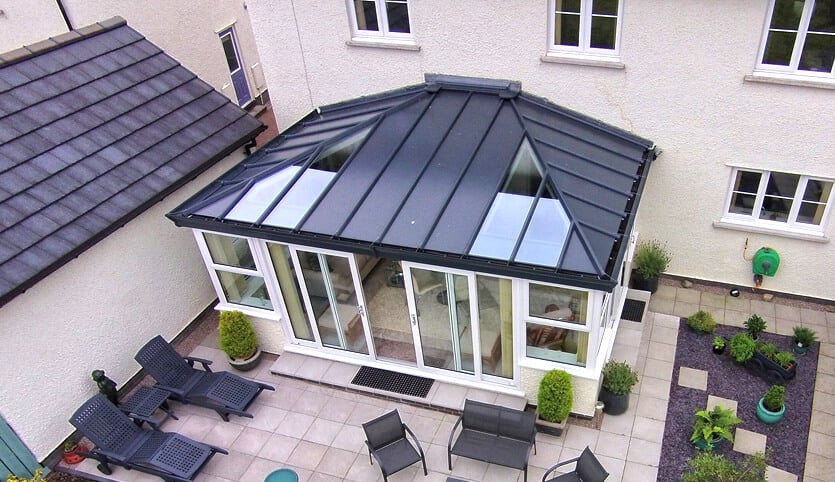 Looking to compare conservatory roof brands? What is the best roof for a conservatory? Read on!
When you think of a conservatory roof, you probably think of glass, or polycarbonate. Did you know that there are more modern alternative conservatory roof options? Tiled roof systems or solid roofs are becoming a popular alternative to glass as they offer improved insulation, and some of these even have glazed sections that offer the best of both worlds.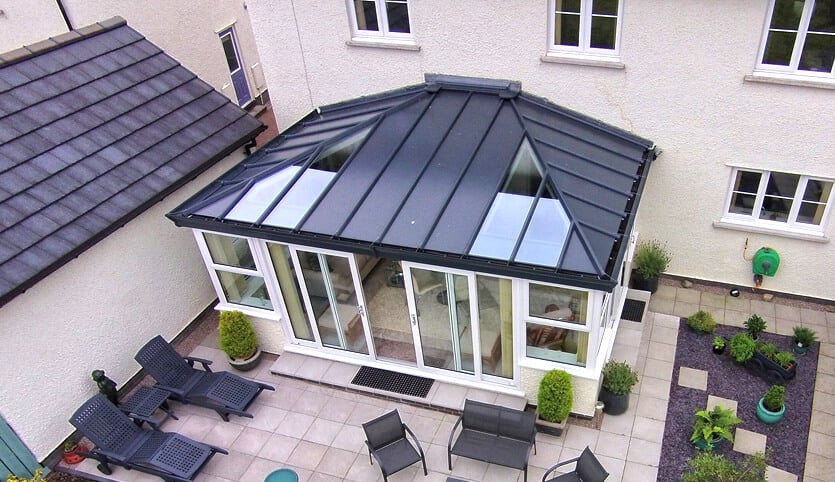 It can be tricky to know how much replacing your double glazing and your conservatory roof can cost. Before you start planning your next home improvement project, make sure you read our blog to find out the true cost of replacing your double glazing. Always keep in mind that an upgraded conservatory can also add thousands to the value of your home.
What are the benefits of a solid roof for a conservatory?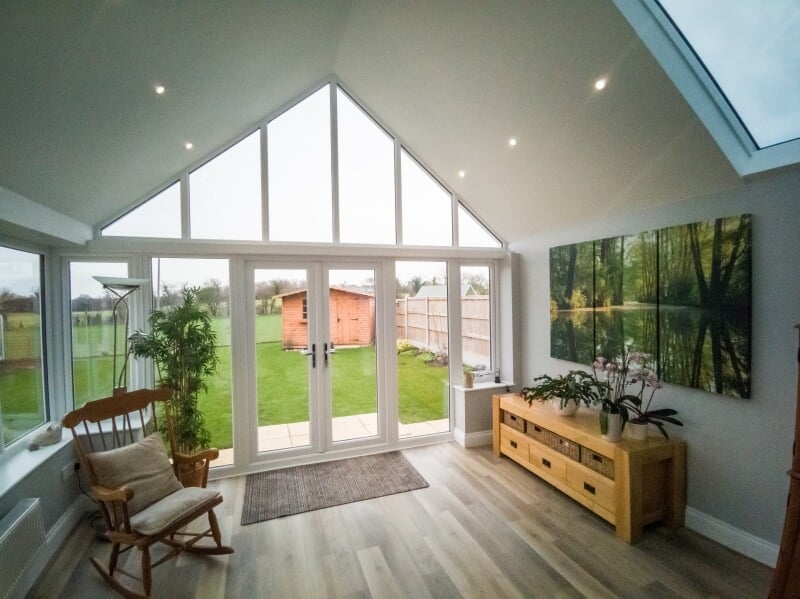 Insulating panels or tiles, offer increased energy efficiency, meaning your conservatory or extension will stay at a comfortable temperature all year round
Save money on your energy bills due to reduced heat loss through the roof
If your garden is overlooked, having a solid roof conservatory allows you to keep some privacy. These roofs will also shade you from the strongest of the sun's rays during the summer
With a range of colour options, you can match your conservatory roof to the rest of your home, making it feel like a natural extension
Unlike a glazed roof, a solid roof lets you enjoy a plastered ceiling which will give you a seamless flow throughout your home. You can have lights, speakers or even a chandelier installed to make the room your own
With improved sound insulation, your conservatory can be peacefully used all year round for anything from a dining room to a home office
Contact a member of the team today for a free no-obligation quote, you won't lose anything as our quotes are completely cost-free! See how much you could save in our Spring sale with up to 40% off windows, doors and conservatories.
Which is the best alternative conservatory roof for me?
Here at SEH BAC, we offer a wide variety of conservatory roofs including Ultraframe's Livinroof and the Equinox tiled roof system. Both roof systems look great and perform well, but which is the best alternative roof type for your conservatory?
| Category | Livinroof | Evolution |
| --- | --- | --- |
| Suitability | Any conservatory-style as well as extensions | All conservatory styles as well as extensions and porches |
| Materials | Insulated aluminium and composite panels and solar control glazing | Aluminium frames with attractive and durable composite tiles |
| Glazing | Can incorporate glazed sections | No glazing – fully tiled roof system |
| Energy Efficiency | U value of 0.18 – 15 times more efficient than a polycarbonate roof or glass roof without solar control | U values as low as 0.15 – 10 times more efficient than A-rated windows |
| Colours | RAL7016 Urban Grey panels, with optional roof lights | 11 slate options including Brick Red, Moss Green and Charcoal |
| Extra Options | Four cornice options to give a clean aesthetic | Internal ceiling gives an attractive vaulted and plastered appearance |
SEHBAC quotes are completely free, so you've got nothing to lose by obtaining a quote today!
Solid conservatory roof reviews: Ultraframe Livinroof
Are solid conservatory roofs any good?…
The solid roof system is a high-performance roof system with both solid and glazed panels, letting light in while still enjoying the thermal benefits of a solid roof. This lightweight roof has a modern grey exterior which adds a sense of sophistication to your home and when reflecting the sky looks like beautiful glass. You can create a bespoke roof for your conservatory with up to 40% made of glass; this allows light to flood into your existing home and brighten up a previously dark and unlit space, like a flat roof extension or garage space.
Tiled conservatory roof reviews: Equinox tiled conservatory roof
Can I replace my conservatory roof with a tiled roof?… And does putting a roof on a conservatory make it warmer?
The Equinox tiled roof system offers thermal efficiency that's 10 times greater than an A rated window. For a room that is comfortable and suitable to use all year round. The Equinox tiled conservatory roof is made of strong aluminium frames and authentic slate-look composite tiles, available in a range of colours including Slate Grey and Antique Red. The Equinox roof is guaranteed for 10 years with up to a 50-year guarantee on the tiles.
New: The UltraRoof380 tiled roof system
The newest addition to our roof range is the UltraRoof380 by Ultraframe. The 'big brother' of the LivinROOF is a lightweight tiled roof system, similar to the Equinox roof, but with a more luxury appearance. Like the LivinROOF, it is available in modern grey but offers a classic tiled-look effect rather than a glazed finish.
We love recommending the UltraRoof380 to our customers, as it's the ideal roof for almost any new build or replacement conservatory roof project. It's quick to install, super energy efficient, and can also incorporate glazed sections.
Do I need planning permission to install a new roof onto my old conservatory or extension?
These roof systems are both lightweight so in most cases be fitted onto any existing conservatory or extension without planning permission. Every home is different though, so we check whether planning permission is needed – in each case, and we can arrange this on behalf of our customers.
We will undertake a thorough survey of the structural integrity of your conservatory and will advise if any windows or doors need to be replaced before we carry out any work. Solid roof conversions do require building regulation approval, but we will take care of this for you. It ensures that your new roof will be covered by your insurance, and will make any future house sale go through smoothly.
Choosing the perfect tiled or alternative roof
These roof systems have been designed to fit easily onto an existing conservatory so you don't have to go through the hassle of building a new one. These tiled and alternative roofs can also offer a cost effective option for new build extensions or bigger transformation projects. No matter what size or shape roof you need, we can design a bespoke roof for you.
We are able to match your existing roof tiles to create a conservatory that becomes an extension of your home that looks like it could have always been there – ensuring your conservatory really does feel like an extra room in your home. Our tiled roofs provide an excellent vaulted ceiling which is ideal for installing down lighting as well as making the room feel larger thanks to the extra ceiling space – adding to the open feeling. Because of its location and exterior, your conservatory can feel like the place in your home where you can escape the stresses and strains of daily life and take in the view.
If you choose to knock out the external wall or install connecting bi-fold doors then your conservatory can enable your home to feel like an inclusive open plan space with plenty of living space. Ideal for expanding the connecting room such as a kitchen or living area and adding value to your home.
From working with you to create a bespoke design to manufacturing what we can off-site, our main aim is to reduce the impact on you and your home as much as possible allowing you to enjoy a new conservatory with minimal hassle or fuss and sooner rather than later.
At SEH BAC we offer all these roof options and more, from standard tiled roofs like Equinox and realROOF, to modern roofs with optional glazed sections like UltraRoof380 and Livinroof.
Whichever roof you choose, or if you need more help deciding, get in touch with us to talk about your new or replacement conservatory roof project.