Back to news
The main types of conservatory roof materials
25 June 2020 |Advice & Guidance

Spending more time at home this year, many new customers are on a mission to discover the best conservatory roof material. From old polycarbonate roofing acting as a 'drum skin' when it rains to the conservatory space getting too hot in summer or too cold in winter, if your conservatory roof isn't performing as it should be, it's certainly overdue an upgrade.
What's my conservatory roof made of?
So, if you're wondering what your conservatory roof is made from and what your options are to upgrade it, allow us to explain the conservatory roof products currently available to you.
What are the different types of conservatory roof?
1. Glass roof conservatories
In the past decade, glass conservatory roofs have gone from strength to strength in terms of thermal efficiency. Pioneering manufacturing techniques allow new glass conservatory roofs of today to effectively
welcome an abundance of natural light in
deflect the sun's rays with solar control glazing
trap heat inside in winter
reduce maintenance with self-cleaning glass
protect against harsh weather
minimise external noise
minimise heating bills
add kerb appeal.
2. Tiled roof conservatories
Thanks to the relaxation of planning permissions in recent years, tiled conservatory roofs have become a popular addition to new build and conservatory roof replacements alike. Solid roof conservatory replacements are also 'on trend' because of the way they cause minimal disruption, as the foundations are already there. Providing a hassle-free alternative to a full extension, tiled conservatories remain favourable because they

can be used all year round
seamlessly blend with the rest of your home
offer the best of both worlds, with the option to include glazed panels
maintain privacy
effective ventilation with optional roof vents
provide superior weather-resistance
minimise external noise further
minimise heating bills further
provide a range of matching tile finishes
are eco-friendly and lightweight
add value.
3. Lantern roof conservatories
Incorporating angled glazed panels, lantern roofs create the ultimate 'wow-factor' in conservatories, orangeries, and extensions. Even better, if they don't extend 150mm above the sloping plane of the existing roof and are no higher than the highest part of the roof, planning permission shouldn't be required either. Installed into any flat roof space, this fantastic glazed centrepiece can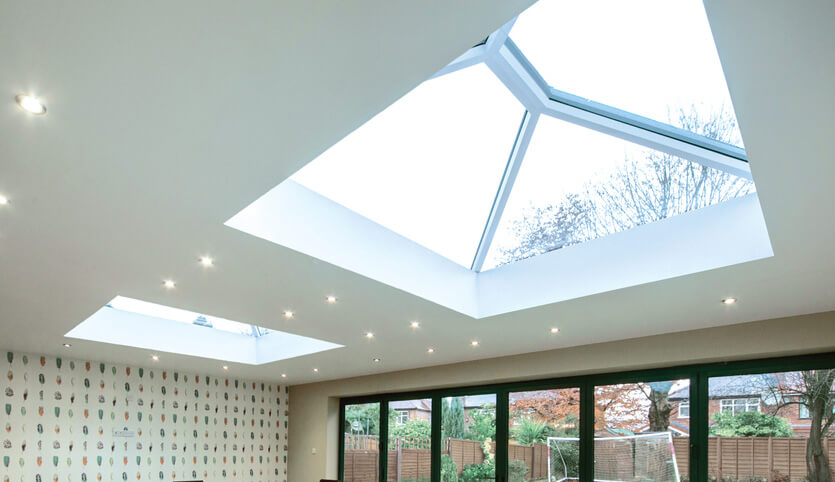 be appreciated all year round
reduce maintenance with self-cleaning glass
deflect the sun's rays with solar control glazing
trap heat inside in winter
be matched to the existing framework
effective ventilation with optional roof vents
improve health and wellbeing, by increasing vitamin D intake
minimise heating bills further
deliver superior weather-resistance
amplify kerb appeal
add considerable value
Inspiring conservatory roof ideas for Essex & the South East
Don't forget to visit our extensive gallery of previous installations, to gain valuable inspiration for your own conservatory project.
The following case studies are sure to impress you too!
Gorgeous glazed roof Loggia conservatory
Single storey extension, complete with unique hybrid roofing system
Pleasing P-shaped Ultraroof conservatory, complete with Ultraroof tiled roofing system
What's the best conservatory roof system?
Now that you understand what your conservatory roof is made from and the material you wish to upgrade to, update an existing conservatory roof, or start anew, with SEHBAC. Begin your journey towards comfortable and satisfying surroundings by calling us on 0800 666 444, contacting us online or visiting one of our extensive show centres.