Back to news
Our RAL colour chart for double glazing products
19 May 2020 |Advice & Guidance
Our range of windows, doors and conservatories can be designed in a plethora of colour choices. Dependent on the style and material you opt for, you could have the choice of over 150+ RAL colours. Take a look at our RAL colour chart to see the options available to you. We've also answered some commonly asked double glazing colour questions below.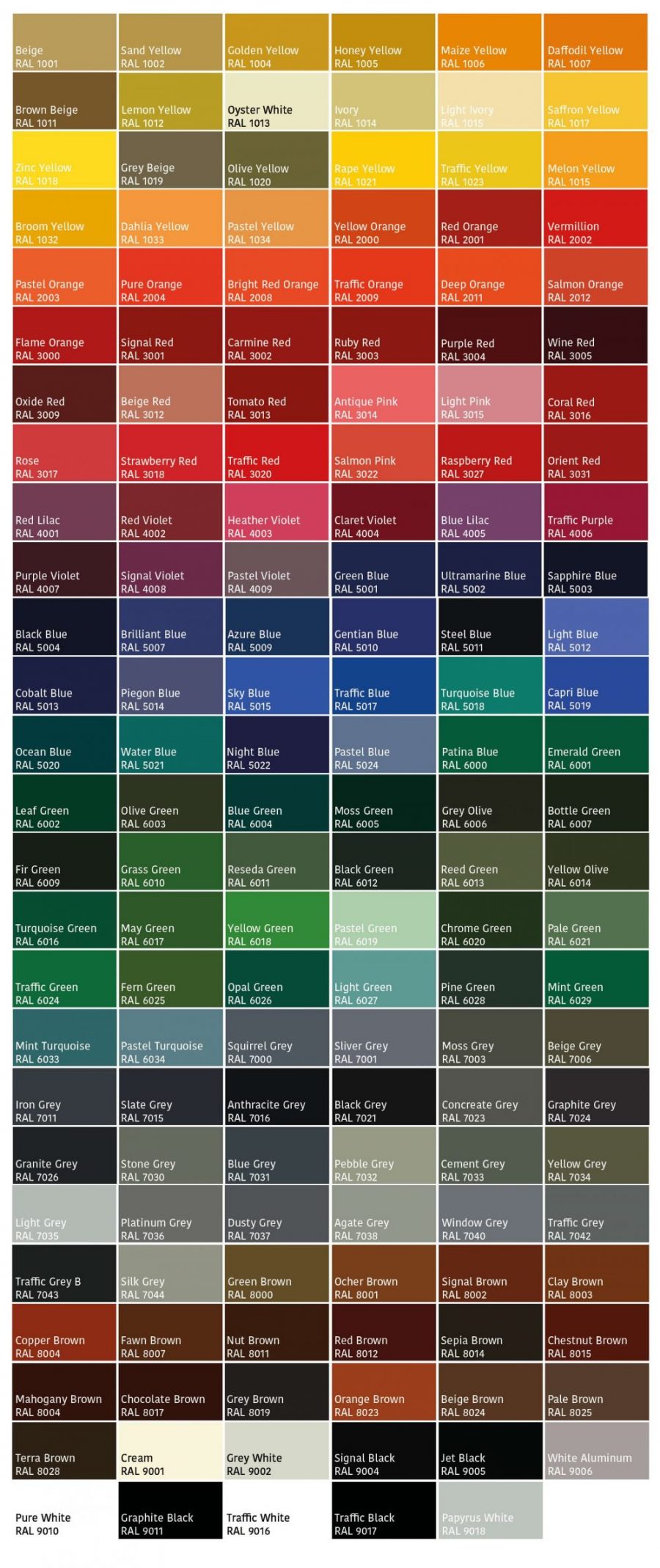 What is the RAL colour system?
The RAL chart is a colour matching system that includes over 150+ colour choices, ranging from dark greys to vibrant red to pastel blue. With swatches in our showrooms and as well as what you can see above in the chart, you can compare different shades to ensure that you choose the correct colour. With such an array of colours, the styles are limited only by your imagination!
What are RAL colour codes?
Each colour has an individual code. The beginning number identifies the overall range and the full code is the exact shade. For example, RAL 1xxx is the yellow range, and the full code RAL 1037 is the exact shade 'sun yellow'.
Do the colours fade over time?
Our products are built to last. They're finished with innovative anti-fade coatings that protect the colour from the sun light so they won't diminish over time. Even the brightest colours will continue to look like brand new. Our uPVC, aluminium, timber and composite materials all have slightly different lifespans, but average from at least 25 to 35 years without needing any repainting to maintain the colour.
What are dual colour designs?
Dual colour designs provide homeowners with a flexible styling choice. The outer frame can be a completely different colour to the inside, meaning it will perfectly suit both your home's exterior and interior. With over 150 colours and wood effects to choose from, the options are endless!
What are the most popular colour choices?
Over our 50 years of installations, we've noticed some common patterns with homeowner's design choices. White has remained a firm favourite due to its timeless style, as well as sophisticated Chartwell green, cream and elegant timber effects. In recent years, colours like greys, black and pastel shades have emerged in popularity.
Which colours best suit older homes?
For homeowners who reside in traditional properties, subdued colour palettes will add a classical character that won't deter from the heritage aesthetic. Consider cream, white or Chartwell green. Timber effects are another excellent choice to retain the historic appearance.
Which are the most modern colours?
If you're looking for new windows, doors or a conservatory for a newer home, monochrome shades have soared in popularity due to their sleek and contemporary styles. Anthracite grey, black or off-white will modernise any home.
I live in a conservation area, what are my colour options?
Whilst building regulations in conservation areas and for period properties may restrict home improvements, you can still choose from a wealth of colour choices. Using an advanced Kolorbond system, we can exactly match your existing windows or doors. Alternatively, muted coloured shades will inject some new colour onto your home, without ruining its appearance. Both dark and light wood effects are also commonly approved for use on such homes.
If you're not sure, speak to one of our experts who can further advise on building regulations.
How do I make sure they suit my existing windows and doors?
If you're looking to match your home's existing features, we can use our swatch chart to find the specific colour. If it isn't one of the current 150+ RAL colours, our Kolorbond system means we can mix shades together to achieve the exact shade that you're looking for.
What are timber effect colours?
As well as offering the complete RAL colour system, we also offer a range of woodstain effects, including Rosewood, Irish Oak and coloured wood effects, like elegant duck egg blue and classic white. Not only do they appear like real wood, but they also have the authentic woodgrain texture too. If you want to find out more, don't hesitate to get in touch.