Back to news
How big can an extension be without planning permission (including conservation areas)?
27 August 2018 |Advice & Guidance

Can I build an extension without planning permission?
The answer is yes, subject to a few terms and conditions…
The addition of a new building on your land may seem like a good idea initially but when you delve deeper into the regulations, the red tape surrounding planning permissions can become rather complex. However, since permitted development rights were extended in 2013 under the Larger Home Extension Scheme, it's hardly surprising that architects, builders and double-glazing companies across England have experienced a considerable boost in demand for single-storey extensions and conservatories in conservation areas. This is why we thought it the perfect time to explain exactly how big a building can be without the need for planning permission, including conservation areas.
What size extension can I build without planning permission?
So, how big can I extend my home without planning permission? Well, single-storey extensions, e.g. conservatories and orangeries, are covered by permitted development rights as long as:
Attached property extensions do not extend beyond the rear wall of the original home by more than 3 metres.
Detached property extensions do not extend beyond the rear wall of the original home by more than 4m.
The extensions roof & ridges must not exceed the height of the original house and the eaves must not exceed 2m in height of the boundary of 3m.
Single-storey extensions must not exceed 4m in height.
Single storey extension width must not exceed half of the original size of the house.
Extensions on the side or front of a house must be closer to the property than a public highway.
This legislation covers houses across England that are not restricted by Article 4 directions.
What is the maximum extension without planning permission on homes in conservation areas?
Depending on the outcome of the Neighbour Consultation Scheme, single-storey extension builds in conservation areas are covered by permitted development rights as long as:
Attached property extensions do not extend beyond the rear wall of the original home by more than 3m.
Detached property extensions do not extend beyond the rear wall of the original home by more than 4m.
Planning permission legislation update June 2019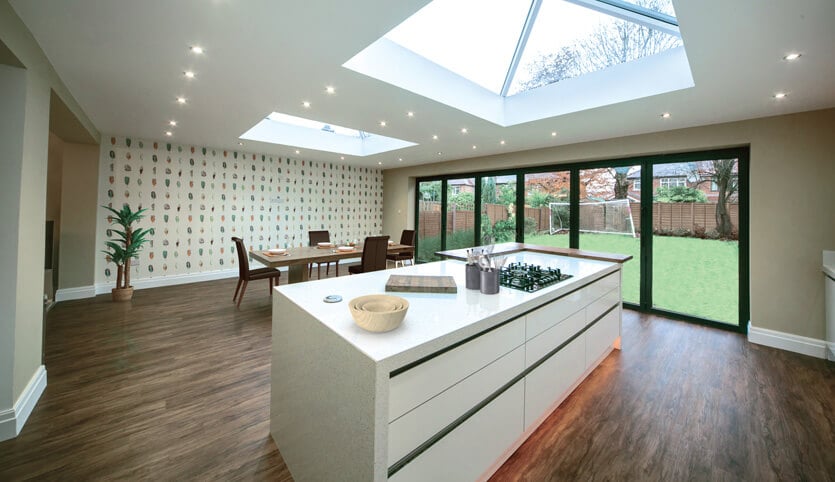 As of 1st June 2019, relaxed planning permissions have been made permanent in England only. This means that single-storey extensions situated outside of designated land and Sites of Specific Interest won't need planning permission, as long as glazed extensions on attached houses don't exceed 6m or 8m for detached houses. *Subject to The Neighbour Consultation Scheme
So, there's never been a better time to invest in an extension for your home!
How big can a building be without planning permission?
The recent relaxation of permitted developments means that homeowners are now able to add extensions without needing planning permissions. You can add a home extension or conservatory up to six metres, or eight metres if your home is detached, without needing to apply for planning permission. There's very little standing in the way between you and your dream home!

What are the benefits of a glazed extension or conservatory?
So now you know about the planning permission guidelines, but why extend your home? Here are 5 great reasons to carry on with new conservatory and extension plans this year.
Glazed extensions = more space, more enjoyment
When you desperately need extra space, an extension is an economical solution that takes no time at all to install. From refreshing contemporary kitchen extensions to impressive home offices, right through to made-to-measure glazed extensions. With a style to suit all properties, lean-to conservatories make the ideal accompaniment for homes with limited space, whereas P-Shaped conservatories are perfect for larger homes.
Glazed extensions add privacy
If you're looking for a way to update an existing glazed extension space, a solid roofing system will blend seamlessly with the existing aesthetics whilst offering more privacy inside. This is an ideal option for homes overlooked by neighbouring properties.
Cheaper than moving to a new house
When you consider the current state of the housing market, it's hardly surprising that more and more homeowners are choosing to improve rather than move. Ideal for those struggling for space or unable to find a suitable property, once the market recovers, you should experience notable property value increases too.
Glazed extensions light up your life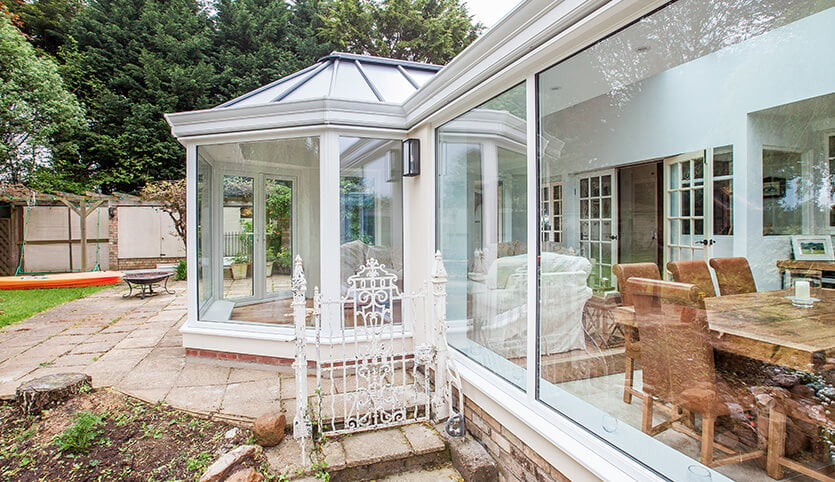 Imagine relaxing in your new conservatory, orangery or extension space throughout the seasons. Watching the world go by, your worries just melt away in a glorious glazed extension space.
Bathing in warming natural light has many health benefits, including increased production of Vitamin D, which is essential for healthy bones and lowering blood pressure. If your budget permits, a grand gable conservatory will expertly maximise the light entering your home.
For more ideas on how to increase the amount of sunlight in your home, read our top blog about how to cleverly maximise light!!
Make the most of your garden & enjoy nature all year round
If you have a garden or enclosed outdoor area, staying home doesn't have to mean staying inside. A glazed extension allows you to merge indoor and outdoor areas together, especially if you add sophisticated French doors, streamlined bi-fold doors or maximising sliding patio doors into the mix. Providing the perfect setting to appreciate nature all year round, a glazed extension from SEHBAC is a must for keen bird watchers and stargazers too.
And so long as you follow the guidelines listed above, all this can be yours without the hassle of applying for planning permission!
Quality home extensions in South East England
If you require extra living space as your family grows, our range of bespoke extensions will provide the ideal finishing touch to any South East home. The right levels of experience and quality can truly make or break the quality of your renovation. So, be sure to employ the very best installers around. Get in touch with the award-winning SEH BAC team today for all your home improvement needs.
Related articles