Back to news
3 ways to modernise your home with matching windows & doors
30 April 2021 |Advice & Guidance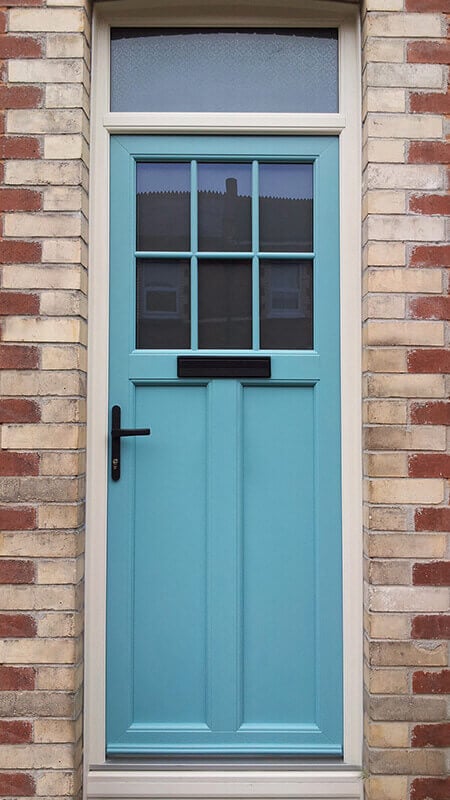 Of the few positives to take away from the past year's 'British Lockdown Series', getting around to doing essential home improvements has provided an unexpected (and much needed!) sense of relief and relaxation to many through one of the most trying times in history.
Now that we have a clearer view of the future, if you're looking for impressive ways to modernise your home, have you thought about matching windows and doors? Here are 3 ways to get you started.
Premium Anthracite Grey windows on red brick house
An increasingly popular home improvement trend is to update substandard windows and doors in red brick houses with modern matching Anthracite Grey replacements. Contrasting beautifully with rustic red hues, subtle yet striking Anthracite Grey windows and doors effortlessly create a sophisticated appearance that never detracts from the building's original features.
Available in versatile uPVC, timber effect, or modern aluminium, interior Anthracite Grey window frames create an intimate, cosy feel to the inside. Or you could opt for versatile dual colour frames to seamlessly match and modernise your internal decor.
Grey bedroom & home decor ideas that definitely won't dull your home!
uPVC vs aluminium windows: the plastic vs metal saga continues!
Match new windows with a replica 1930s style front door
If you're lucky enough to own an ample semi-detached home built in the 1930s, it's likely that retaining its unique traditional charm is important to you. If this is the case, authentic wooden windows and doors customised in a matching modern shade will preserve its look with a modern splash of colour.
If you're looking for low maintenance windows and doors, modern uPVC can beautifully capture the look and feel of classic timber whilst making the most of present-day performance. Our stunning Suffolk Door collection perfectly replicates authentic front doors found on period properties, from the 1700s right the way through to the 1900s. Typically featuring a glazed top panel with 3 square panels of equal size and door furniture positioned in the upper section of the door, our sensational Suffolk Door Collection's '1930s' door design can be personalised further with an exclusive 1930s colour palette and a variety of 1930s glass effects to choose from.
The perfect windows for 1930s properties
uPVC vs aluminium – which is the best type of entrance door?
Matching window and door styles perfect for your Victorian terrace house
Synonymous with classic Victorian architecture, practical uPVC sliding sash windows or like-for-like timber vertical sliders offer classically styled terraced homes the perfect fusion of modern window finishes and authentic Victorian design. Fashionable colour schemes include cream uPVC sliding sash windows or light grey sliding sash windows with matching exterior doors in contrasting muted tones of grey, ochre, or warm beige. Deep blues, greens, browns, reds, and yellows are also in keeping with the era, although careful consideration is needed as they can often make rooms look very dark.
With 5 superb styles to choose from, the 'Victorian' design from our authentic Suffolk Door Collection is a perfect replacement for the mock gothic stylings of doors from 1830-1901.
Can I extend my mid terrace house?
Striking modern upgrades to windows and doors in Essex, London, and the South East
Give your home the attention it deserves this year, with high-quality home improvements from SEHBAC – where your home matters. Experience our outstanding quality for yourself by visiting one of our extensive show centres. Alternatively, get a price now, or contact us to discuss your renovation options further.