Back to news
Grey bedroom & home decor ideas that definitely won't dull your home!
5 December 2020 |Advice & Guidance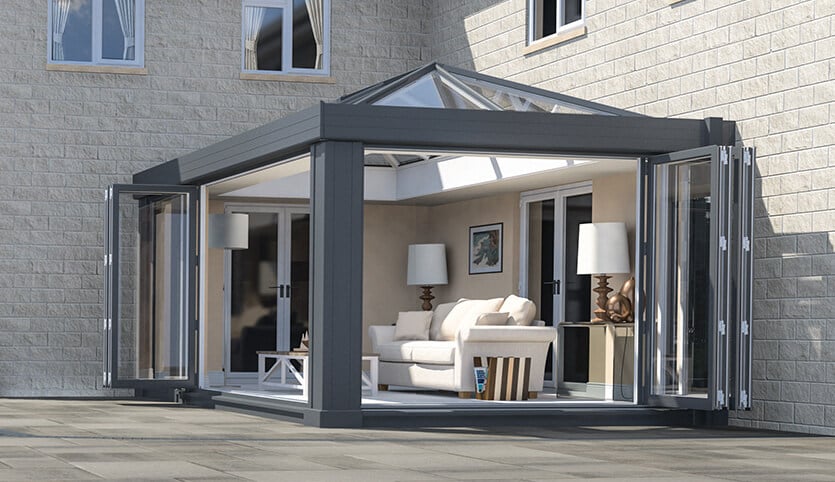 With so many shades of grey to choose from, grey remains one of the most popular tones for sophisticated home improvements throughout Essex and right across the South East. Timeless, calming, and neutral, grey can be used to achieve a variety of looks and moods – with light pastel greys complementing more classically styled homes found in Essex's most picturesque villages, and deeper, dramatic dark greys suited to more contemporary settings.
So, if your South East home desperately needs a stylish makeover, we highly recommend considering grey. From balancing accent features to gorgeous grey patterns, to complete grey backdrops and using multiple layers of grey for a truly refined look, grey opens up a world of possibilities!
What colours work well with grey?
The tranquil aspects of grey make it an ideal shade for bedrooms, living rooms, bathrooms, conservatories, kitchen extensions – anywhere you like to kick off your shoes and relax after a hard day's work. Earthy tones like beige and forest green work well with grey, as well as soothing pastel colours such as light pink, salmon, peach, and coral. Darker greys also pair well with vibrant accents, such as electric blues, bold teals, luscious lime greens, vivid cherry reds and gorgeous golds, balancing the colour scheme and making sure the space isn't overpowered.
Grey bedroom ideas
Firstly, ask yourself what kind of ambience are you trying to achieve here? Darker shades of grey, such as Anthracite Grey (also known as charcoal grey) and Slate Grey, will create a cosy feel that you can't wait to snuggle up in. Whereas lighter shades of grey, such as Pebble Grey and Agate Grey, will give your bedroom more of an airier, cooler vibe. Deep shades of grey combined alongside extravagant glass and metal accessories, such as textured glazed bedside lamps and metal bed frames, will create a modern, industrial edge. And at the other end of the scale, natural accessories, such as cotton handwoven throws and driftwood headboards, pair beautifully with powder and pastel hue combinations. Matching grey integral blinds are also an ideal choice in modern bedroom spaces, providing complete control over your privacy whilst making your life that much easier.
How do you make a grey bedroom feel warm?
Teaming two or three contrasting or complementary colours together will keep the space warm and welcoming, e.g. warm greys with creamy whites or bright yellows or light greys with harmonious blues and purples. On-trend grey bedroom colour schemes include green and grey, black and grey, and grey and rose gold bedrooms.
Conservatories accommodate a range of projects and needs, also making unique extra bedrooms. Naturally toned red brick houses work best with soft blue-grey and grey-brown styled conservatories, whilst darker shades of grey work well with lighter, more modern brickwork styles. Complete the look with a stylish tiled roof finished with stylish Carbon Grey tiles or a slender Anthracite Grey lantern roof.
Grey living room ideas
Reflecting your own unique sense of style, the same principle applies to living rooms; darker, more dramatic greys for contemporary stylings and warmer blue and green-toned greys for traditional and vintage locations. Add depth to your living room with a light grey backdrop alongside natural darker contrasting accents and a range of relaxing textures. Incorporate brightly coloured wall prints to warm up cool grey living rooms or create the ideal backdrop for statement patterns with your favourite shade of grey. Navy and grey, grey and green, grey and cream and grey and teal living rooms are particularly striking combinations at the moment.
Grey dual colour window and door frames also continue to grow in popularity. Ideal for those who want to make a unique statement, darker frames are perfect for adding drama to classically styled themes whilst light grey frames create a refreshing modern feel against white and lighter exteriors. Pale grey frames will soften interior and exterior stylings, working particularly well with window and door styles that have smaller panes, e.g. heritage windows with Georgian bars and classically styled French doors – highlighting the shape and detailing, without dominating the building's original features.
From versatile grey uPVC windows and doors to an array of striking grey composite front door ideas, and premium grey aluminium windows and door designs to authentic grey timber windows and doors, most of our home improvement products can be designed with dual colour frames. With a choice of over 150+ RAL colours, this includes 24 superb shades of grey to choose from.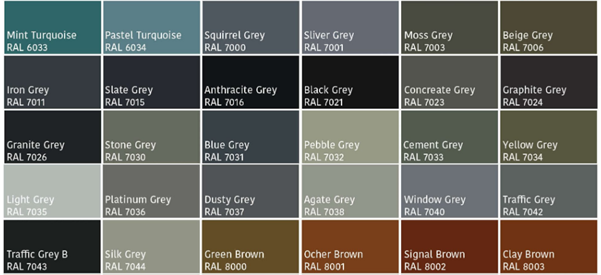 Grey interior design ideas from our Pinterest board!
Transform your Essex home with chic grey windows and doors
Offering a 10-year guarantee on all our home improvement products, you can count on SEHBAC installations for high quality, fade resistant frames that require very little maintenance to keep them looking as good as new for as long as possible. With over 150 RAL colours and a variety of authentic woodgrain effects to choose from, our bespoke renovation service satisfies even the most niche requests. Visit your nearest SEH glazing showroom or get in touch to discuss your options further with one of our knowledgeable glazing experts.