Back to news
Can I extend my mid terrace house?
22 February 2021 |Advice & Guidance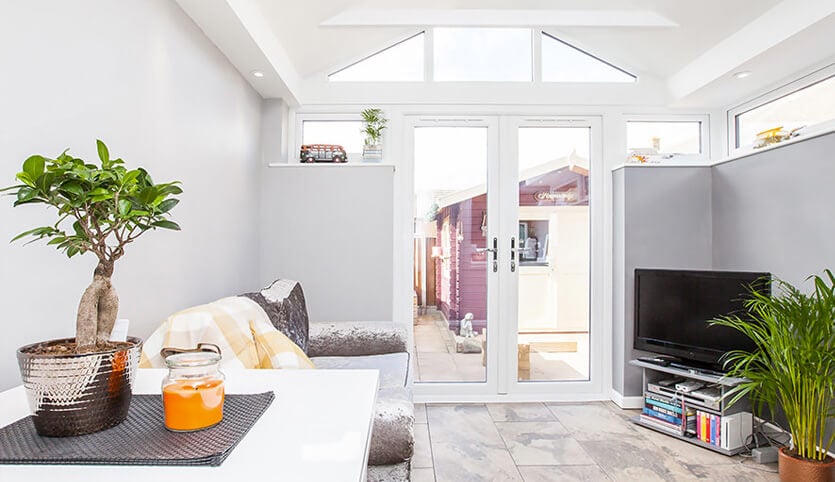 Nestled in between rows of similarly styled houses, typical mid terrace properties are one of the most economical and energy efficient prospects for first time buyers, young families and households looking to downsize. That said, the drawbacks to compact mid terraced homes often centre around a considerable lack of storage, outdoor space, and privacy, as well as noise nuisance from neighbouring properties.
So, how do I make my terrace house bigger?
Obviously, mid terraced houses don't have the option to extend to the side. But a rear extension or a front extension could be a viable possibility to extend your mid terrace house. This could be incorporated behind the kitchen or dining room. Below, SEHBAC investigate the potential ideas for a mid terraced house extension.
What is mid terrace and end terrace?
The term 'terraced houses' describe a row of houses that are attached to each other, sharing walls.
A mid terraced house has houses attached on both sides
An end terraced house is on the end of the terrace and only has another house attached on one side
Can you build an extension on a terraced house?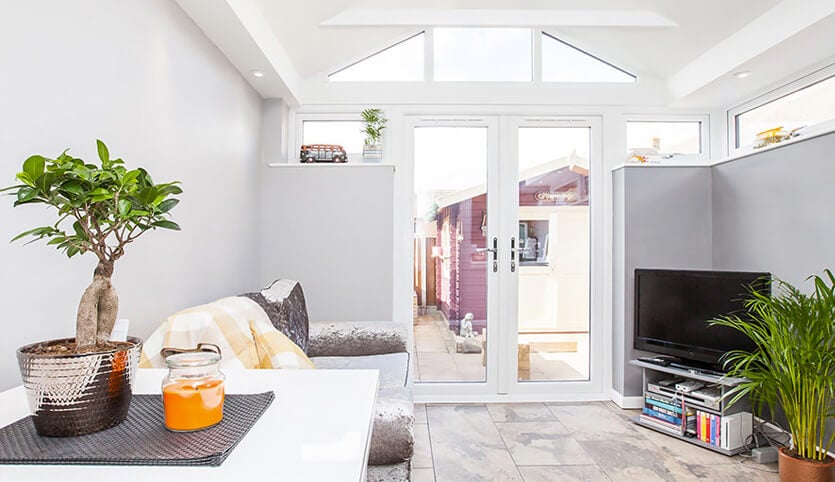 How far can you extend a terraced house?… Well, as of 1st June 2019, relaxed planning permissions were made permanent in England only. This means that rear single-storey extensions built on attached houses in England don't require planning permission as long as they do not exceed 6m from the original back wall of the property.*
You must also make sure that your rear single storey extension adheres to these rules:
The extension roof does not exceed 4m's in height and is no higher than your home's roof
The extension is permanently separated from the remainder of the property by means of a door
The extension is sited at ground level
There are no balconies, verandas or raised platforms.
* Mid terraces situated within designated land and Sites of Specific will require planning permission.
* Semi-detached or terraced houses in Wales, Scotland or NI must not exceed 3m to stay within permitted development rules.
* Different rules apply to flats and maisonettes.
Large single-storey extensions are also subject to The Neighbour Consultation Scheme, where you must apply to the local authority who will then consult the adjoining neighbours. If they raise any concerns or objections to the extension, the local authority will investigate further as to whether it can go ahead of not. Access to equipment and materials is a serious aspect to consider with mid-terrace extensions, so, in most cases, active cooperation with your neighbours is crucial.
Different rules apply for two storey extensions on mid terraced houses.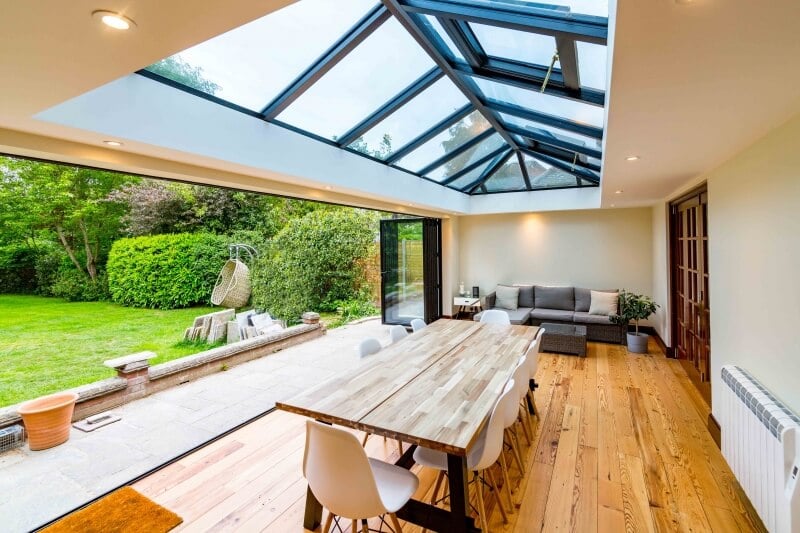 Can I add an extension to the front of my house?
When it comes to front-facing extensions, if your terraced home fronts up to a public highway, it's unlikely that a front extension is a viable option without planning permission. But if it doesn't, and you can stick to the rules outlined above as well below, it may be a possibility:
Only half the area of land around the "original house"

**

can be covered by extensions or other buildings
Where the extension comes within two metres of the boundary* the height at the eaves cannot exceed three metres
The materials used must be of a similar appearance to those on the exterior of the existing house.
** The term 'original house' means the house as it was first built; or as it stood on 1 July 1948 (if it was built before that date).
At SEHBAC, our team of experts will work with your individual requirements to create a unique extension design and advise what will suit your property and lifestyle best.
Learn more about how our extension buying process works.
Can you extend on the back of a terraced house?
Yes. You can extend up to 6 metres to the rear of a terraced house without having to apply for planning permission. This is provided that you meet the permitted development requirements.
Rear extensions are a popular option for many terraced-property owners, as it is usually much less disruptive to the street, and has a much lower chance of obstructing a public highway.
Does selling a house with planning permission add value?
Other than improving thermal insulation and kerb appeal, another way to increase your home's market worth is to obtain planning permission without actually having to go ahead with the work yourself. Potentially adding up to 15%, the exact value will be determined by a variety of factors, including property location, the type of work covered by the permission, and when it was granted – as it will expire after 3 years. Householder planning application fees for extensions and garden buildings are currently £206, which is a small expense to pay to potentially add 15% to your asking price!
Single storey extension ideas for mid terraced houses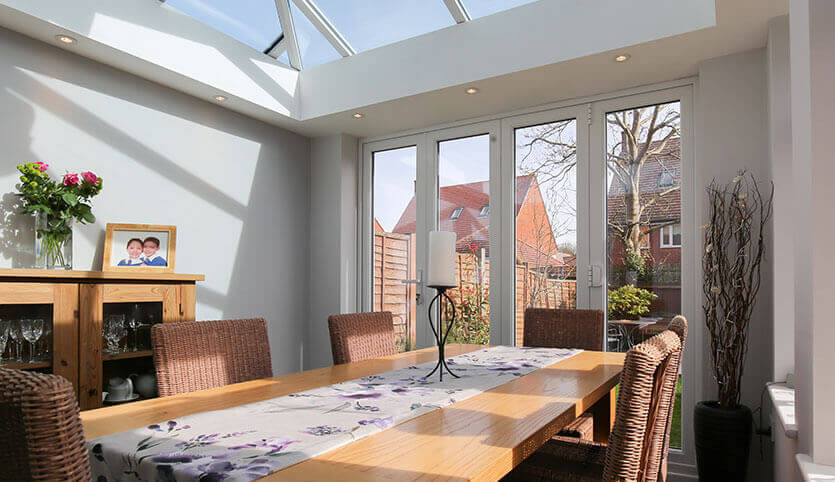 The purpose of an extension should be to overcome the most negative characteristics of your current home. With that in mind, mid-terraced homeowners could consider the following extension ideas:
An expanded entrance hall
A more spacious kitchen
A downstairs toilet or bathroom
Another bedroom
Mid terraced houses tend to be quite long and narrow. But savvy Essex homeowners avoid dark and gloomy interiors by opting for extensions that let as much light as possible inside. Timeless French doors and classic glazed roofing are favoured in more traditionally styled terraces, whilst beautiful bifold doors, modern tiled roofs with large glazed panels and gorgeous lantern roofs are preferred in contemporary styled single storey extensions.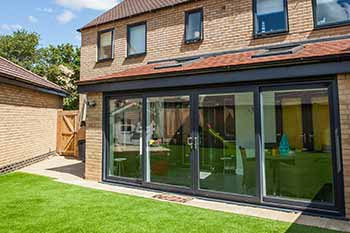 Once your new mid-terrace extension is complete, it's time to start thinking about refurbishing the rest of your home. Otherwise, your beautiful new extension space could leave the rest of your home looking outdated, dark, and uninviting – especially in older Victorian and Edwardian terraced homes. New windows and doors are just one way to give the rest of your home the attention it deserves, whether that be spacious, contemporary open plan living or rustic, country-cottage charisma.
If you have enough room for a front-facing extension, you could also consider reversing the layout of your home, so that the kitchen is relocated to the front of the house.
Modern home improvements ideas to suit period homes.
How to create a kitchen extension in a mid-terraced home
For Victorian and Edwardian mid-terraced houses, small, narrow kitchens or single-skin brickwork add-ons are very common. They can be added to the rear of the house, causing minimal disruption to the properties around you.
Rather than building a whole new kitchen, the most cost-effective method is to extend the room of the existing kitchen and then remodel the kitchen to better suit the space. With more space to move around, you could consider additions like a kitchen island worktop or a larger cooker.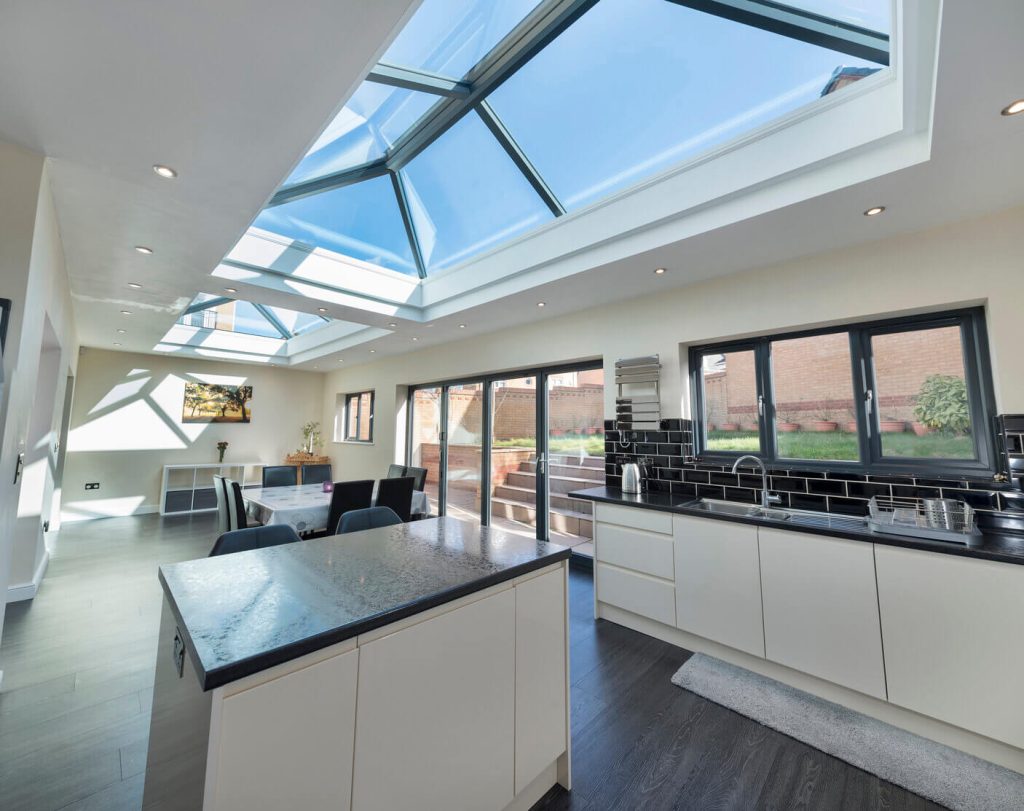 What is the cheapest way to extend a house?
Keeping the extension's exterior design as simple as possible is the best way to keep building costs down. That would mean a square or rectangular footprint with a simple flat or pitched roof. Too many curves and corners can be expensive to build, and also risk the extension not matching the character of the property.
How much does a terraced house extension cost?
There are a number of factors that could affect the price of your terraced house extension. These include:
The overall size of the extension
Your home's location
The finishing and additional fixtures like roof lanterns
The building materials used
As an estimate, a rear extension terraced house can cost somewhere between £1,200 and £3,300 per square meter. However, to determine an exact cost, our team will happily speak to you about the exact requirements for your project.
Should I get a flat roof or a pitched roof kitchen extension?
A flat roof extension tends to be the cheaper option, as it's simpler and less labour-intensive to build and design. These extensions also make for less obstructive rooflines, the style of which is more easily compatible with surrounding houses. This can be a really worthwhile project to undertake, providing your home with more space and light without causing major disruption for an overly extended period of time. A flat roof is also more compatible with roof lanterns and rooflights.
However, a pitched roof extension can provide your home with unrivalled levels of volume and airiness. From both the interior and exterior perspectives, it will barely look like an extension, but like a completely natural part of the home. For kitchen extensions, a pitched roof is a brilliant solution for kitchens that feel cramped and ill-lit.
Is a small kitchen extension worth it?
Many mid-terraced houses are very small properties and only have limited surrounding space where an extension can go. Many homeowners wonder if it's really worth getting a small extension, or if they should just make do with the space they have.
However, even just a small kitchen extension is a worthwhile investment. It can dramatically increase the amount of natural light and the feeling of space in the home. Furthermore, any improvements you can make to the property will be sure to see its value increase. Therefore, when its time to move house, you'll be in a better position to sell and secure a bigger property.
Majestic mid-terrace extensions in Essex & the South East
With the average price of terraced property rising quicker than any other property type in the past decade or so, there's never been a better time to improve your terraced home. Discover our convenient finance options, get a quote, or contact us to find out how to make the most of your terraced property.