Back to news
What are the benefits of a modern glass conservatory roof?
10 March 2022 |Blog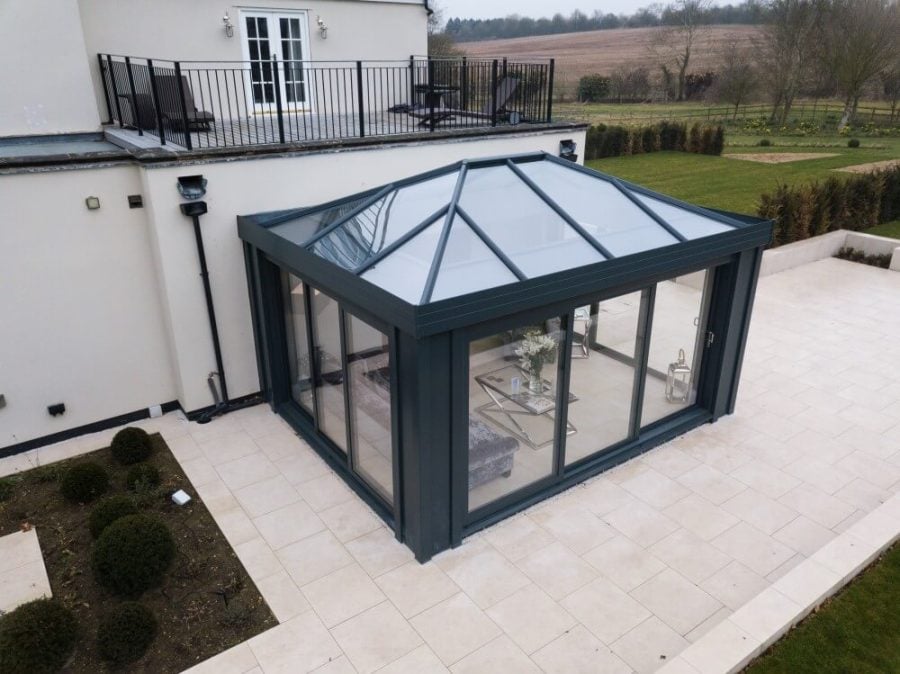 Whether you're designing a brand new conservatory space or planning to bring an old conservatory back to life with a reviving roof replacement, deciding on the roof material is a big part of the process. Modern glass conservatory roofs remain popular for a variety of reasons…
Let's take a look at the key reasons together.
Glass conservatory roofs are energy efficient
Old glass conservatory roofs have often suffered from being too hot to use in summer and too cold in winter, but thanks to advances in glazing technology this certainly is not the case anymore. Our glass is solar controlled to deflect the heat of the sun when it reaches a comfortable temperature, meaning you won't need to worry about your conservatory turning into a greenhouse ever again. Combined with the latest spacer bars, insulated perimeters, and chambered top caps, whilst keeping the need for artificial light at a minimum, reducing heating bills and saving money is highly likely.
Furthermore, from June 2022, changes to Building Regulations will mean any conservatory proposed as part of a new development will need to prove it will not create 'unwanted solar gain'. So, conservatories in new builds are set to get even stricter in terms of thermal efficiency.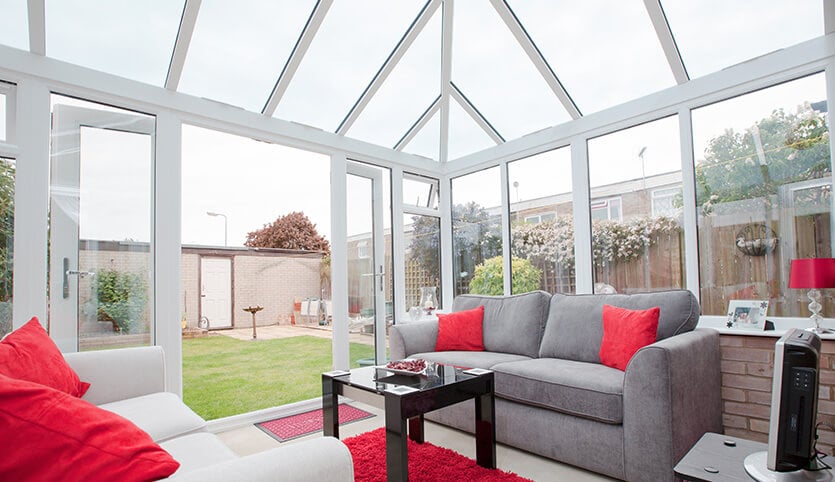 Glass conservatory roofs let the light flood in
Swathes of gorgeous glazing flood the conservatory space with brightening and warming natural light, providing crystal clear views from every angle. Perfect for balmy summer days and cosy evenings indoors stargazing with loved ones, glass conservatory roofs cleverly give the illusion of more space too by elongating the room.
Glazed conservatory roofs complement a variety of property styles
From archetypal Victorian terraced houses in Colchester to modern developments in the centre of Ipswich and 1930s built residences in Rickmansworth to luxury mansions in Weybridge, the adaptable qualities of modern glass can be applied to any style of property you can think of.
Contemporary glass roof conservatories are durable and weatherproof
Thoroughly tested for durability and weatherproofing, our versatile glass conservatory roofs are lightweight yet robust. Impressively able to withstand winds of up to 130mph and heavy rain, our glass conservatory roofing ensures your conservatory is protected for the foreseeable future.
Modern glass conservatory roofs absorb sound much better than polycarbonate
Most notably caused by old polycarbonate roofing, today's glass conservatory roofs eliminate the unwanted pitter-patter of the rain hitting the roof. Combined with our advanced Comfort Glass, you can look forward to 20% better noise reduction than older-style double glazed conservatory roofing – which is essential if you live near a busy road, school, or airport.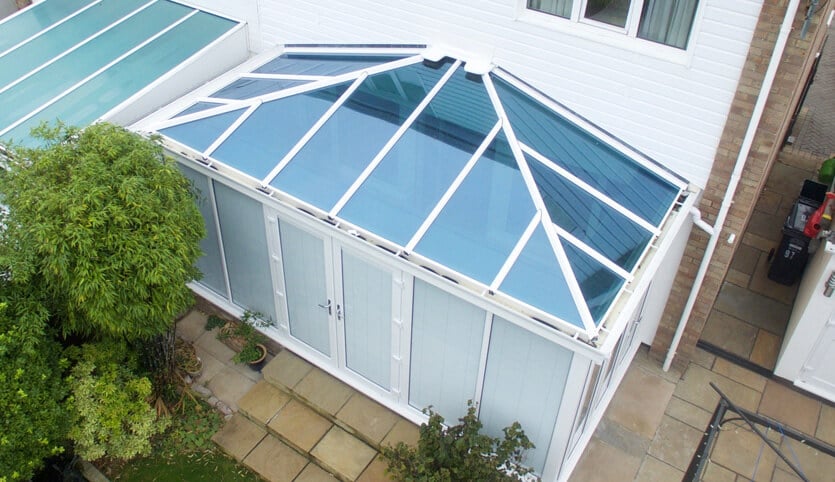 Modern glass conservatory roofs are low maintenance
No one wants to spend their free time cleaning their conservatory roof; it's messy and, quite frankly, dangerous too. Featuring a proactive ultra-thin coating that reacts with daylight to break down dirt quickly and easily, our modern glass conservatory roofs are super low maintenance thanks to innovative self-cleaning properties – giving you more time to spend on doing the things you love most.
Modern glass conservatory roofs in Essex, Suffolk, Hertfordshire & Surrey
Adding a new conservatory space or replacing your conservatory roof is sure to add value and desirability. To find out more about modern glass conservatory roofs, as well as our other high-performance home improvement products, visit your nearest SEHBAC showroom, get in touch online, or give us a call on 0800 666 444.