Back to news
Which is best, glass or tiled conservatory roof?
31 March 2022 |Trends & Inspiration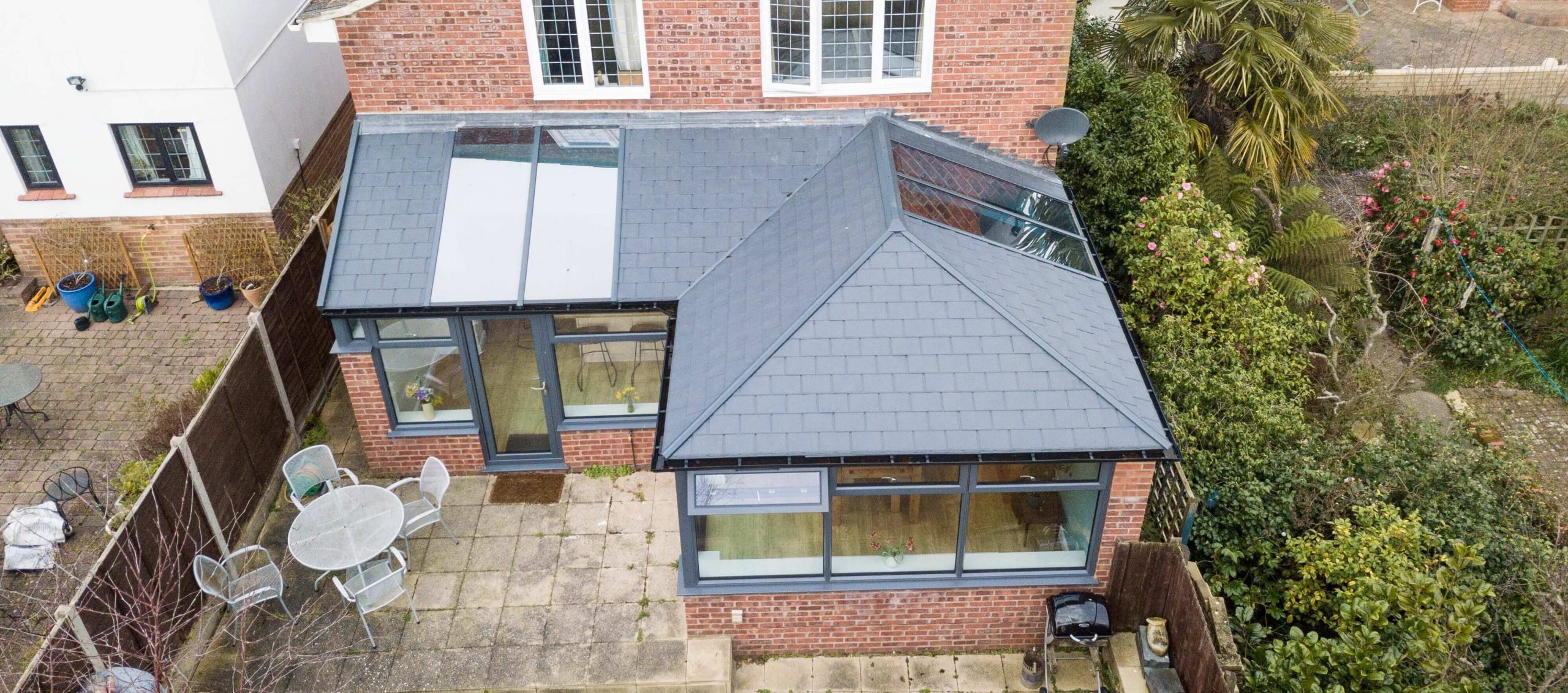 Adding a glorious glazed conservatory remains a popular dream for many homeowners across Ipswich and beyond, with around one in three UK residences boasting an enviable conservatory space. The latest research also shows us that 69% of UK homebuyers are planning home improvements this year, with 17% of those preparing to thoroughly transform their property with major changes like an extension.
Inefficient, noisy, and fragile, polycarbonate conservatories are well and truly out of fashion. So, which is best, a glass or tiled conservatory roof?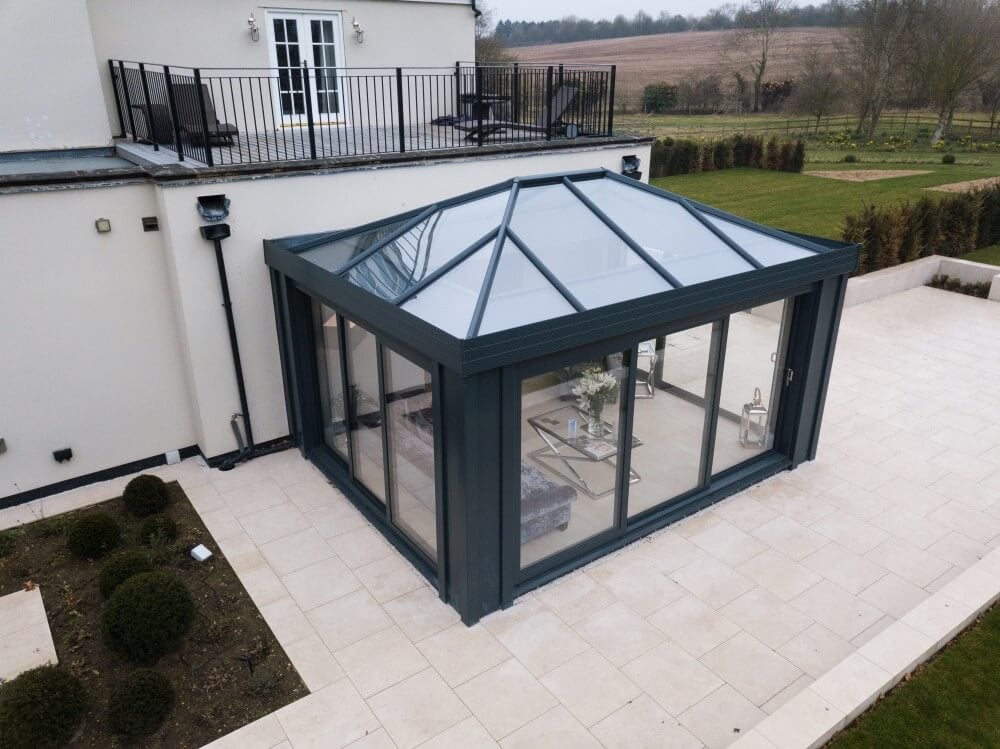 Glass roof vs tiled roof, which is best for my new conservatory?
The best conservatory roof depends on a number of factors, including:
Typically, elegant glass conservatory roofs are chosen to enhance classically styled properties. Although, thanks to advances in conservatory design, minimalist contemporary glass roofs can deliver striking aesthetics from every which way. Whereas tiled conservatory roofs are commonly chosen to strengthen modern residential facades.
At SEH BAC, both roofing options provide the flexibility to design a conservatory completely bespoke to your unique requirements.
When expansive, crystal-clear views come first, glass conservatory roofs always come out on top. That said, strategically positioned glass panels can be included in your new tiled roof system to achieve the best of both worlds.
Are you looking for the most economical conservatory roofing option? Lasting between 20-25 years, glass should be your first option as a lighter structure means fewer materials and labour. However, if you're looking for the best return on investment, a tiled conservatory roof is likely to add the most value to your home, lasting over 50 years with minimal maintenance.
If you're considering a reviving conservatory roof replacement but can't choose between glass or tiles, it may interest you to learn that the minimum glazed roof pitch is 2.5 degrees, whereas the recommended lowest pitch for a tiled roof is between 15 ° and 30 °. With this in mind, if your home is situated in a conservation area or similar, and the roof replacement is higher than the original structure, additional planning permission may be required to go ahead. So, a low-pitched glass conservatory roof may be the best option in this instance.
If privacy is a prime concern, a tiled conservatory roof will prevent your neighbours from looking in on you from above. But if you're looking to equally balance light and shade, our advanced Smartglass Ultimate glazing is available in a subtle yet effective cool blue tint to protect your modesty.
Solar controlled glass conservatories (like ours!) are the ideal option for south-facing and west-facing spaces with far-reaching views, as they can be prone to overheating otherwise. Tiled roofs are the best option for keeping east-facing and north-facing conservatories warm all year round.
Tiled conservatory roofs have always been preferable to reduce noise and keep the sound of heavy rain out. However, our advanced Comfort Glass can provide 20% better noise reduction.
All our home improvement products are chosen with thermal efficiency in mind. Our tiled conservatory roofs are the most efficient, offering energy efficiency levels 10 times better than an A-rated window and can achieve outstanding U-values as low as 0.15 W/(m²K). Our glass conservatory roofs aren't far behind, with 4 different glass types to choose from that offer fantastic U-values as low as 1.0. Our glass conservatory roofs also utilise efficient self-cleaning, solar controlled glass, and condensation-beating trickle vents as standard for absolute comfort.
Both conservatory roof options make excellent conservatory roof replacements too.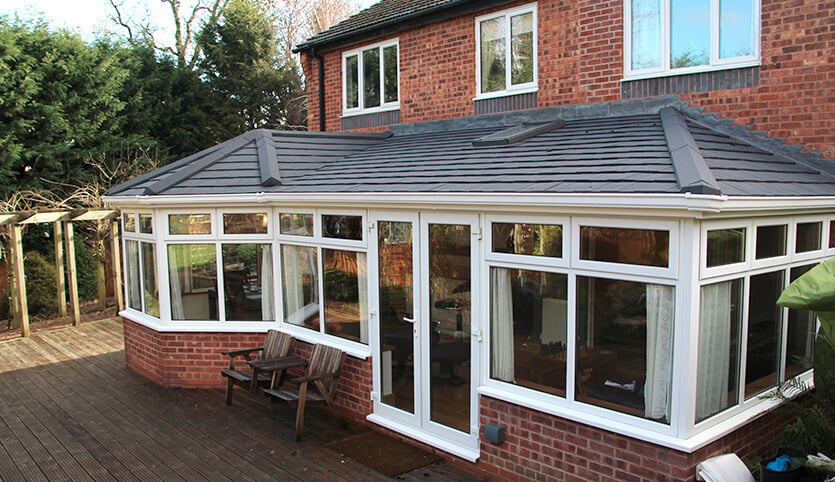 High-performance conservatory installations for homes in Ipswich & Suffolk
No matter whether you choose a glass conservatory roof or a tiled one, they're both guaranteed to drastically enhance your home's kerb appeal as well as your lifestyle. Low maintenance and a solid investment, get a quote, visit your nearest SEH BAC show centre, or contact us online to start the inspiring journey of building your brand-new conservatory space or breathing life back into an old glazed extension that's seen better days.