Back to news
What is the difference between a French door and a patio door?
28 May 2020 |Advice & Guidance

If you're thinking about improving your home in time for the summer months, a good way to go about it is by having new French doors or sliding patio doors installed. Seamlessly uniting indoor and outdoor spaces, homeowners have been enjoying the extended garden views and swathes of natural light these popular door designs have let in for decades. But which style of rear door is best for your home, French or Patio?
Basically, it depends on how you want to use the doors in your home. But here we'll break down the benefits of both for you.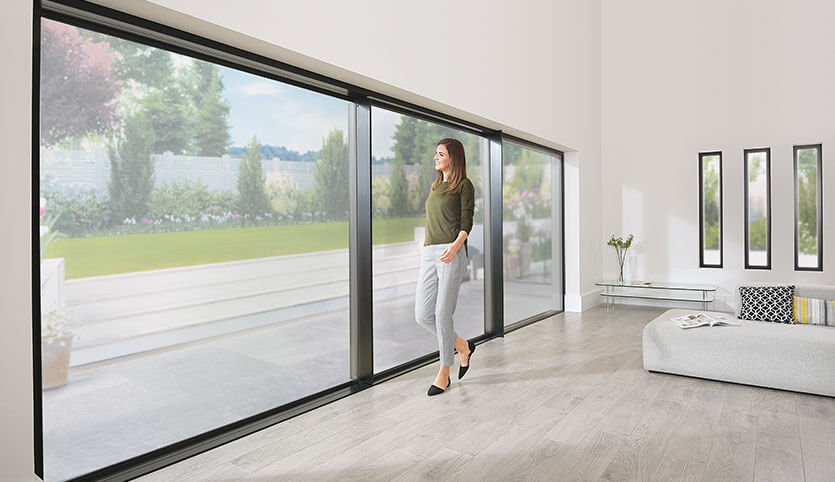 Patio Doors – Classic, sliding door panels for unrestricted access
Patio doors are by far one of the most popular rear door solutions found in British homes today. They simply slide across and behind one another to let properties make the most of the space. Most, like those offered by SEH BAC, offer a smooth sliding action and clean sight lines, giving the appearance of a much larger living space that extends out into the garden.
Patio door benefits:
Disability friendly thanks to low thresholds and smooth sliding operation.
Unlike French doors, patio doors don't need space to open fully.
Compared to French doors, patio doors are ideal for expansive garden views; offering more glass and less frame, which gives the appearance of a larger back of the home.
A+ energy rated glass.
Available in uPVC, aluminium or wood effect material.
From classic white patio doors to authentic oak patio doors, new sliding patio doors can be customised to your exact specifications, with over 150 RAL colours and a wide range of original woodgrain effects.
French Doors – Stylish sophistication and ventilation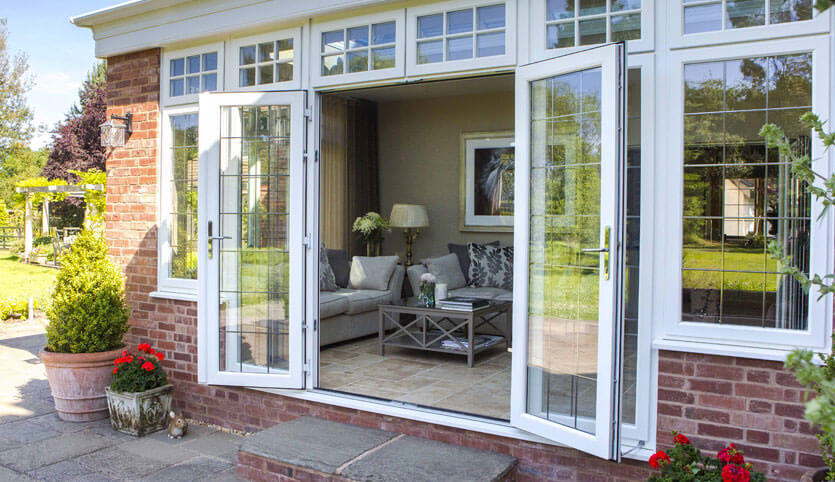 No prizes for recognising where French doors get their name from, but it should go without saying that this style typically tends to suit properties with a more traditional aesthetic. Originally popular in the 17th century as a way to lead out onto balconies, these days French doors are used as an ideal way to transition in and out of a garden or conservatory. This style features two individual vertical panels that open outwards to allow the light to easily enter the space.
French door benefits:
A timeless aesthetic, with all the expected modern benefits.
Primary door and 'slave' door (second door panel when in a pair) offers more entrance flexibility.
Cutting-edge security upgrades for older French door sets.
A+ energy rated glass.
From contemporary grey French doors to heritage inspired Chartwell Green French doors, new French doors can be tailored to your specific taste with over 150 RAL colours and a wide range of original woodgrain effects.
Flexible style, with various classic astragal bar patterns available.
Enjoy best-in-class patio & French doors from SEH BAC, regardless of the style you choose
If you'd like to further discuss which door style might be best for your home, or you already know and are in need of a quote, get in touch with SEH BAC today. You can call us direct on 0800 666 444 or use our online form.