Back to news
How do you customize a door? And 3 modern front door colours to create your dream home
26 April 2022 |Home Trends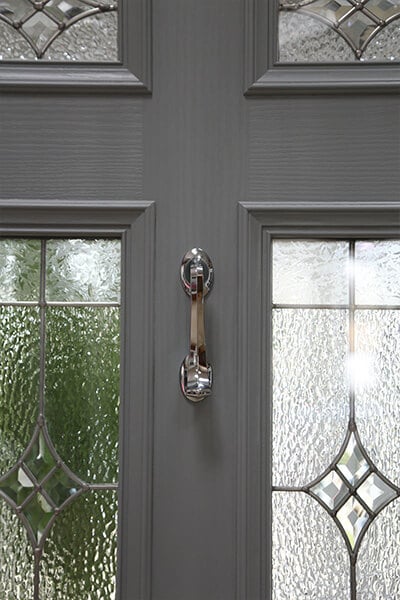 Creating the front door of your dreams begins with the initial design. From panel colour to door furniture and glazing to modern shade control, there are various ways you can customise replacement doors with SEH BAC. With this in mind, let's take a look at how you can easily tailor your new doors and 3 front door colours sure to give your home a modern twist.
How do you customise a door?
The first way to customise your new door is to decide on the material it's made from. Featuring sleek and slender sightlines, aluminium is often chosen to create a contemporary, modern façade, with a number of modern colour options. Aluminium front doors can also be manufactured around 30% bigger than composite doors, making it the ideal option for larger, more complex door installations. uPVC tends to be chosen for its cost-effective, insulating qualities, offering further personalisation with authentic woodgrain effects suited to heritage-styled properties too. Whereas composite doors deliver the best of both worlds, combining a range of enduring materials with the refined appearance of timber without any of the drawbacks.
Modern aluminium, uPVC, and composite doors can all be customised in over 150 alluring RAL colours, conveniently allowing you to match newly installed window frames with your new front door. Immaculate white front doors and sophisticated black front doors still remain popular across the South East, but if you're looking for something a bit different, these 3 modern front door ideas are sure to inspire you.
– Reviving green front doors
Considering the sustainability revolution taking place, it's hardly surprising that green front doors remain a firm favourite. Natural and inspiring, muted green hues (like Pale Green and Reed Green) add a timeless depth to traditionally styled properties, whilst deep earthy greens (like Moss Green and Grass Green) invigorate more modern exteriors.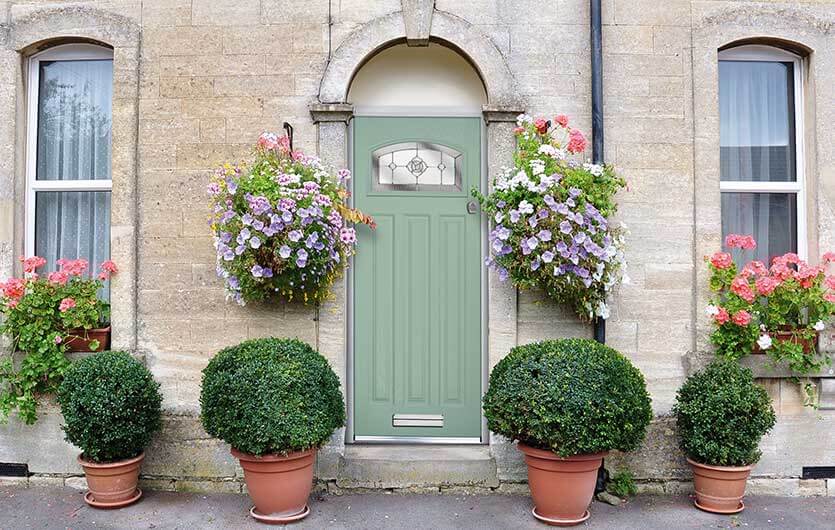 – Soothing blue front doors
In-keeping with the organic, natural vibe, both Dulux and Pantone have chosen diverse shades of blue as their Colour of the Year. A shade associated with comfort, hope and strength, Dulux' Bright Skies is an airy and uplifting shade that we think would look absolutely stunning alongside contemporary chrome door furniture (the closest RAL colours being Pastel Blue, Pigeon Blue, and Light Blue). If you're looking for a livelier shade of blue, Pantone has opted for 'Very Peri'; a violet-infused blue that oozes warmth and creativity. Described as a 'periwinkle shade of blue', if you like Veri Peri, you're sure to love the door colour's Signal Violet, Blue Lilac, and Red Lilac from the RAL colour matching system.
Combining the perfect fusion of blue and green, Turquoise Blue (AKA Teal) also provides a particularly striking finish on modern aluminium entrance doors.
– Understated grey front doors
Balancing tones of grey remain popular for modernising a wide range of property exteriors. Cool, neutral, and sophisticated, pale tones (like Agate Grey and Pebble Grey) add warmth. Darker shades of grey (like Anthracite Grey and Slate Grey) add depth and accentuate modern entrances without detracting from their original features.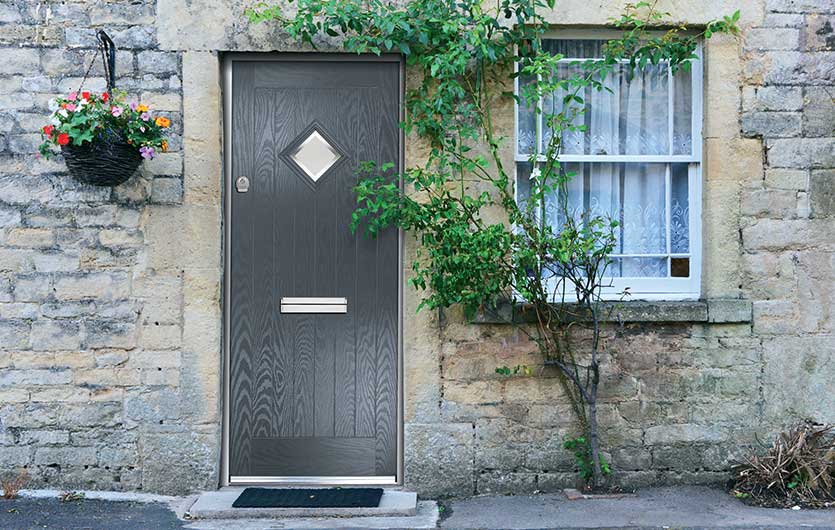 The glazing you choose for your new front door has the potential to make or break your home's exterior aesthetic, so it's important to choose wisely. Ranging from half glazed panels to stylish full-length sidelight arrangements, all of our doors are fitted with double glazing as standard. Toughened and laminated doors are also a possibility, perfect for adding extra strength and security where it's needed most. Other door glass possibilities include:
Bevelled glass doors (cut to create an angled surface)
Stained glass doors, perfect for Victorian and 1930s properties
Frosted glass doors for extra privacy
Leaded glass doors add period pizzazz

Door furniture
Matching door handles, numerals, and letterboxes provide the ideal finishing touch to your door makeover. Available in a variety of popular shades, including chrome, black, white, brushed silver, and gold, rounded or decorative door furniture is designed to create an elegant ambience. Whereas minimalist, sleek straight door furniture complements the clean lines of modern door designs with ease.
With a variety of door furniture options and styles to choose from, crafting your dream front door is an effortless experience with SEH BAC by your side.
Transforming your property into a dream home is easy with replacement doors from SEHBAC
Appreciating your home often begins at the front door. After all, it's the first thing you, your neighbours, family, and friends will see as they cross the threshold or simply pass by. Your front door doesn't just keep you and your family safe and secure; it allows you to stamp your personality onto your home and helps it stand out to buyers too. New doors can even increase the price by up to 10%! So, why not make your dream home a reality this year? Simply contact us today for expert support and advice.