Back to news
5 outdoor entertaining space ideas for family homes (all budgets considered!)
15 April 2021 |Advice & Guidance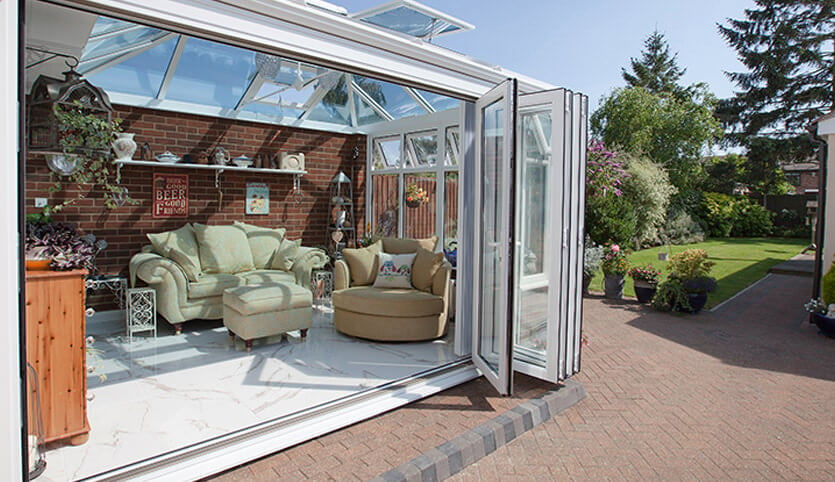 Gardens and outdoor spaces have always been a favourable feature, but it's safe to say the pandemic has heightened the need to connect with nature more than anyone could have ever imagined. Before COVID, it would have been hard to believe that people would list gardening as the 2nd most popular activity planned to do after watching TV! But as the world shrunk, the hunger for gardening skyrocketed!
With new hope returning thanks to the vaccine rollout, families across Essex and the South East can now look forward to reconnecting with loved ones this summer. Of course, spending time outside helps to reduce the risk of transmission of COVID-19, so, now is the time to start getting your outdoor entertaining spaces ready for summer. With this in mind, we've come up with 5 outside entertaining space ideas for family homes – no matter the budget or property style!
How do you create an outdoor living space on a budget?
Unruly gardens can be a real headache. Able to improve property value, savvy homeowners can transform the space by laying a concrete patio or wooden decking area. Considerably enhancing its usability, the average cost of a small patio is around £800, with an additional £110-£180 per day if you choose to employ a landscape gardener (depending on the location). Go one step further by adding an atmospheric fire pit and create a fashionable focal point whilst keeping your guests warm and toasty.

Update your patio doors with modern bifolds
Contemporary bifold doors will allow you to welcome the outside in like no other door system around. With slimline frames, the unobstructed outside views you can get are second to none. With up to eight door panels available, depending on the size of the space, creating a fully glazed wall is a breeze with beautiful bifolds.
Give outdoor living spaces a new lease of life with sophisticated sliding patio doors
Sliding patio doors are a firm favourite where natural light and space are in short supply, beautifully framing panoramic garden views whilst seamlessly blending inside and outside areas. Perfect for refurbishing patio spaces, conservatories, orangeries, and extensions, patio sliders are the preferred choice for young families too, as there is less chance of injuries like finger trapping thanks to its smooth sliding mechanism.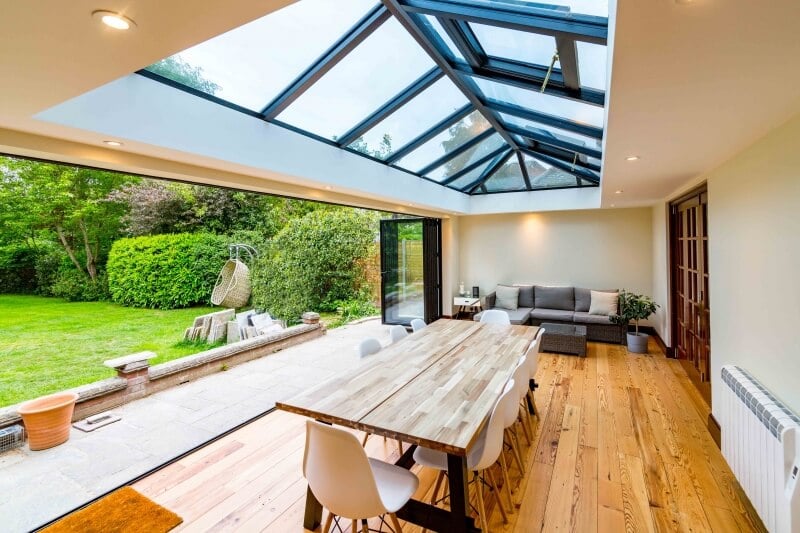 Seamless open-plan living that simply flows
If chic architectural design is more your thing, a made to measure modern flat roof extension can offer the best of both worlds thanks to exquisite level external flooring options that harmoniously flow from the inside to the outside and a convenient overhang on the roof for extra weather protection to enjoy your new outdoor entertaining space for longer.
Bring 'broken plan' living outside
Broken plan interior design is the latest alternative to open plan living. Retaining that sense of openness that we all crave, broken plan living simultaneously offers essential privacy by creating distinct 'zones' with clever use of furniture, split levels, and contrasting floor finishes.
So, why not bring this latest interior trend outside? You could break up the space with a rustic pergola to create a shaded walkway or seating area complete with an on-trend outdoor corner sofa or add a decked area for a BBQ, alongside an alfresco dining area. Gravel, stones, grass, or tiles make excellent flooring materials for each different area and you could incorporate a variety of colours and heights using flowers, shrubs, and bushes to create natural borders and secret corners that the kids will love! You're only limited by your own imagination.
High performance windows, doors & extensions in Ipswich to Oxford to Essex & Suffolk
Our showrooms are now open between 10.30am and 3.30pm, with an extra 5% off for the first 5 showroom visitors! Life is too short to be anything but happy. So, stop suffering in silence and begin the exciting journey of creating your 'forever home' with SEHBAC by your side.