Back to news
Why you should choose a blue front door to match your blue home décor
23 August 2021 |Blog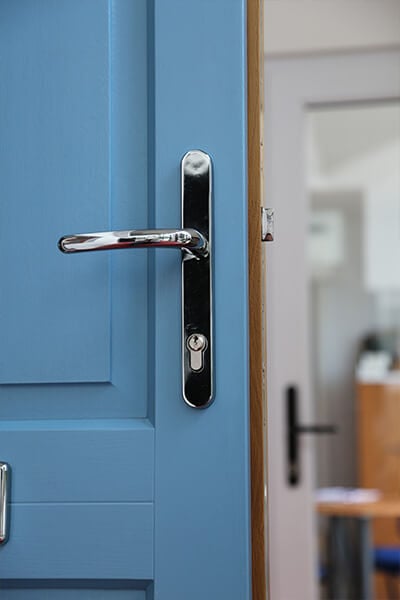 Some of the best memories you make take place behind your front door, in the comfort and happiness of your home. As such, your door's exterior & interior colour should say something about you. If you already have a good amount of blue décor, a blue front door is a fantastic way of accenting that colour and brightening up your home. But that's just one reason why you should choose a blue front door to match your blue home décor.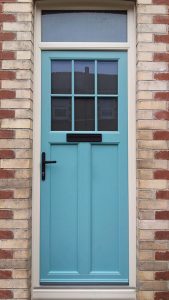 Blue doors break the mould
Historically, the most popular front door colours have been white, cream and wood browns, with recent trends falling towards anthracite grey and pastel colours. Within the latter, a pale aqua door would conjure wonderful beach-cottage vibes. Meanwhile, a more subtle blue-grey shade would add that tasteful spark to your home while still staying bang on trend.
However, if you wanted to make your own unique statement, blue is the colour to do it with. A dazzling sky blue door would bring a high energy look to your interior, and an eye-catching contrast to your exterior.
Colour coordination
Everybody loves a house that looks put together. Whether you have entirely blue walls and blue sofas, or just a couple of cushions with blue trimming, a coordinating blue door will help all that colour to really pop. Something in a darker, navy shade can give your hallway a charming, historical look. Alternatively, a brilliant turquoise would add a really quirky and unconventional burst of light.
Thankfully, SEH BAC can fully customise your door's colour to make your front door as unique as you. We have 150 RAL colours and wood effects to choose from.
We also offer a stunning range of dual colour doors. These are doors which have a different colour on the outside to the one on the inside! This means you could have a door with a blue interior to match your internal décor, but a wooden finish exterior to compliment your home's exterior walls.
Blue doors improve your mood!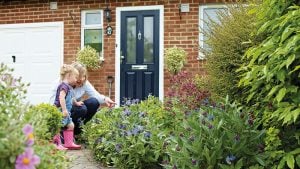 It's scientifically proven that the colour blue generates a sense of calm and relaxation. A blue door that matches blue décor could help transform your home into a sanctuary of peace and tranquillity. The darker the blue you choose, the more this effect is enhanced. Darker blues are also considered very elegant and regal shades. So, if you want a classy edge, choose a deep blue door.
However, a lighter shade of duck egg blue, one of our most popular door colours, is an equally sophisticated mood lifter! This soft, natural colour will bounce the sunlight around the room and brighten up your whole home with a subtle glow.
To find out more, read our blog on what your front door colour says about you! Whatever your colour, we have the door for it, be it a blue uPVC door, a composite door in anthracite grey, or an aluminium door in graphite black.
Beautiful coloured doors across South East England
For more information on our range of coloured doors, please feel free to contact us or come visit one of our show centres!