Back to news
Our planning checklist for a new home extension (& why leave it to the experts)
11 June 2020 |Advice & Guidance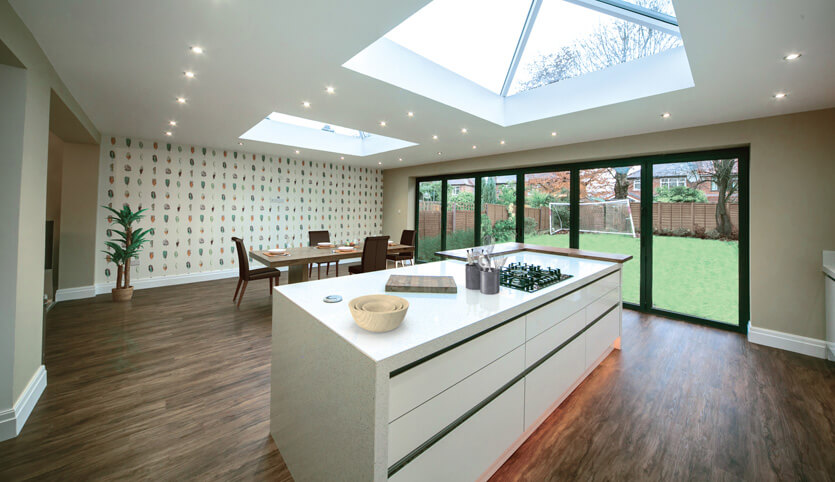 As COVID-19 continues to stifle the housing market, there's never been a better time to improve and boost your property value by adding a home extension. Considering the current economic climate, it's likely that you've considered how to install an extension cheaply, which can often lead down the path towards non-experienced, 'cowboy builder' type companies. Generally, offering a lot for very little can have disastrous consequences, especially with specialist home extension installations. Cutting costs with a below-average company can have serious safety and legal implications, let alone the additional costs involved in correcting shoddy workmanship.
Common extension fails include:
Hefty fines and/or possible demolition await those who fail to apply for planning permission.
Dangerous conservatory clad over roofs can increase the risk of fire, leaks and structural instability, whilst invalidating conservatory guarantees and warranties.
Light-starved, gloomy areas.
The loss of practical space inside the existing house.
Excessive heat loss and higher heating bills.
The extension overwhelms the garden space.
Less kerb appeal.
With so many pitfalls surrounding conservatories, orangeries and extensions installations, the emotional and financial heartache involved simply isn't worth it. Leave it to the experts and get clued-up instead, with our concise planning checklist for a new home extension!
Checklist for planning a home extension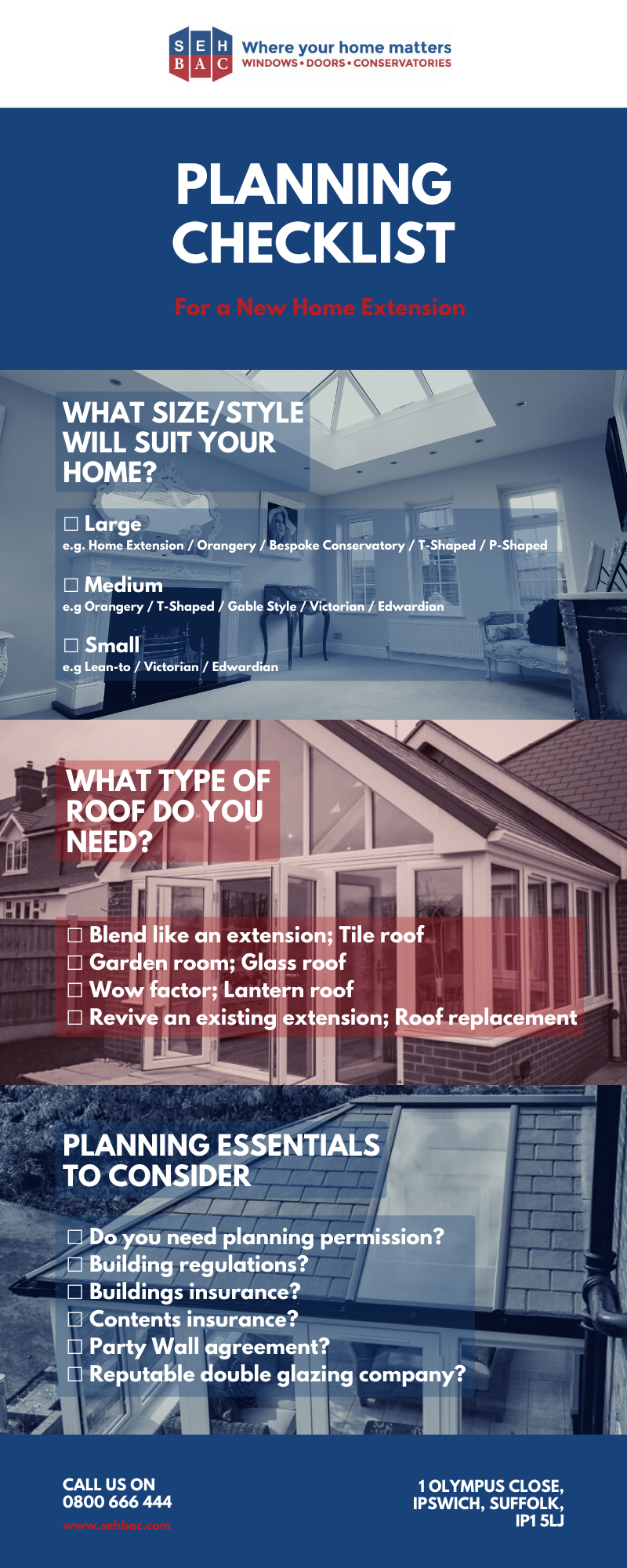 Where do I start with my extension?
First things first; establish the need for a new extension space. Ask yourself, do you want
☐ A larger space to socialise and spend time with family
☐ A stylish home office / study space
☐ An extra bedroom or bathroom
☐ Stronger integration with a garden or outside space
☐ To modernise and improve your homes' efficiency
☐ To add value to your property
Next:
What size/style will suit your home?
☐ Large; Home Extension / Orangery / Bespoke Conservatory / T-Shaped / P-Shaped
☐ Medium; Orangery / T-Shaped / Gable Style / Victorian / Edwardian
☐ Small; Lean-to / Victorian / Edwardian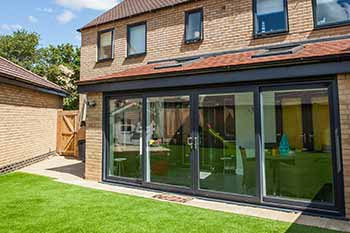 What type of roof do you need?
☐ Blend like an extension; Tile roof
☐ Garden room; Glass roof
☐ Wow factor; Lantern roof
☐ Revive an existing extension; Roof replacement
Working all of this out first will help you to decide on the best extension for you and your family, e.g. bespoke conservatory, orangery, or full-blown extension.
Does an extension increase value?
Often, extensions provide a return on investment of around 12% of the property value when sold. Hinging on the type of extension, the building, and its location, it's impossible to put an exact figure on how much a new extension will add. So, it's worth visiting a few local estate agents to gauge a rough idea of how much value an extension may add to your home.
☐ Home extension without planning permission
Thanks to 'permitted development' rules, many extensions don't need planning permission at all.
If the following rules apply, it's likely you won't need to apply for planning permission:
☐ Permitted Development Rights (PDR) have not been removed from the property.
☐ A single-storey glazed extension that doesn't exceed 6m or 8m on a detached house, situated outside of designated land and Sites of Specific Interest.
* RE: England only, subject to The Neighbour Consultation Scheme
☐ A conservatory that doesn't exceed 3m from the original back wall of a semi-detached or terraced property, or 4m from the original back wall of a detached property.
* RE: Wales, Scotland and Northern Ireland only.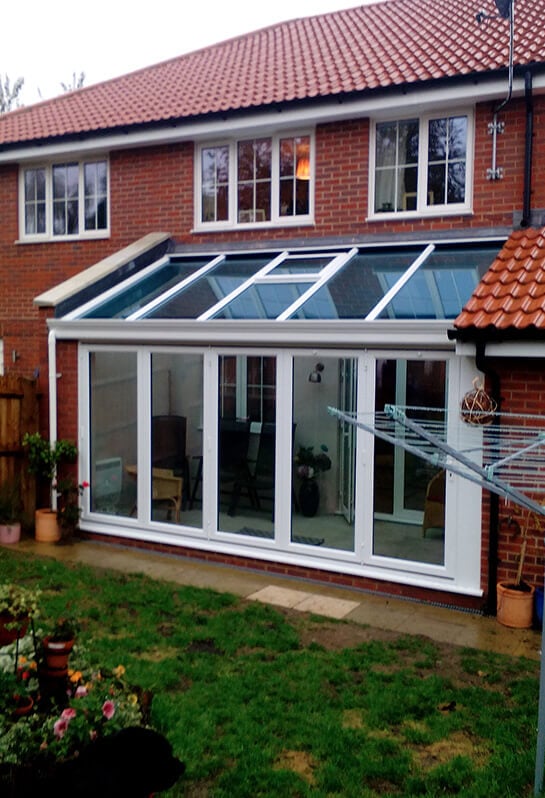 ☐ The conservatory roof does not exceed 4m's in height and is no higher than your home's roof.
☐ No balconies, verandas or raised platforms involved.
☐ Property not listed and/or in a conservation area.
☐ The conservatory sited at ground level.
☐ The conservatory is permanently separated from the remainder of the property by means of a door.
Should your plans need permission, SEH will send out a highly trained surveyor to gather the full details your Local Authority requires.
☐ Building regulations for extensions
Building regulations are required whether you need planning permission or not. As FENSA certified installers, we can self-certify your new extension for compliance with the latest Building Regulations. Needing separate approval from your Local Authority, trying to do this alone can be a lengthy, costly, and complicated process. Failing to adhere to building regulations can also mean being forced to adapt or remove your new extension space at great expense and disruption to your household, as well as slowing down the selling process.
Building regulations may be required if:
☐ The conservatory doesn't have a 70% translucent roof
☐ The conservatory doesn't have 40% glass coverage on newly constructed walls.
☐ The conservatory has an internal floor area exceeding 30 square meters.
☐ The conservatory is not sited at ground level.
☐ The conservatory has no physical barrier between the main house (ie doors).
SEH will help and advise you on building regulations throughout the process, from planning through to aftercare.
☐ Buildings insurance
It's likely your existing building insurance policy may cover your new project, but it's best to check before going ahead with anything. This is because it's highly likely that the extension will increase the rebuilding cost of your home, should it be destroyed by fire or flood. You could also be in danger of invalidating your home insurance if they're unaware of any changes.
☐ Contents insurance
Remember to check-in with your contents insurance provider too, especially if you're adding new furniture, carpets, blinds, etc to your new extension space.
☐ The Party Wall Act
If your home is terraced or semi-detached, you may need a Party Wall agreement with your neighbour(s). 'Party walls' are shared walls dividing the buildings of separate owners. They also include garden walls built over boundaries, as well as excavation work that's carried out within a certain distance of a neighbouring property. Therefore, you may need a Party Wall agreement, should your extension need groundwork or steel supports that could affect neighbouring homes.
☐ Terraced property
☐ Semi-detached property
☐ Groundwork required
☐ Steel supports required
What are the stages of building an extension?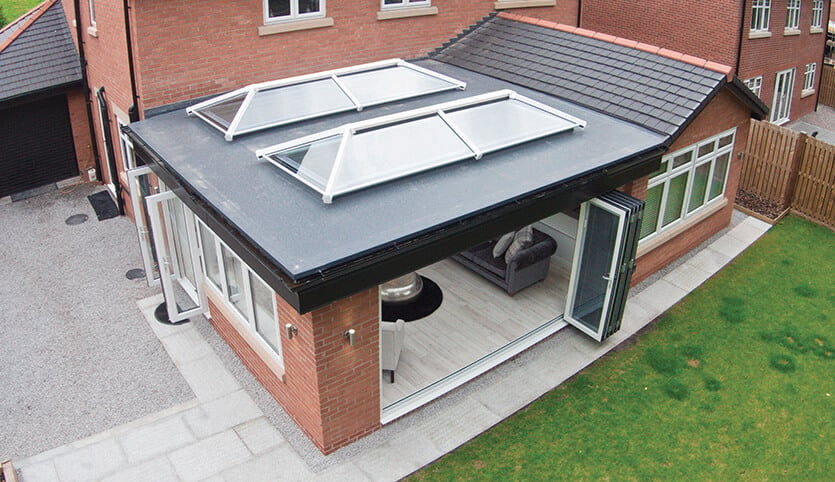 ☐ Choose a reputable double glazing company
Why it makes a big difference to choose a regional company for your home improvements
☐ Home extension ideas
☐ Discuss your options
☐ Get a free quote
☐ Extension finance research
Double glazing and conservatory finance
☐ Place your order
☐ Order deposit requested
☐ Surveyor visit
☐ Trial dig
☐ Surveyor's assessment confirmed
☐ Planning permission advice
☐ Pre-site check
☐ Confirm installation date
☐ Manufacturing process
☐ Extension installation
☐ Remedial work addressed
In the unlikely event that any further work is needed.
☐ Extension complete
Your extension process in more detail
High performance home extensions in Ipswich and Oxford to Essex and Suffolk
If you're unsure on any of the points raised above, our team of experts will be happy to talk through and explain anything further. For more information, call 0800 666 444 or get in touch online.